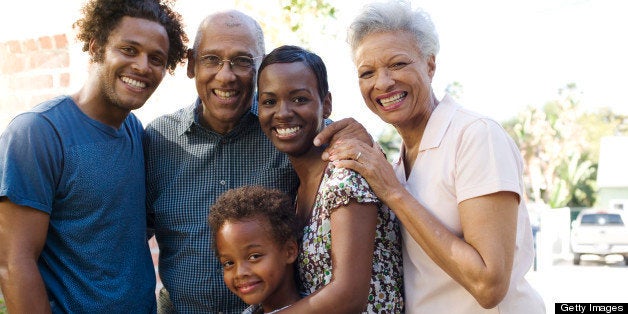 When a group organizes, they can move mountains. This can certainly be said of the recent actions of America's LGBT community and the success that it has achieved in changing American attitudes toward marriage equality. As we watch the aggressive and highly organized efforts brought forth by the LGBT community, I hope that African Americans have been paying close attention to their success and will be more motivated to adopt new attitudes and strategies to bring about change in our beleaguered communities.
Go into any major city in America and there is evidence for you to see. With an unemployment rate that is almost double the national average, rising health disparities and falling academic achievement, the African American community is severely crippled and in sorely need of a reboot and retooling to its agenda.
Of course the LGBT community's campaign to push forward its mandate could not have been achieved without the example put forth by African Americans to achieve Civil Rights over half a century ago. However, as of late, the black community has fallen backward in realizing the full potential of that promise. In a way very similar to African Americans, the LGBT community has had to overcome many perceived deficits flanked by deeply rooted stereotype and prejudice. But the success of this community's current efforts clearly demonstrates the results that come with a consistent willingness to run the "extra mile."
Today, for far too many African Americans, the opposite seems to be true. Nowadays many in our community appear to be content only as spectators to the amazing degree of anarchy taking place in our inner-city neighborhoods. However, with the pathology of violence and underachievement now raising its ugly head across class and income lines, the black middle class has shockingly discovered that the "chickens do come home to sleep at night," and that the distance we thought we were away from our "brothers," is not as far as we perceived.
A revamped action plan is what's desperately needed in the African American community. And it must be developed without the denial, finger-pointing or excuses that too often has been trademark to our time and effort, and has achieve few real results. We must also adopt new role models, instead of extolling the virtues of TV shows like Atlanta Housewives, Love & Hip Hop, Basketball Wives and media personalities like Lil Wayne and other pop culture creations whose values are contaminating the community.
Most importantly African Americans need to embrace the value and benefits of healthy relationships and the positives that they can bring to our lives. Studies have shown that people in productive relationships are more engaged and actively motivated in contributing to the well-being of their communities. So with the single (never been married) rate among blacks over 35 at nearly 50 percent, and the divorce rate just as high, it should come as no surprised that black communities are in crises.
It's simple: people work better together than alone. To believe that you can stand alone and navigate the world by yourself might be a liberating experience, but at the end of the day it usually adds up to a poor day at the races. Now I am not a strict advocate of marriage, but I do wonder if it's an institution that one group so intensely strives for, then why aren't we more willing to give it a chance.
Gil Robertson is an award-winning lifestyle journalist, author, lecturer and producer. His latest book, Where Does Our Love Go: Love and Relationships in the African American Community was recently released and is available in stores everywhere.
Related
Popular in the Community