As former quarterback Brett Favre finally takes his place among the pantheon of Green Bay Packers heroes this weekend, there's a person he could really learn from in how to conduct himself from now on.
Born in Wisconsin, and graduate of Marquette University's master's program in political science and international relations, you could say I had Green Bay in my DNA. And when Favre was traded to the Packers, it breathed life into a program that had only a single playoff win since I was born.
Favre was amazing. He would win with his arm, throwing all kinds of aerial bombs to Sterling Sharpe, Robert Brooks and Antonio Freeman. He would win with his feet, scrambling for dozens of yards or diving into the end zone from a few yards out with little time left on the clock. He won three MVP awards. He won one memorable Super Bowl against the New England Patriots, and came close to getting another title with the Packers, against the Denver Broncos the following year.
But Favre could also drive you crazy, trying to do the impossible which often resulted in interceptions or turnovers, especially in playoff games. But despite all that, you couldn't help but like the guy for trying. It made him a fan favorite. It's why I bought a Favre #4 jersey early in his career, and still wear it today.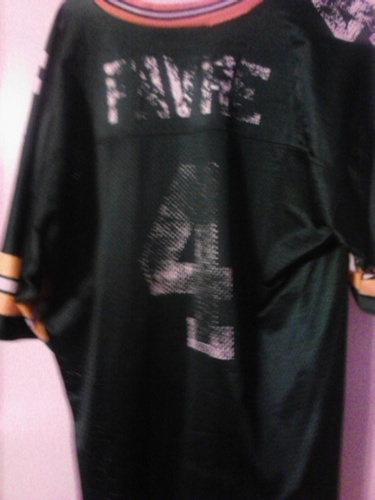 We were also treated to an annual dithering over whether he would retire or not, giving management and fans a spring of angst. Finally, one year, he decided to call it quits. We prepared to move on with his promising backup, Aaron Rodgers, who fell to the Packers late in the first round a few years earlier.
Suddenly, Favre said he wanted to come back. That was fine, Green Bay said, but he would have to compete for the job. But Favre wanted to be named the starter, based on past accomplishments. After an ugly row with the GM Ted Thompson, Favre, who wanted to play for a Packer rival like the Minnesota Vikings or Chicago Bears, was traded to the New York Jets, where he went 9-7, missing the playoffs. Favre also embarrassed himself with sexting allegations and other antics, ruining his great reputation.
Then Favre went to the Vikings the following year. Though his comeback was initially great, he took many opportunities to needle the Packers, angering the fans. I remember one holding up a sign saying "We'll never forget you, Brent!" After nearly making the Super Bowl, the Vikings collapsed the following year.
Well, Favre now claims that he was partially at fault for the messy divorce, making some amends that led Green Bay to welcome him back. And two-time MVP Aaron Rodgers has been at the forefront of that reconciliation.
It's a long time until Favre's number is retired in November. And Favre hopes to be around the NFL game for a while as a distinguished player. If he wants to continue to show that it was a wise move to welcome Favre back, he could learn from Rodgers how to handle himself, the way Rodgers once learned from Favre.

John A. Tures is a professor of political science at LaGrange College in LaGrange, Ga. He can be reached at jtures@lagrange.edu.
Popular in the Community