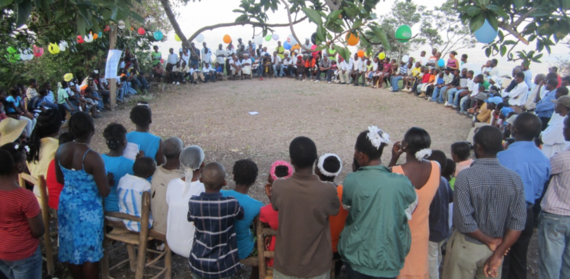 The future of the Children's Academy is considered in a community-wide Open Space meeting at Haiti Partners.

By Gerald R. Wagner, PhD.
Many of the companies I feature in Culture ROLE MODELS have love embedded into their core workplace values. Featured ROLE MODELS have become personal friends, so I asked a few of them to give me a few words that explain what love means in business and at their company. The following are a few of their unvarnished responses:
"Haiti Partners' mission is to help Haitians change Haiti through education. We believe that the key to providing an education that inspires is love: love for people and love for life. We believe education rooted in love is transformative and that to do education rooted in love, we have to have an organization rooted in love." - John Engle, Co-director. Haiti Partners, Haiti.
"At Firespring, we believe that the expression of our 'emotional culture' (i.e. the compassion, care and love we show for one another) is even more important than our "cognitive culture" (i.e. living our purpose and values)." - Jay Wilkinson, Founder & CEO. Firespring, Lincoln, Nebraska.

"Love at Vail Resorts means creating incredible experiences for guests and our employees. Vail Resorts recognizes that cultivating the passion, connection and joy of employees has a direct effect on customer joy and happiness. - Jeff Klem, VP, Talent Management. Vail Resorts, Boulder, Colorado."

Through my work with Culture ROLE MODELS, I have gotten to know numerous organizations that embody the concept of love in the workplace. What I have seen is that, although these organizations differ in terms of their sizes, products or services, they all share similar workplace culture values. The graph below illustrates the key components of a loving business, which is cultivated through what I call the "Happiness System".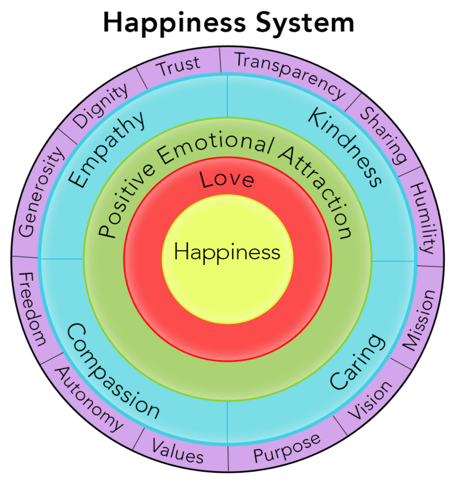 This graph means that everything in the circles outside of the happiness center contributes to happiness. The closer a circle is to the center, the more positive affect it has on happiness. Note that the love ring is next to the happiness ring and kindness, caring, compassion and empathy are alongside the love ring. If a person were to pick four things to focus on improving right away, those could be the values to choose.
"If we're going to create thriving, innovative, respectful, collaborative, engaged cultures, that will produce solutions to our world's biggest challenges, 'love' needs to be expressed in our professional engagements." - Margaret Hasna Kelsey, Ed.M
Love in business is accessible to everyone. It doesn't require special expertise or more space, time, equipment, or cash. The result is happiness for all employees -- the number one factor in determining business success.
Would you like to tell your story about love in your business? We'd be delighted to receive it and will publish the collection in an upcoming issue of Culture ROLE MODELS.
Gerald R. Wagner, PhD., is CEO of the nonprofit Institute for Inspired Organizational Cultures. The Institute focuses on supporting progressive workplaces that embody workplaces that employees love.