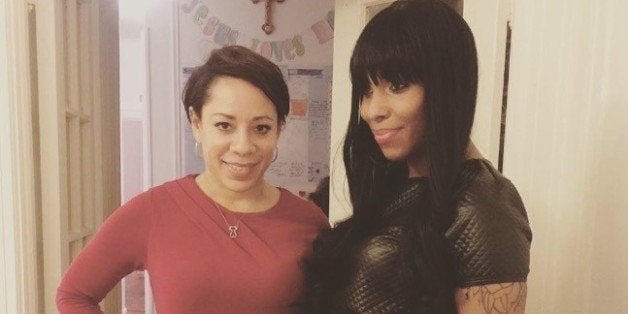 Photo: Selenis with her sister, Marizol Leyva
You may know me as Gloria Mendoza, the no-nonsense, badass head of the Latina crew on Netflix's "Orange Is The New Black." Oh, did I mention my killer eyebrow game? Yup, that's me. My name is Selenis Leyva, and I am a true New Yorker, born and raised in the Bronx. I've been chasing the dream of being a professional actress for 20 years, and here I am!
Granted, "Orange" is not my first gig. I have worked on numerous television shows, including all the "Law & Orders," "The Sopranos," "Girls, "Veep" ...you get the idea. And a couple of films. I started out in the theater and built a strong foundation for hard work. But yes, "Orange Is The New Black" has changed my life. I am a mother, a daughter and a sister who goes in hard for those she loves and harder for what she believes in.
Now, I am happy to add "blogger" to the list! I look forward to sharing my thoughts, passions, personal stories and most importantly, hearing from all of you! The attention that the Vanity Fair cover featuring Caitlyn Jenner received sparked something inside of me. Here is a glimpse of why I am so passionate about defending and standing by the LGBT community.
My initial feelings and thoughts about Jenner's interview with Diane Sawyer and the Vanity Fair cover were pure joy, excitement, progress, possibility and change. Like many, I cried thinking of all the years she was unable to live her real life. I celebrate her courage and yes, I marvel over her beauty.
Today, however, I woke up with sadness. I questioned this. After all, I was on such an emotional high the night before. You see, I am not only a supporter of the LGBT community, I am a sister to a beautiful and kind young transgender woman. Suddenly, it became clear to me where my sadness was coming from. The reality is that most transgender people continue to struggle with acceptance. Most will not be celebrated and put on magazine covers. I am NOT by any means taking away from the importance and impact of what is happening in the transgender movement
with the courageous stories being shared by Caitlyn and my smart, talented and yes, beautiful costar, Laverne Cox. I am simply sharing my story based on my life with a Latina transgender sister, my family and our continued struggles. My sister is not famous, in fact she is having a hard time finding employment to this date. She is still struggling to be accepted, and she is still in danger every time she leaves her home.
I feel sadness today because the majority of the trans community struggle to simply get decent health care, never mind public acceptance. So yes, yesterday I, like millions, celebrated the Vanity Fair cover. Today, I hope we don't lose sight that this is not the norm for your average transgender person.
Let's continue to move forward.
Let's continue to educate.
Let's continue to have conversations.
Let's not forget how the majority live.
Thank you to all who support the LGBT community.
Keeping it real and keeping it moving!
Instagram: @selenisleyvaofficial
Popular in the Community