My former hometown of Atlanta, a city known for its urban sprawl, is doubling down on health – and possibly wealth – with its investment in the Atlanta BeltLine trail. As the Sunday "New York Times" reported, the project will eventually connect 22 miles of mostly unused railroad pathways – as well as neighborhoods, shops, communities and a new streetcar – meaning Atlanta just might be "discovering its walkable, bike-friendly, density-embracing, streetcar-riding, human-scale soul."
Atlantans may get an unexpected cash bonus by regularly using the BeltLine. Who among us wouldn't be happy to have an extra $500 to $2,500 at our disposal each year. That's a plane ticket or two, mortgage and car payments, groceries. The question is, would you sacrifice, say, 30 minutes on five days of the week for such a monetary boost? If so, here's what you'll need to do during those minutes: break a light sweat or keep your heart rate up. Put another way, meet the 2008 Physical Activity Guidelines for Americans, which recommend adults get at least 150 minutes per week of moderate intensity physical activity, including brisk walking – along the BeltLine or elsewhere – raking leaves or heavy cleaning. Improve your health and save money – that's a two-fer.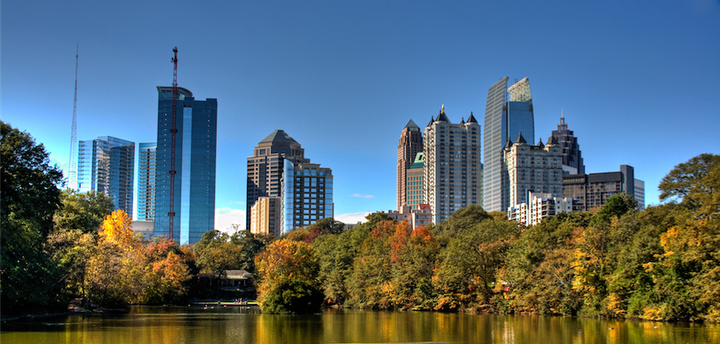 According to research published in the Journal of the American Heart Association last week, meeting the Physical Activity Guidelines produces significant savings for the individual pocketbook, and reduces overall health care expenditures in our country. These savings come through reductions in emergency department visits, hospitalizations, and prescription medications. The authors of this study estimate that among adults with heart disease, brisk walking – or another moderate intensity activity – for 150 minutes per week equates to a 20% reduction in health care spending. Extrapolate that to the health care system overall and we're likely to save billions of dollars each year.
The amount of money an individual stands to gain by achieving the 150 minutes/week threshold depends on his or her health status. If you have heart disease – including coronary artery disease, stroke, heart failure – you can expect to save $2,500 in reduced health care spending through physical activity. If you don't have cardiovascular disease, but have some risk factors – like diabetes, obesity, high cholesterol or smoking – you can save as much as $1,060 in health care dollars. And if you have no heart disease and no risk factors, you can expect a $500 benefit per year.
How can we achieve the physical activity guidelines on a societal and global scale, and cash in on those savings? This is a question we at the Sumner M. Redstone Global Center for Prevention and Wellness at the Milken Institute School of Public Health at the George Washington University are interested in answering. We have quite a lot to gain from understanding and implementing the type of urban design and planning, such as the BeltLine project, that will increase physical activity on a societal scale.
An article published this summer in the Lancet series, Physical Activity 2016: Progress and Challenges, found that, "Design of urban environments has the potential to contribute nearly 90 minutes/week of physical activity." Ninety minutes/week suggests urban environments can be harnessed to get inhabitants as much as 60% of the way to meeting the Physical Activity Guidelines indicated above, and at the same time that the livability of urban environments improve.
The study tracked adults' physical activity with wearable accelerometers in 14 cities in 10 countries on five continents, including Washington, DC and Baltimore. The authors found that higher levels of residential density (more people), public transport access (more bus, rail stops), and a greater number of local parks created environments that increased physical activity. These elements all likely support walkability as well.
How do we make physical activity a priority for federal, state, and local policy makers? One approach with multiple benefits is making our communities friendly places for physical activity. The BeltLine project is aiming to improve Atlanta's urban environment through improved livability, physical activity, disease reduction and cost savings. That's a four-fer.