 One bit of bad news for millions of Americans during the Super Bowl was that chicken wings were suddenly more expensive. The cause, in part, was the U.S. drought last summer. The drought was the most widespread in more than 50 years, and it drove up the cost of chicken feed. In all, 2012 was the hottest year ever recorded in the United States.
The bad news for the 850 million undernourished people around the world is that erratic weather is affecting food production globally. High and volatile food prices have become the new normal, and more and more extreme weather events are partly to blame.
Climate trends have already affected food production around the world, driving up prices for everything from bread and tortillas to chicken wings.
Crop yields are already down globally by 2 to 3 percent, and climate scientists tell us that for every 1 degree Celsius increase in average temperature around the world, crop yields will decrease by an average of 5 percent.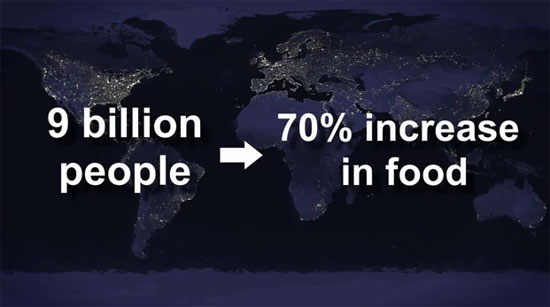 Looking ahead, feeding the world will get harder with each passing year. We need to produce 70 percent more food by 2050 to feed the 9 billion people who will be living on the planet by then.
Done right, we can increase agricultural productivity, make farmers better able to ride out droughts or floods, and pull greenhouse gasses out of the atmosphere into the soil. Agriculture can be climate smart and if we get it right, it can be a triple win.
So what will it take? A combination of age-old methods like better mulching and crop rotation, together with improved water and livestock management, more accurate weather forecasting and crop insurance, and new crops like scuba rice that survive longer under water, and drought-tolerant maize that thrives despite erratic rainfall.
It means ramping up agricultural research through groups like CGIAR, the Global Agricultural Research Partnership, so they can focus on climate-proofing food crops and make agriculture a carbon sink.
It means all of us knowing more about how our food is grown.
And it means building on what we know: Climate-smart agriculture is already at work in small farms in Western Kenya and across millions of hectares in Brazil, where zero-tillage cultivation is producing encouraging results, and in the U.S., no-till farming is also a growing trend.
For many Americans, the higher price of chicken wings was bad news. But the good news that could emerge from food-price sticker shock is that more people will ask what we can do in agriculture to help stop climate change while still feeding the world.
Related
Popular in the Community