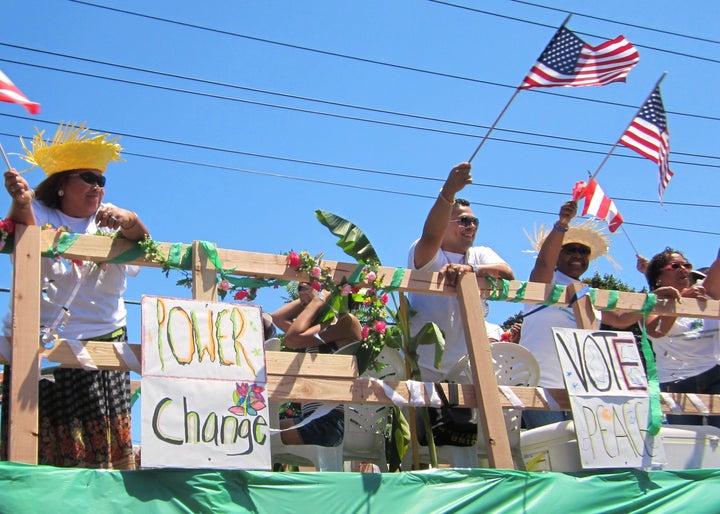 Latinos eligible to vote in 2016 are estimated to number close to 27.3 million, with almost half comprised of Millennials. Latinos continue to register to vote in record numbers. And a recent poll reveals that close to 81 percent of Latinas are "almost certain" to vote in November – up from 59 percent in 2014.
Politicians understand that the Latino vote is critical to the presidential election. But who comprises the "Latino vote" and what must candidates do to better address issues that matter to this demographic?
The Latino population in the United States is diverse. There are recent arrivals, new citizens, and those whose families have been here for generations (including families that have lived in what is now the Southwest and Puerto Rico before these became territories of the U.S.). They are racially and linguistically diverse.
Latinos are working across the spectrum in corporate America, in non-profit organizations, in education and medicine, and in the ever-growing service sector. While they can be found at various income brackets, a recent Pew Research Center report outlines how Latino households' income and median net worth continue to be significantly lower than that of the general U.S. public, and the poverty rate among Latino households is higher.
The same Pew Research Center report also indicates that an overwhelming percentage of Latinos anticipate that their children will be better off than them. With the Latino college enrollment rate more than tripling from 1996 to 2012, it's safe to assume that a focus on education, the economy, and upward mobility are priorities for many Latino households.
Who they are and their daily challenges reflect the issue they care about.
Of course, for many, immigration is a key issue, especially if their families have been affected by recent immigration policies like the U.S. Supreme Court's recent ruling related to Deferred Action for Childhood Arrivals. They have decried President Obama's detention and deportation record, referring to him as the "deporter-in-chief."
Thus, many sounded early alarms when Donald Trump delivered racist commentary and maligned Mexican immigrants. In what was among the most poignant moments in the primary season, an immigrant woman at the Univision-Washington Post debate explained to the Democratic candidates how her husband was deported, and asked what they would do to prevent breaking up families.
And they were listening carefully last week when Clinton vowed to push forward comprehensive immigration reform during her first 100 days in office.
But they don't just care about immigration.
A recent Pew Research Center survey found that Latinos care as much as all other registered voters about what candidates say about the economy and terrorism. In fact, their attention to education, the environment, health care, and treatment of LGBT issues ranked higher than it did for other registered voters.
In a poll conducted early in the campaign season, the majority of Latinos cited racism as an ongoing and major problem in the U.S. And while it's easy to point to comments made by people like Trump and his supporters as evidence of the continued existence of racism and xenophobia toward Latinos and immigrants, it's just as troubling to Latinos that these same sentiments are experienced in the everyday and in ways that create barriers to them fully accessing education, jobs, economic security, health care, and housing.
Candidates need to know that not only are Latinos upset about these issues, they are also organizing around them, as my research shows. In Manhattan's Dominican neighborhood of Washington Heights, for example, organizers with non-profit and grassroots organizations have long connected disparities in resource allocation – for schools, housing, jobs, and youth and family services – to poverty and lack of mobility among Latinos. And since the 1990s, Latino youth activists have worked with other racialized youth to organize and rally against racialized state violence and budget cuts to public higher education.
In my most recent study on Latinos in suburbia, I'm tracking how Latinos are drawing attention to and attempting to combat instances of environmental racism – like the dumping of tons of toxic waste in parks in their neighborhoods – and racial disparities in access to public spaces, services, and resources. In addition to meeting with local elected officials, they have organized rallies and demanded that town officials allocate resources on par with what they budget for surrounding neighborhoods.
Organizers' goal of tackling what they understand to be racial disparities has also led them to develop workshops on preventing home foreclosure – as Latinos and other people of color were disproportionately targeted by predatory lenders – and introduce translation services at all school board meetings so that more Spanish-speaking parents can participate in local decision-making processes.
Latino voters will be listening as the candidates present their platforms at the Republican and Democratic national conventions; they will be carefully noting what the candidates say about their plans to address a wide variety of issues. Polls and other data show that Latinos are more likely to vote for Hillary Clinton than Donald Trump and that generally, they are more likely to vote Democrat than Republican. But no candidate should assume they've got "the Latino vote" without working hard to address their broad range of concerns.
Popular in the Community