Maharashtra's impressive leap in reading
Something very encouraging just happened in the Early Grade Reading (EGR) landscape of Maharashtra, India's second largest state with a population of 120 million people. Pratham's Annual Status of Education Report (ASER) 2016 found that Maharashtra improved substantially on nearly all EGR indicators, as compared to ASER 2014. For instance, the proportion of children in Grade 3 who were able to read at least a Grade 1 level text went up by 7.5 %, as compared to just 2.2 % for India. The proportion of children in Grades 5 who could read a Grade 2 level text (the highest level assessed in ASER) went up by 9 %, as compared a drop of 0.3 % nationally (Figure 1).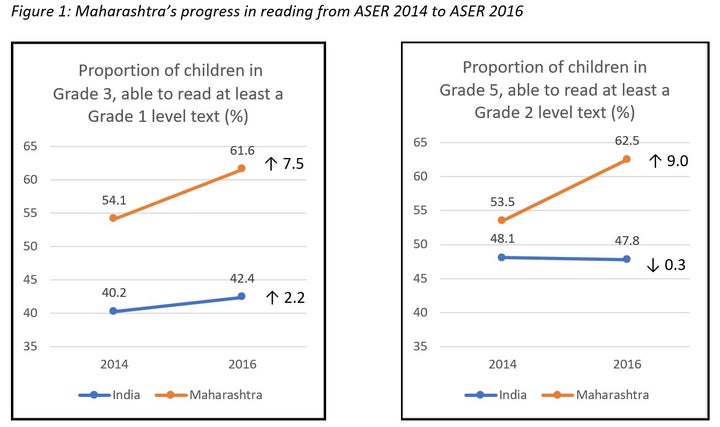 The secret sauce: Daily and inescapable reading
Maharashtra's progress in reading stands out because of its large population and the strength of its gains on nearly all EGR indicators. What caused the leap in basic reading achievement in Maharashtra? The answer may surprise because of the extreme simplicity of a stealth intervention. Reading skills in Maharashtra showed dramatic improvement because of an unprecedented, statewide scale up of subtitles on television, or specifically, Same Language Subtitling (SLS). SLS is simply the idea of subtitling audio-visual content in the 'same' language as the audio. Word for word, what you hear is what you read.
From June 2013 to May 2015, under an All Children Reading Challenge (ACR) grant from USAID, PlanetRead, a non-profit, massively scaled up SLS in Maharashtra. SLS was added on all the songs of 10 weekly Marathi movies telecast in prime time, on Zee Talkies, the state's most popular 24 x 7 movie channel. In addition, the movies were shown on Zee Marathi, the state's leading general entertainment channel. The song-subtitled movies were also repeatedly shown in non-prime time slots on both the channels, during the project period and after.
Small scale SLS pilots have run in India from 1999-2016, covering eight different languages and states. But in each case, the frequency has been only one 30 or 60-minute episode every week, in any given language. Still, several studies have found that even limited SLS exposure, had measurable impact on reading skills. The Maharashtra scale up aimed to understand the potential impact on reading skills, if every song on TV carried SLS, over a sustained period. During the two-year project period, SLS exposure was at least 20 times more than any of our earlier pilots. Anyone in Maharashtra who watched Marathi movies on Zee Talkies or Zee Marathi, got regular, inescapable and abundant reading practice.
Them Same Language Subtitles worked!
Children who had just started schooling in Grade 1, when Maharashtra's SLS scale up began in mid-2013, would have gotten the longest and most timely SLS exposure, i.e., from the beginning of and all through their schooling. That same cohort would be in Grade 4 when ASER 2016 was conducted and could be expected to have benefited the most.
Reading skills in Grade 4 went up substantially in Maharashtra, according to ASER 2015 (which was only conducted in Maharashtra but not across India) and ASER 2016 (Figure 2). From 2013 to 2015/16, something in the state caused 9-10 % more children in Grade 4, to be able to read a Grade 2 level text (Figure 2). The comparable all-India improvement was only 2.3 %, and moreover, from a lower base of 35.1 % in 2013.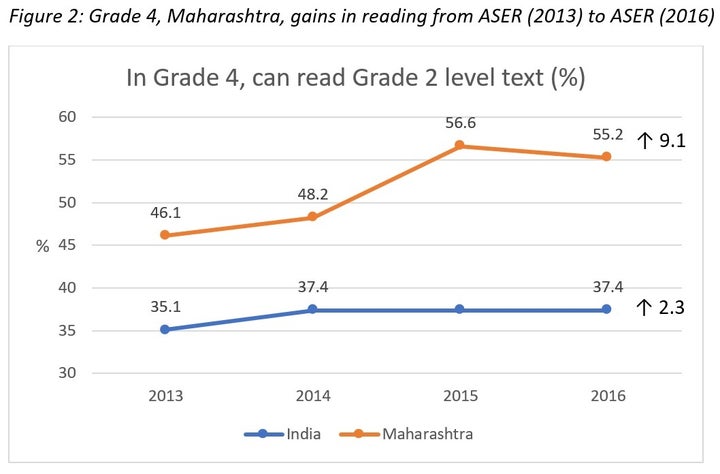 Surely, other interventions could similarly lay claim to their own effectiveness. Theoretically, that is a valid concern. In practice, any intervention that possibly claims to have made a strong contribution to reading skills in Maharashtra will need to: i) be statewide in scope, ii) have a tight correspondence with the period during which ASER found the jump in reading skills, and iii) have conducted its own randomized study that also reported EGR gains from the intervention.
The SLS intervention in Maharashtra not only satisfies these three conditions, it was expressly designed, timed and implemented with the intent of having subsequent ASERs serving as credible and independent complements. The project proposal that went on to win the All Children Reading, globally conducted Grand Challenge grant, stated in 2012: "Our main goal is to determine whether substantial SLS exposure has a measurable impact on reading skills and as a second goal, the extent and nature of that impact. ASER data, along with our own on exposure to SLS, will respond to both these questions."
In other words, the present analysis and conclusions are not an opportunistic afterthought. The SLS scale up in Maharashtra expected to find a positive impact of regular SLS exposure on children's reading skills, in its own study. And the project expected the statewide scale up of SLS to show up as strong gains in reading in later ASERs, which it did.
The latest ASER 2016 confirms that reading skills among rural school children in Maharashtra did improve significantly as compared to ASER 2013 and/or ASER 2014, relative to most other Indian states. The gains cannot and should not ONLY be attributed to the SLS intervention, but I contend that it likely made a standout contribution because of its statewide reach. Any non-broadcast intervention would be hard-pressed to match that scale.
In Maharashtra, 9.2 to 10 million children have access to TV. The SLS scale up directly impacted the reading skills of 38% of the rural sample who had access to Zee Talkies and Zee Marathi. Thus, 3.5 to 4 million children directly benefited from the SLS scale up. The project commissioned an independent baseline (June, 2013) and endline (May, 2015) to none other than Pratham's ASER team.
One of the key finding was that regular SLS exposure caused 30% more children in the early grades to achieve basic reading ability. The impact of SLS on reading skills was considerably stronger when it was available to children at home when they were in the early grades, Grades 1-3. Interestingly, this is reflected in ASER 2006 where the bigger gains were found in the early grades.
The scale up of SLS in Maharashtra improved the reading skills of children, as confirmed first in the project study, and was then strongly supported by ASER 2016 for Maharashtra. SLS was scaled up in project mode for a limited period of two years. As mentioned, only 38% rural children had access to Zee Talkies and Zee Marathi, and could therefore have got regular SLS exposure. If SLS were to have been similarly scaled up on all the other Marathi channels, arguably, we would have seen even stronger reading gains.
What worked in Maharashtra, first needs to be sustained in the state. Other states could easily emulate what was achieved there, by the simple addition of SLS on all existing song-based content on TV in the state. An SLS scale up is not costly, less than one rupee per weak reader per year and only gets more cost-effective in larger states.
The evidence for the effectiveness of SLS just got stronger, thanks to ASER's confirmation of a reading leap in Maharashtra. Unless television channels and policy makers take it upon themselves to add SLS on Marathi song-based content, the remarkable gains in reading, so easily achieved in Maharashtra, will likely dissipate. What we need is a will to understand the scientific merit and power of SLS, a disruptive social innovation that guarantees everyday reading across India. The small step on TV in Maharashtra has the potential to become a giant leap for reading in India.
Support HuffPost
The Stakes Have Never Been Higher
Related
Popular in the Community