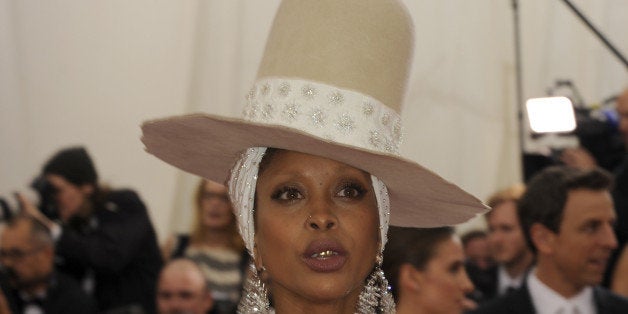 The story repeats itself every few months. A dictator hires a pop icon to perform at a party or private event. Once exposed, the celebrity faces the ire of human rights activists. The celebrity either apologizes, claiming ignorance, or argues that he sang for the "people," not for the tyrant. Sometimes the celebrity justifies his actions with elevated rhetoric about the disadvantages of culturally isolating dictators.
The latest reiteration of this story involves American pop singer Erykah Badu. Badu traveled recently to Swaziland to celebrate the birthday of King Mswati III, the country's long-time dictator and Africa's last absolute monarch. She sang "Happy Birthday" to the king and presented him with gifts. "All the people were smiling when I sang," she tweeted afterward. "I smiled. We all felt good in that moment."
But not everyone did. While Badu and her royal friends were enjoying themselves, the police arrested seven Swazis for wearing t-shirts with messages deemed offensive. The arrests took place in front of the country's High Court, not far from where Badu was performing. A group had gathered there to support journalist Bheki Makhubu and human rights lawyer Thulani Maseko, both recently imprisoned. Their crime? Criticizing the kingdom's judiciary system.
The arrests surprised no one in Swaziland. King Mswati has been systematically crushing dissent since he took power 28 years ago. A wide range of reports documents the regime's myriad of human rights violations, including severe restrictions on freedom of speech and assembly, a ban on political parties, and systematic harassment of the opposition, including torture, beatings and disappearances. The country also suffers a grave HIV/AIDS epidemic, and poverty afflicts more than half the population. Meanwhile, Mswati travels in private jets and limousines. He is suspected of having foreign bank accounts worth billions.
Yet Badu is just one among many celebrities who have propped up human rights abusers like Mswati. Last year Jennifer Lopez came under fire for her paid performance at a birthday party for Turkmen dictator Gurbanguly Berdimuhamedov. Hilary Swank, Jean-Claude Van Damme and violinist Vanessa-Mae faced a similar backlash when Chechen strongman Ramzan Kadyrov paid them to attend a celebration in Grozny in 2011. Sting endured criticism of his performance at a festival staged in 2010 by the daughter of Uzbek dictator Islam Karimov. And Mariah Carey, Beyoncé and Nelly Furtado had to publicly apologize after the media reported they had received millions of dollars to perform at parties organized by the Gaddafi family in Libya.
The litany of human rights abuses by these dictatorships is easily available online. They all restrict independent media, political party activity, and freedom of expression and assembly. They all wield state violence against dissent. And some of these dictators seem out of a magical realist novel. Turkmenistan's regime last year reportedly ordered an Internet lockdown to prevent its citizens from viewing a video of the president falling off a horse. Kadyrov has tortured adversaries with his own hands. Karimov has been accused of boiling his enemies and conscripting armies of children to pick cotton by hand.
So why do so many celebrities do business with these despots? The reason is simple: money. Dictators can spend their country's wealth at their discretion. Unlike democratic leaders, they face no checks or balances. They can silence or marginalize media outlets that expose corruption and their lavish lifestyles. And while they might deride the US political system and foreign policy, they often are fascinated by American celebrities. Besides, they know that associating with celebrities lends a patina of legitimacy to their tarnished reputations.
For celebrities too, the association is tempting. Dictators offer them deals that few can offer: high-reward transactions for little work. It's not hard to imagine relatively decent people accepting hundreds of thousands of dollars (or more) to assist at a single event or perform at a birthday party, even if the money comes from a dictator. Even wealthy celebrities are no exception.
However, Badu's case is another reminder of the risks of such deals. Doing discreet business with a dictator has become increasingly difficult, thanks to camera phones and social media. And on the Internet, past is present. Mistakes made years ago live online forever. If you are reading this, you are a click away from watching embarrassing videos of Van Damme declaring his love to Chechnya's dictator or Lopez singing "Happy Birthday" to Turkmenistan's leader. And new scandals revive old ones.
Human rights defenders have made the best out of this situation. True, activists would rather see actors and singers use their celebrity for good causes. But if performers do the opposite, activists can exploit the public's obsession with celebrity to throw some light on gruesome human rights violations by dictators whose unpronounceable names are virtually unknown abroad. The wide readership of People magazine and Us Weekly learned about Turkmenistan's dictatorship, thanks to Lopez. Even more-serious publications can fall for the allure of celebrity-related news. For a human rights activist, Badu's performance probably represents a more effective way to expose the crimes of the Swazi regime than does the publication of comprehensive human rights reports.
In this respect Badu is partly right. When called out for her actions on Twitter, Badu criticized activists for using her to advance their "agenda." Activists surely do this. But there is nothing wrong with that -- if their agenda is defending human rights.
Popular in the Community