As a child, one of my favorite movies was "To Kill a Mockingbird." I remember the main character, Atticus Finch played by a sombre Gregory Peck, and recall being deeply impressed by his skills as an advocate and as a father to Scout, his precocious daughter. You see, Atticus reminded me of my own father. As a prosecutor in the Nuremberg Trials, my father also was a lawyer who worked for justice. And, like Atticus with his daughter, my father taught me much about the world.
One thing he did not teach me, however, was how to change a diaper. That skill I learned on the job, along with my wife Liz, as we raised our four beautiful children. Along with feeding, bathing, dressing, swaddling, bandaging and soothing, my wife and I consider that to be just as indispensable to parenting as paying the mortgage.
Times have changed, and our views about what it means to be a good father have as well. This is reflected in the second-annual report, State of the World's Fathers, released this month by Promundo on behalf of MenCare: A Global Fatherhood Campaign. The report gives an eye-opening view of the state of men's contributions to parenting and caregiving.
Specifically, the report affirms that men want to be more involved in the lives of their children. Globally, half or more of fathers surveyed said that they spent too little time with their children because of their jobs. In the United States, 46 percent of fathers surveyed said they were not spending enough time with their kids, compared with 23 percent of mothers.
This is huge. Why? Because fathers worldwide are recognizing that their contributions as parents require them to be more engaged with their children's daily lives. In fact, in Promundo's State of America's Fathers report found that more than half of men surveyed in the U.S. disagree with the notion that fathers should be breadwinners while their wives take care of children and housework. This new attitude is great progress if you consider that when fathers are more involved, their children are more likely to finish school, less likely to be delinquent, and more likely to be confident and happy.
I wish I could say that on the occasions I tackled diapers, bandaged a knee or prepared a meal for my kids, I was driven by a desire to be a post-modern super dad. I did those things because they needed to be done. In a household where both parents work, my wife and I did what we had to do to raise our kids. There was no medal for a putting together a hot, nutritious meal in less than 30 minutes, no certificate of achievement for a diaper well-changed, no overtime pay for staying up through the wee hours with a sick child.
"In a household where both parents work, my wife and I did what we had to do to raise our kids."
But there ought to be. Caregiving and unpaid care work lie at the heart of our responsibilities as parents. And it's the central topic of the State of the World's Fathers report. As a society, we need to teach all children to see the value of caregiving from an early age, and to see that care work is the responsibility of all, regardless of their gender. In schools, homes, and communities, programs should work with boys and girls, as early as possible, encouraging them to critically reflect on traditional gender norms and expectations, and to focus on the capacity of all individuals to provide care. In a separate Promundo study titled International Men and Gender Equality Survey, research from more than 30 countries finds that if children saw their parents and other adults share care work more equally, they tended to do the same as adults.
Apart from parents being role models for our children, the media also can play a huge role in shaping our children's gender norms about care work from the earliest ages. If my experience as a father has taught me anything, it is that children internalize gender norms portrayed in the media like sponges.
So, in addition to Harper Lee's classic, I've added "Finding Nemo" and Eric Carle's "Mr. Seahorse" to my list of recommendations for Father's Day fare. That's because both celebrate fathers as caregivers who see it as their duty to make sure their children are happy, healthy and prepared to take on the world, diapers and all.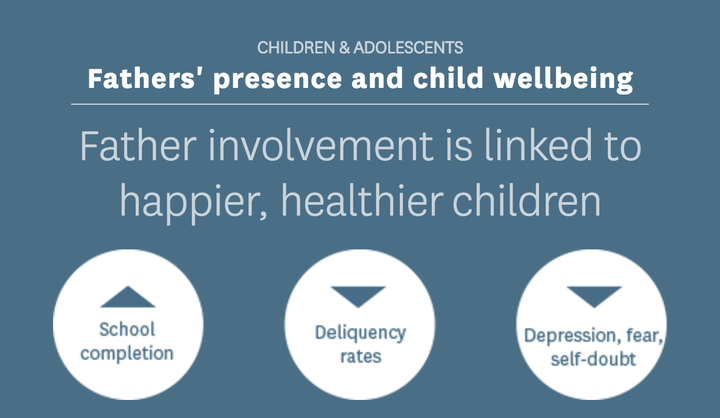 James Steyer is the father of four children, Lily, Kirk, Carly and Jesse. He is also the founder and CEO of Common Sense, the nation's leading independent nonprofit organization dedicated to creating a powerful voice for kids and families in the 21st century. Mr. Steyer authored the acclaimed Talking Back to Facebook and The Other Parent: The Inside Story of the Media's Effect on Our Children and as a faculty member at Stanford University, he has taught courses on education, civil rights, and civil liberties issues.