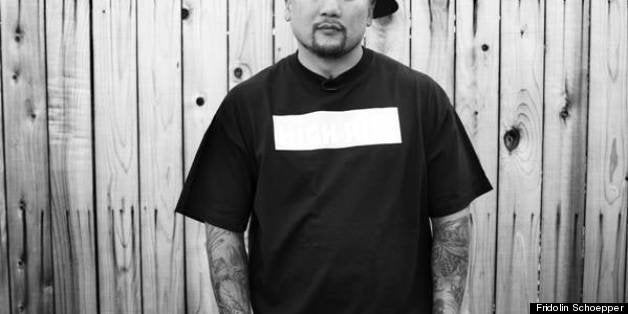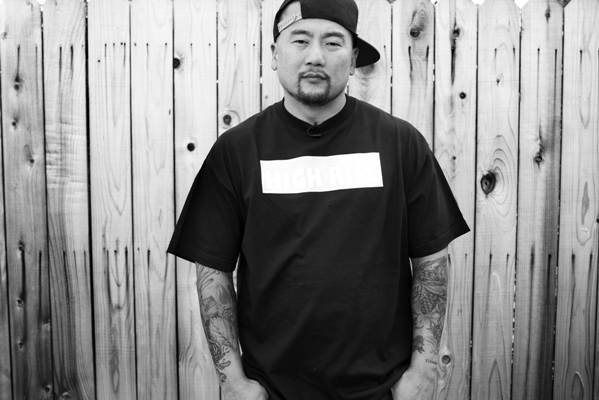 Roy Choi is having a moment eating fiery Soondubu, on CNN's Parts Unknown, appearing live with Anthony Bourdain at the Pantages Theatre, releasing the cover of his upcoming memoir, L.A. Son.. He's already beloved by Angelenos for his Kogi BBQ truck, and the restaurants Chego, A-Frame and Sunny Spot.
So a new chef enters the machinery of fame. Maybe he'll succumb to its poison allure. But maybe, just maybe, he'll sail through. It's not just his rough roots, his street smarts, his attitude, his culinary eclecticism, his populism, his Dadaist tweets, his skills and not even his way through and around flavors, that inspires hope. It's the way he's using food to think and feel in new ways about culture, high and low.
Full disclosure: I was introduced to Choi because I was asked to write a bio of him for speaking engagements at ZPZ Live. But we talked about many things that don't fit into a bio. It was oddly inspiring. "People are fascinated by the nature of who I am, but they haven't gone all the way," Choi said. "There's the bad-boy image, but they're not listening to what I'm saying all the way through. I cross worlds, and I don't pass judgment on anyone."
His fame arrived through his Kogi BBQ truck, selling $2 Korean barbecue tacos, marketing via Twitter ( "the first viral eatery," said Newsweek). At the Pantages event, when Bourdain remarked that he'd turn away a homeless person from a restaurant he ran, Choi countered that he'd proudly serve anyone "whose money was green," according to LA Weekly. "Skaters and rappers and homeless and jobless" is how he described the young people he's teaching to cook when he volunteers at A Place Called Home in South Central Los Angeles. The goal: Empowering them to open their own local food-based businesses.
He's not taking them out to farms in a yellow bus to learn about "real" food. "That would just reinforce the message that they have to leave their community to be better human beings," he said. "I want to do the reverse, to enlighten them that they are beautiful human beings, and they are responsible to making the community better.
"They look me up online and say, 'You famous, dude? What are you doing here?' I tell them, 'Just because I'm famous doesn't mean I have to change what I am.' "
The kids can't cook. "You have to open their hearts. They don't want to admit they don't know this stuff. I tell them, you can f**k things up. Mash things together, like hip-hop, like a skate trick, you can fall down and scrape your knees.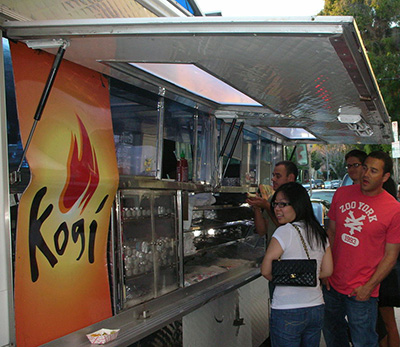 Use your swagger. Don't listen to others," he said. He shows them how to hold a knife, how to peel, how to heat a pan and render fat; to follow a work ethic; the core value of cleanliness.
"I teach them how to blanch and cook asparagus, but it doesn't have to taste like white people food! Vegetables don't discriminate. They can char it, squeeze lime over it, hit it with chilies and cilantro, and make it taste like they like to eat.
"I show them how to create a food cart, how to honor their Latin heritage, to use umami flavors, yogurt, coconut milk, a little chili and lime -- to make it taste like their palate. So they know 'my flavors are valid, my palate is valid, I can do anything I want.' "
He demonstrates how to "build" fried rice: "Start with aromatic vegetables, layering flavors as you go -- ginger, garlic, scallions, that's your trinity -- maybe onions, bell peppers, chilies, cooking them, adding rice, cooking it through, deglazing, finishing with butter, eggs, mixing, layering.
"Even simple things like a hamburger, butter the bread all the way around, toast it completely, slow their steps down. Even if it's just bread and a piece of meat, notice the difference in texture in toasting the bread, seasoning the meat."
In his own cooking, Choi is exploring flavors of the Caribbean, including Jamaica, Trinidad, Puerto Rico and Cuba. He's jumping into, of all things, Korean food, "wild sesame, and all these really pungent deep viscous flavors," making his own fermented chili pastes.
"I'm looking for ways to really intensify vegetables, making them really simple with lots of flavor, like Korean side dishes," he said.
So here's a toast to Choi's new fame: Don't ever change, Roy, and keep changing. "Whatever I'm doing, it has nothing to do with putting anything else down. I love fine dining. It will always exist. I don't want to squelch what is already thriving. I want to focus energy on things that aren't existing," he said.
Here are two fruit-based recipes that Roy Choi has taught his South Central students. When we asked Choi about the title for the second recipe, he replied, "I named it Boba Fett because of the boba (tapioca balls), which a lot of young kids drink."
Coco Nuts Smoothie
For the coconut agave mixture:
3½ cups (28 fluid ounces) coconut milk (shake before opening)
3½ cups (28 fluid ounces) coconut water
½ cup organic agave nectar
Thoroughly mix and pour into pitcher and keep cold.
¼ cup each of frozen fruits (sliced strawberries, mango chunks, pineapple chunks and peach slices) thawed but still cold. (Use four different kinds of fruit to make one cup total.)
1 cup coconut/agave mixture
Place one cup of the frozen fruit mixture in blender. Pour one cup cold coconut milk/agave mixture over fruit and blend. Serve with a straw.
Boba Fett
For the pineapple cinnamon mixture:
1 can (46 fluid ounces) pineapple juice shaken and cold
1 teaspoon ground cinnamon
Mix well and pour into pitcher and keep cold.
2 tablespoons frozen pineapple cubes
2 tablespoons frozen mango cubes
2 tablespoons frozen banana slices
2 tablespoon frozen diced strawberries
1 cup cold pineapple/cinnamon juice mixture
Spoon fruit into plastic cup. Pour one cup pineapple juice/cinnamon mixture over fruit. Serve with big boba straw.
Roy Choi. Credit: Fridolin Schoepper
Kogi trucks are cherished in Los Angeles. Credit: Wikimedia / Kogi BBQ
Related