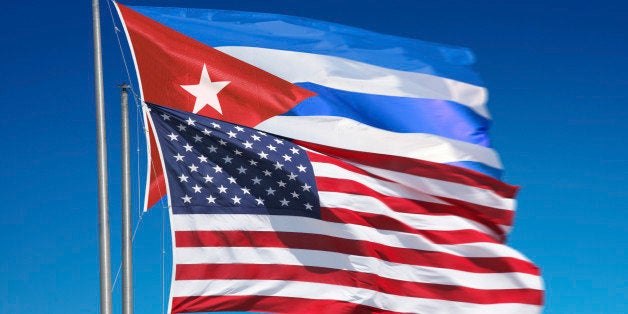 While Fidel Castro used to deliver his marathon seven-hour speeches in Havana, Cubans used to joke that if Spanish lacked a future tense their leader would be speechless. He was only fluent in broken promises, they lamented. It's been almost a decade since Fidel stepped down from power and now, as Cuba transitions from a turbulent past into an unknown future. He turns 89 this August and is rarely seen in public.
"What comes next?" is the constant question I'm asked by outsiders eager to travel to the island. During the eleven years I traveled to Havana, very few Cubans I met on the island ever bothered to verbalize this question. Many of those I met have already left or remain behind desperately trying to leave. Over the decades of fleeing or staying, every family has been split by Fidel Castro and revolution's legacy.
"A revolution is a struggle to the death between the future and the past," Fidel Castro once said. His brother, Raul Castro, was handed the reins of power nearly a decade ago and has announced plans for his successor in the coming years. Finally, someone not named Castro will, after six decades and a dozen presidents, be steering the ship. But where do the Cuban people stand between their troubled history and mysterious future? Perhaps the canary in the coalmine has always been Cuba's athletes, presented with the same choice all Cubans face to remain or flee, only with infinitely more money on the table to leave. Cuban athletes step aboard smugglers' boats hoping to shipwreck into the American Dream. They are the most expensive human cargo on earth.
On November 19, 1962, despite producing some of the best athletes in the world, Fidel Castro banned professional sports on his island. Castro drew a line in the sand: remain in Cuba and fight for the revolution or defect, and betray your country for the riches that awaiting 90 miles off Cuban shores. For five years not one boxer left. Then, in 1967, Enrico Blanco, only 15-years-old, defected in Winnipeg, Canada shortly after winning gold at the Pan American Games.
Over the decades, more boxers risked losing everything to defect, including their lives. Some crossed minefields to get to Guantanamo Bay, others risked the shark-infested waters of the Florida Straits. Soon a perversely thriving human trafficking operation developed in Mexico by mafia cartels to assist men, women, and children -- as well as athletes -- to escape Cuba as human commodities in a coldblooded vulture black market. Pulitzer Prize-winning journalist Steve Fainaru described it to me as "venture humanitarianism".
During the worst of Cuba's "Special Period," nearly 30 years after Cuba's first boxing defection, Joel Casamayor, in the lead-up to the Atlanta Olympic Games in 1996, became the first Cuban Olympic champion to defect. The trickle of athletic defections up to that point turned into a flood 10 years later, with Olympic champions Odlanier Solis and Yuriorkis Gamboa escaping in Venezuela, along with their national teammate Yan Barthelemy. In 2007, during the Pan Am games, Guillermo Rigondeaux, the captain of the Cuban team and a two-time Olympic champion, was arrested in Brazil along with his teammate Erislandy Lara, attempting to defect. Rigondeaux was paraded by Castro personally as pariah and Judas to his people and finally managed to escape his confines in February 2009, abandoning a wife and two children.
Since the revolution began in Cuba, the overwhelming majority of athletes have remained, with only about 1 percent having made the harrowing decision to defect. Many of the greatest Cuban boxing champions since the revolution triumphed on the island resisted the temptation to leave Cuba and, in some cases, defied any suggestion they were tempted in the first place. Most famously, Teofilo Stevenson, rejected multi-million dollar offers to leave his island to fight Muhammad Ali. Stevenson instead asked of the offer, "What is a million dollars compared to the love of 8 million Cubans?"
His successor, Felix Savon, who won his first of three Olympic gold medals in Barcelona in 1992, turned down considerably higher offers -- perhaps in the neighborhood of $20-$25 million -- from boxing promoters Bob Arum and Don King, to fight Mike Tyson. I've interviewed both men at their homes in Havana long after their celebrated fighting careers were over. Both laughed at the idea of abandoning their country for all the riches in the world. However, both were only willing to talk with me provided I pay them a fee under the table which it was well understood they weren't sharing with the government they claimed to adore. In the last few years, the celebrated Cuban sport machine has seen more defections than at any time since the Castro brothers took power. Several of Cuba's youthful champions of tomorrow told me off the record that given any opportunity, if there aren't significant changes, they will seek their fortunes in America.
Nearly 20,000 Cuban boxers are currently employed by the state on the island, the vast majority making less than $20 a month. That being said, these athletes, like other Cubans, pay no rent for their homes, they require no money for medical costs from cradle to grave, and education across the island is free.
The media seldom highlights these facts. It costs nothing to watch any sporting event in the country or to enjoy any cultural event with your family or friends. The low-wages always take center stage when foreign reporters illuminate the plight of Cuban athletes, but these other factors are the context and perspective that many Cuban athletes readily celebrate on the island. They're proud of a society that values such things. They remember, from countless stories told by their parents and relatives, how bad life was before, especially for Afro-Cubans. Four out of five revolutionaries who arrived in Havana to oust the U.S.-backed dictatorship of Batista were illiterate. Now Cuba boasts one of the highest literacy rates on earth. Moreover, many are afraid what happens in America, living under the American system, if their athletic career fizzles.
One $64,000 question, now that President Obama has taken the radical measure of normalizing relations with Raul Castro and Cuba, is what happens next for over a billion dollars' worth of human capital currently on baseball fields and inside boxing rings in Cuba? Most of these athletes earn less than $20 a month and are well aware of their market value anywhere but where they were born. With an ever-growing human smuggling operation perilously sending Cuban boxers and baseball players to the professional ranks via Mexico, Cuban athletes, insidiously, can only escape dictatorship in Cuba as human cargo, bought and sold over shark-infested waters.
Policies on both sides of the 90 miles separating Cuba and the United States have only encouraged Mexican cartels to diversify their drug portfolios to include human smuggling. Over 10,000 Cubans, men, women, and children washed ashore in Mexico last year at an estimated minimum fee of $10,000 per person.
Last year, I visited some of the hotels where they were held prisoner on Isla Mujeres, just off the coast of Cancun. Many were held hostage at machete or gunpoint until a ransom masquerading as a fee was secured by the smugglers. Once that money is paid to buy and sell human beings off the island, how indebted the human cargo is to their financiers remains a murky, enormously troubling feature of this malevolent trade.
Where the "Bay of Pigs" invasion failed, undoubtedly the tourist invasion will succeed in forever changing the landscape of island. What comes next in Cuba? The answer is that many Cubans aren't waiting around to find out. The question itself betrays a luxurious viewpoint the vast majority of Cubans living on the island cannot afford to dream of.
Popular in the Community