Things don't always happen the way one hoped they would. Although people don't look forward to receiving bad news, when it comes a-knocking at their door, many react with an astonishing range of emotions.
Ancient Greeks blamed their bad luck on the Fates.
Today's devout believers trust that God will find a way.
A starry-eyed romantic trusts that love will triumph over all.
A cynic believes that no good deed goes unpunished.
A cock-eyed optimist believes that "every day in every way I'm getting better and better."
A realist hopes there's a user's manual that's written in comprehensible English.
No matter how much one struggles to avoid accidents and illnesses, life has a strange way of sabotaging happiness. Some men act rashly when blood rushes to the wrong part of their anatomy. Others (like Donald Trump) remain in furious denial that anything they do and/or say might cause them to suffer serious consequences.
Bottom line? One's actions often have repercussions. Whether misfortune results from bad luck, gullibility, a natural disaster, or a person's innate stupidity, the chance that things won't always go well remains pretty strong. But you already knew that. Didn't you?
Audiences can be easily misled into thinking that the full title of Barry O'Neil's 1913 silent film is When The Earth Trembled. Indeed, the most powerful images from the film and its marketing campaign show residents of San Francisco coping with the traumatic experience of the Great Earthquake of 1906. The film is also thought to be the first piece of cinematic fiction to depict the historic quake.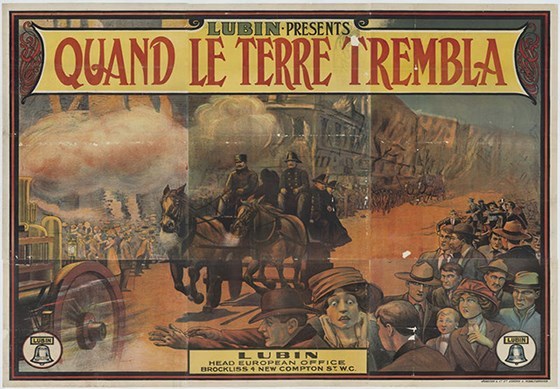 Poster art for When The Earth Trembled, or The Strength of Love
However, the full title of O'Neil's film (When The Earth Trembled, or The Strength of Love) indicates that there is far more woe in store for the protagonist than a 7.8 earthquake. Shortly after Paul Girard, Jr. (Harry Myers) marries his attorney's daughter, Dora Sims (Ethel Clayton), the elders of both families get into a bitter argument and sever their business relationship. Filled with spite and eager to bring his old friend to ruin, Paul Girard, Sr. (Bartley McCullum) acquires a majority shareholder's interest in the company run by Dora's father.
After the young couple moves to San Francisco (along with Dora's father), they suffer a series of severe business setbacks. However, none of the characters in O'Neil's film could have anticipated that, after leaving San Francisco just days prior to the earthquake, Paul would become shipwrecked, Dora's father would die during the quake, and Dora would return to Philadelphia only to discover that the elder Girard was determined to take away her two children (played by Mary Powers and Lathan Miegzler).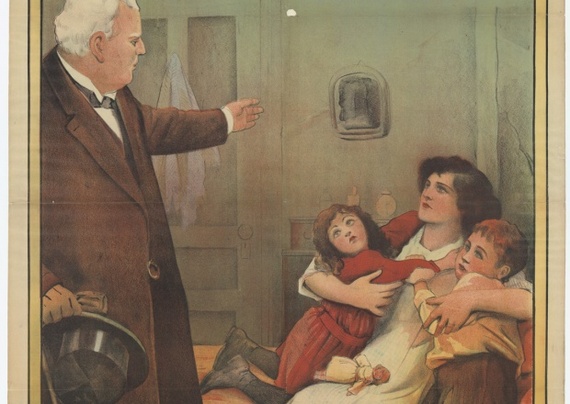 Dora Sims returns to Philadelphia with her two children
in When The Earth Trembled, or The Strength of Love
This film -- one of the earliest three-reelers from the silent era -- had been considered lost for many years (largely because, on June 13, 1914, a fire had destroyed all the negatives produced by the Lubin Manufacturing Company since its launch in 1896). However, on March 28, 2015, the EYE Film Institute Netherlands presented the world premiere of a digitally restored version of When The Earth Trembled. EYE used three incomplete prints (its own as well as those supplied by the British Film Institute and New York's Museum of Modern Art) as the source material for the restoration, although some segments of the 43-minute film had sustained serious damage.
On May 29, the San Francisco Silent Film Festival presented the American premiere of the long-lost 1913 film. The following clip shows the contrast between sections of the restored print and the quality of the source prints from EYE, MOMA, and the BFI.
With Stephen Horne accompanying the film on piano, flute, and accordion, this screening of When The Earth Trembled offered a fascinating perspective on what filmmaking was like more than a century ago -- when computer generated imagery (CGI) was unimaginable. Although the film includes some stock footage taken in San Francisco following the 1906 earthquake, it took O'Neil nearly four months to design and create the special effects that could recreate that horrible day.
While introducing the screening, Rob Byrne (the President of the festival's Board of Directors, who worked on the film's restoration) noted how some actors narrowly escaped being severely injured during the earthquake scenes (a chandelier fell on Ethel Clayton as she was trying to escape from a collapsing house).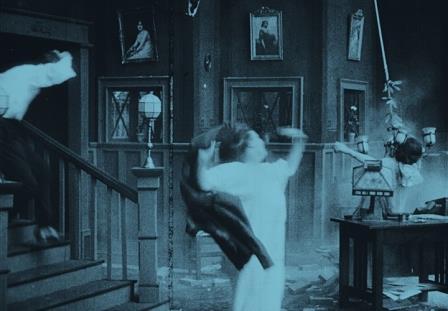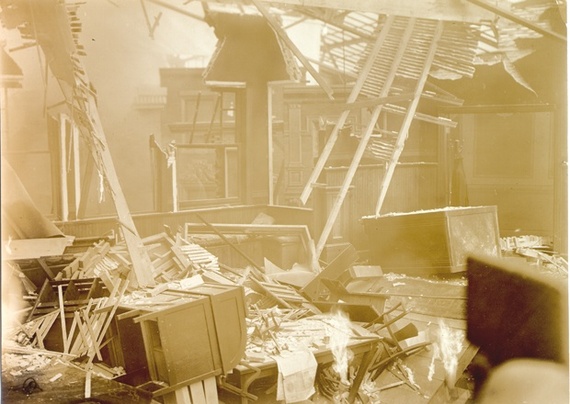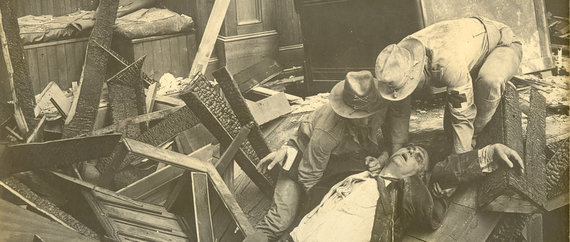 To the surprise of many in the audience at the Castro Theatre, the San Francisco earthquake was only a small part of this melodramatic narrative. Edwin Barbour's plot crammed a helluva lot of family drama into a three-reeler and kept the audience on the edge of their seats throughout When The Earth Trembled, or The Strength of Love.
Using a unit set designed by Mikiko Uesugi and carefully lit by Kurt Landisman, Josh Costello recently directed the Bay Area premiere of Detroit for the Aurora Theatre Company. Although Detroit received its world premiere from the Steppenwolf Theatre Company in Chicago in 2010, was a finalist among the contenders for the 2011 Pulitzer Prize for Drama, and won Off-Broadway's 2013 Obie Award for Best New American Play, dramatist Lisa D'Amour claims that her play's title is not a direct reference to Michigan's largest and most important city.
"To me, it's about a particular anxiety the name of that city evokes. Detroit is a symbol to so many people of the American dream drying up. While working on the play, I started hearing about radical grassroots movements in Detroit trying to bring the city back. There's something bubbling up there -- where the structures aren't working and the people are taking over -- that's interesting. It's a weird title, but if you look at the play and how at times it feels like a surreal fable, it makes sense."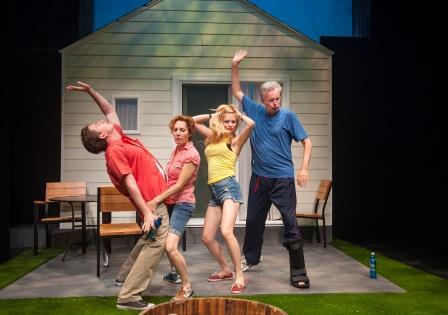 Patrick Kelly Jones, Amy Resnick, Luisa Frasconi, and
Jeff Garrett in a scene from Detroit (Photo by: David Allen)
To my mind, D'Amour's play is much more about the tragic gullibility of well-meaning fools. Mary (Amy Resnick) and Ben (Jeff Garrett) are an affable, lower middle class, well-meaning suburban couple who, after years of a stable but relatively boring life, are experiencing new and unanticipated pressures on their marriage. Perhaps the biggest mystery in their neighborhood is the identity of a woman who goes jogging every day dressed in a hot pink outfit.
Ben (who was recently laid off from his job as a bank's loan officer) is aiming to start a financial consultancy business which can be operated from the website he claims to be building. Now that he is home all day long, he spends a lot of time in front of the computer and shows little interest in listening to his wife's complaints about her day job (or her concerns that Ben's severance package will soon dry up). Ben's new mantra is "Follow your passion."
Mary (a paralegal with a noticeable drinking problem) has been obsessing about the couple's financial future while suffering from a painful plantar wart on her foot. She's also become increasingly curious about the young couple that has taken up residence in the house next door (especially since, whenever she's looked through the windows, she hasn't seen a single piece of furniture).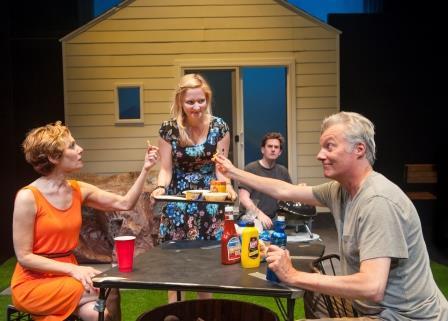 Mary (Amy Resnick), Sharon (Luisa Frasconi), Kenny
(Patrick Kelly Jones), and Ben (Jeff Garrett) enjoy some
white trash cuisine in a scene from Detroit (Photo by: David Allen)
Ben and Mary's loneliness is broken by the arrival of Sharon (Luisa Frasconi), the female half of the couple who have moved in next door. At 31, Sharon is fresh out of rehab, working at a local call center, and surviving on a diet that primarily consists of ramen noodles. Since arriving in town, she's noticed a strange lack of any sense of community (like in the old days when a neighbor would drop by and ask to borrow, well, maybe something).
Following Mary's invitation to join her and Ben for a back yard barbecue, Sharon arrives with her husband Kenny (Patrick Kelly Jones), who is currently managing a warehouse. As the two couples get to know each other, Ben and Mary learn that Sharon and Kenny met in rehab and have moved into their new home following the death of Kenny's aunt. While they would like to purchase the home, they are surprisingly guarded about many pertinent details involving their lifestyle. Out of sheer pity, Mary gives them a coffee table (that she hates) so that Sharon and Kenny will at least have some furniture in their home.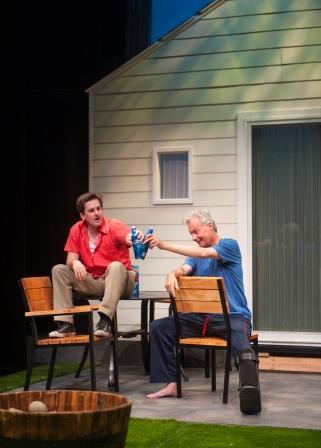 Kenny (Patrick Kelly Jones) and Ben (Jeff Garrett) enjoy some
male bonding in a scene from Detroit (Photo by: David Allen)
Detroit attempts to capture the trepidation that the universal dream of a suburban lifestyle is rapidly falling through the fingers of people who actually live in suburbia. Since both couples in D'Amour's play are childless -- and seem to have no hobbies or outside interests -- they have few if any friends. As the country hurtles toward an economic crisis, Mary and Ben see their net income rapidly diminishing while it becomes obvious to them that Sharon and Kenny can barely hold onto a job.
Things soon take a turn for the worse. Ben injures his leg as a result of Kenny's well-meant but incompetent carpentry work. Sharon has an unnerving confrontation with the lady in the hot pink jogging suit (who accuses her of dumping her dog's shit on the woman's front lawn). As more and more "puppies" get thrown onto the grill during successive barbecues, one wonders if these two couples can sustain their fragile friendship.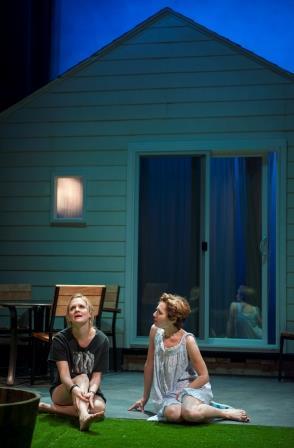 Sharon (Luisa Frasconi) and Mary (Amy Resnick)
fantasize about taking a camping trip in Detroit
(Photo by: David Allen)
That's not to say they don't try. Mary and Sharon fantasize about taking a "just-us-girls" camping trip but only get as far as a local gas station. Ben and Kenny fantasize about having a boys' night out at a local strip club, but obviously can't afford to go.
As their new-found friendship careens out of control, the normally risk-averse Ben and Mary find themselves goaded into dangerous behavior by two failures who have nothing of their own to lose. When a tempting fantasy has tragic consequences, D'Amour's play takes a sudden and chilling change of course.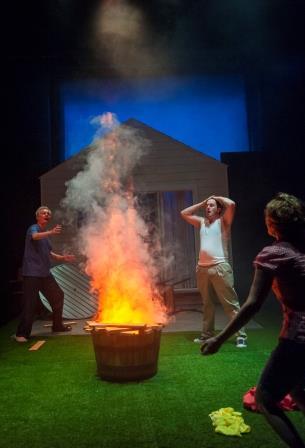 Ben (Jeff Garrett) and Kenny (Patrick Kelly Jones)
watch the flames rise in Detroit (Photo by: David Allen)
It's not like anyone in the audience couldn't sense that disaster was imminent. But in their naive desire to do good, Ben and Mary play right into the hands of two irresponsible drug addicts who are about as mature as middle schoolers. Sharon is so convinced from the way Ben speaks that he must be British that Ben eventually ends up buying into her fantasy. After having been fired from her job at the call center, when it's Sharon's turn to cater dinner, she describes her culinary style as "white trash."
The further away the foursome gets from any sense of responsibility, the fainter their grip on reality. After calamity strikes, they are visited by Frank (also played by Patrick Kelly Jones), an elderly man who has lived in the community for decades and waxes nostalgic about an era of suburban intimacy that may never have really existed.
Two interesting casting decisions had a strong impact on Aurora's production. Although D'Amour's script describes Ben and Mary as being around 30-32 years old, Amy Resnick and Jeff Garrett give one the impression that the couple is well into their 40s (and perhaps a generation older than Sharon and Kenny). Patrick Kelly Jones also doubles as Kenny and Frank (the elderly neighbor) in this production.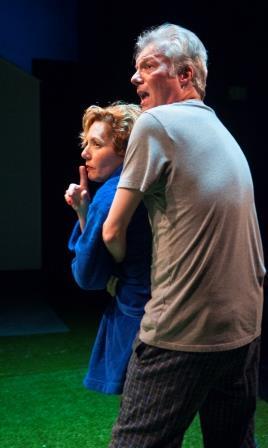 Mary (Amy Resnick) and Ben (Jeff Garrett)
watch their house go up in flames in Detroit
(Photo by: David Allen)
The odd thing about D'Amour's play is that, while it delivers plenty of laughs, it ends up being far more disturbing than the satire it was meant to be. Detroit points to the extreme weakness and/or vulnerability of those who have been so anesthetized by a suburban lifestyle that they can't even recognize signs of imminent danger that are staring them in the face.
Aurora's ensemble did a beautiful job of bringing D'Amour's script to life, with special kudos to Amy Resnick and Patrick Kelly Jones. Prior to attending any performance of Detroit, I would strongly advise reading Omid Safi's probing article entitled The Disease of Being Busy.
Calling all HuffPost superfans!
Sign up for membership to become a founding member and help shape HuffPost's next chapter