Another Davos event has come and gone. The World Economic Forum surpassed itself this year at the 2016 Annual Summit. Now that the dust has settled and the thousands of participants gone back to their own respective countries, let us take a moment to analyze what Davos means for the world. Let's try to understand why Davos matters, if at all, and how is it that Davos bashing has become the most popular sport for those who are not invited.
Davos bashers would do good to their own selves if they reflected upon the following points.
No, Davos is not only about convening. Yes, it's a brilliant gathering of scintillating stars from across the globe, insanely dazzling and unbelievably bright. They meet in a space that is defined by its pristine beauty, the snow and the mountains forming an effective backdrop for the drama played on the promenade of a small alpine village. But, like in all dramas, there is a purpose. The purpose is to meet like-minded people with the aim of accelerating momentum in whatever ecosystem we exist. And there is a method in the madness. Having been selected Social Entrepreneur of the year 2014 by the Schwab Foundation, I was invited this year to Davos. I spent 2 months doing my homework, and sent mails to at least 100 people who have the same mission in life as I do, that of serving the disadvantaged. And many others wrote to me as well with the same thought in mind. All this resulted in several private meetings which subsequently led to collaborations, which proves my point that convening is all very well, but its results that matter. Davos gives results.
2. Davos is motivational:

No doubt there's a strange sense of unreality about Davos. On one had you mingle with heads of states and the hoi polloi, on the other hand you find you are on top of a mountain and so close to heaven that you feel you can reach out and touch the stars. And you want to do so in your real life too. I came back from Davos inspired, uplifted by the beauty of it all, drunk with success and happiness, with a firm determination that whatever I have done up till now must be multiplied several times over in the coming year. Davos is motivational.
3. Davos broadens your horizons.
Both as a person and as an organization you boundaries get stretched. You start thinking far beyond your limited perspectives. My NGO, Operation ASHA, is serving 14 million disadvantaged in India and Cambodia, doing the full spectrum of Tb services. In Davos I was approached by donors who wanted to provide nutritional supplements. I met dedicated people serving Syrian refuges in Europe, who were deeply concerned about the extraordinarily high incidence of TB in the migrants, and we explored replicating Operation ASHAs methodology of training local people to serve their community. I could see great vistas extending beyond my horizon, and now I know there is so much more to be done, and so much to be achieved and miles to go still.
It's not all about work. We had a Bollywood night where participants gyrated to loud music blaring in a dimly lit pub. We attended the Africa night and danced to beats of a drum at the Africa night. We ooh-ed and aah-ed when Leonardo Di Caprio made a split second appearance at the Belevdere. We ate too much, drank too much, slept too little, made friends for life, and the adrenalin kept us going inspite of the exhaustion.
So now this is my question to Davos bashers. Is it a question of sour grapes? And when you are vocal, virulent, argumentative and negative, are you not exposing your own selves? My message to them would be this- live and let live. Do good your own way, let others do it theirs. All who attend Davos will not save the world, but many will. Agreed, many have their own personal agendas and their own interests in mind, and many go to Davos to give their business a fillip, but isn't that what keeps the world going? For increase in commercial activity means more jobs and productivity.
The reason Davos is important because it makes people realize that the best business models are those that combine profit with social good. And this is what matters.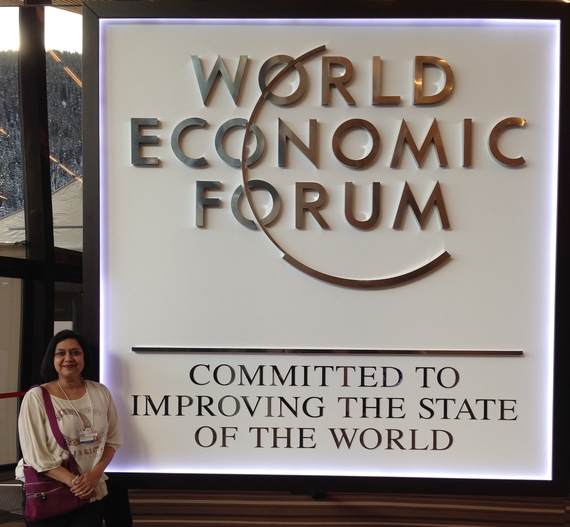 Calling all HuffPost superfans!
Sign up for membership to become a founding member and help shape HuffPost's next chapter