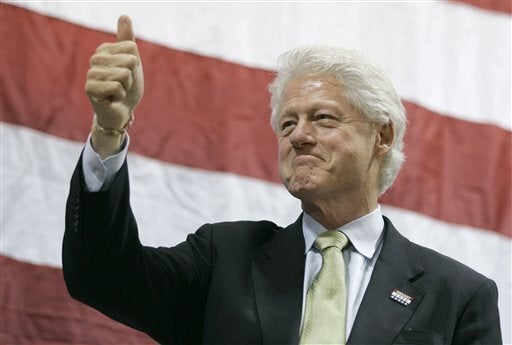 The campaign press statement accompanying the release on Friday of Hillary Clinton's 2000 - 2007 tax returns includes some useful summary data for the media: Bill and Hillary Clinton's total income over the past 8 years, $109 million; her Senate salary, $1.1 million; his presidential pension, $1.2 million; her book royalties, $10.5 million; his book royalties, $29.6 million; and his speaking fees, $51.9 million.
One big line item is missing from the press summary however: the $15 million paid to Bill Clinton between 2003 and 2007 by Ron Burkle's Yucaipa Global Opportunities Fund.
In fact, the Burkle payments, buried deep in the income tax forms themselves, were the only real news in tax documents, which were made public for the first time.
The Clintons' huge book profits, her salary and his speaking fees, were all well known. Hillary Clinton has been required to disclose details on many of those sources of income in the annual financial disclosure statements she has to file as a member of the U.S. Senate.
But until the release of the tax returns on April 4, the only disclosure Hillary Clinton had made about her husband's financial relationship with Burkle was the fact that Bill Clinton earned "more than $1,000" annually from the partnerships.
Now that the Clintons have disclosed that the former president received from 250 to 500 times "more than $1,000" each year since 2002, the glaring question that remains unanswered is: What did he do for all this pocket change?
Clinton campaign spokesman Jay Carson provided a statement that did not reveal much:
"The President provides his best advice on potential investments, advocates generally on behalf of the funds, and seeks to create opportunities for investors to consider investing in these funds or in the investments the funds make."
In more common parlance, this translates to "rainmaker" and "door opener."
Burkle, who is worth at least $2.5 billion according to Forbes, and Clinton are business and social partners, often traveling the Los Angeles social circuit together.
Burkle specializes in putting together funds that invest in city and other businesses. Burkle and Magic Johnson are working together on creating an urban investment fund.
Burkle and Yucaipa have been involved in a number of controversies that have reportedly prompted concerns in Hillary Clinton's presidential campaign that her bid might be damaged by resulting adverse publicity.
Bill Clinton was, according to sources close to both Burkle and Clinton, deeply angered by a September 26, 2007, front page Wall Street Journal article detailing some of Yucaipa's questionable dealings. The story, which broke on the same day that heads of state and business leaders convened in New York to discuss the Clinton Global Initiative, described plans to invest millions of dollars in a venture to buy up Catholic Church property.
Clinton, according to aides, intends to sever his financial ties with Burkle, although he may do so only if his wife wins the nomination, an increasingly unlikely prospect.
Tax returns, year by year: