And when did he know it?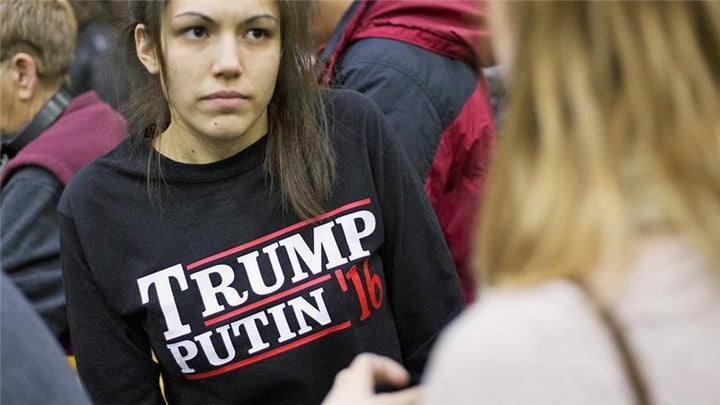 Here he goes again. Donald Trump's incontestable and extensive connections to the Russian intelligence services are back at the forefront, where they belong. Congress is hopping mad, as they should be, and Democratic lawmakers are calling for a wide-ranging counterespionage investigation into Trump's activities and interactions with the Russian Federation and the various hackers, plural.
Top Democrats on four House committees that oversee national security on Friday called on the FBI to investigate Donald Trump's purported ties to the Russian government and its alleged hacking of Democratic groups and operatives.
"Troubling new evidence appears to show that the Trump campaign not only was aware of cyber attacks against Secretary Clinton's campaign chairman, but was openly bragging about it as far back as August," read a joint statement from Reps. Elijah Cummings, John Conyers, Elliot Engel and Bennie Thompson, who are respectively the ranking members of the House Committees on Oversight and Government Reform, Judiciary, Foreign Affairs, and Homeland Security.
"For months, we have been asking the FBI to examine links between the Trump campaign and illegal Russian efforts to affect our election," the Democrats' statement continued. "In light of this new evidence ― and these exceptional circumstances ― we call on the FBI to fully investigate and explain to the American people what steps it is taking to disrupt this ongoing criminal activity."
Bragging about purloined documents that may have been stolen from government officials and statesmen by a foreign power. If that sounds like someone unworthy of the station of the Executive Office of the President, you're on to something. And you are likely not a Russian spy. Which is good! But ultimately, chattering Republican staffers, that will be determined by the nice federal agents. Yes, you can have a coffee. Oh, you met with Manafort? At the Capitol Hill Club? That's not good, Billy.
A mere three weeks before the election, we learn the man running for the highest elected office in the land may have as many as 250 distinct businesses inside the Russian Federation. Two hund- what? And did Donald see fit to mention...well, any of this? Heavens no:
The Democratic Coalition Against Trump, the nation's largest grassroots anti-Trump organization, uncovered 249 companies registered in Russia with the Trump name in them.
Then of course, there is the issue of the notorious Russian mobsters meandering about at teenage beauty pageants. But hey: that's not creepy at all, no sir. Just a normal day in the Trump kindgom.
The Financial Times, for example, has uncovered surprisingly sinister new details about the extent of these nonexistent business interests in Russia that Donald keeps telling us don't exist. Very clever. Claim there are no business ties, then dare the press to look thereby vilifying Russia. Clever. A longtime GRU (Soviet military intelligence) technique rooted in military deception doctrine, but clever, Donald:
Throughout the 2000s, records show Russians were buying millions of dollars of Trump- branded real estate in the US, according to property records reviewed by the FT. The Trump Organisation said it did not believe Russians spent more money on Trump ventures than those from other regions. Russian real estate broker Ilya Reznik told the FT that Russian could be heard everywhere in the Trump properties on the Florida coast.
This election is drawing to a close soon enough, but until that time it is imperative the American people understand Donald Trump is firmly under the thumb of malign foreign influence — specifically, Russia's.
Russia's human intelligence collection priorities have increased, not decreased, since the Cold War "ended" (I say ended in quotations because it did not, and it is fun to mock those who say otherwise). Russian intelligence operations continue unabated to include right here on American soil. Period.
And Trump is working with those intelligence services (so are some media outlets; more on that soon).
This election was already not normal. Not even close. But now, with these relevations, it has taken a terrifying turn. Russian intelligence is attempting to throw the election. The thing lefties accuse Bush of doing, and fringe conservatives accuse lefties of doing. Putin is actually doing that.
Because of that, the government is now playing a new game with old rules. These rules are inflexible. All those that dismiss or apologize for the incontestable Russian fingerprints on this election should be examined with caution.
Russia's foreign intelligence service, the SVR, is believed to have 150 or more operatives in the United States, officials said, concentrated not only in Washington and at the U.N. headquarters in New York but in San Francisco and other major cities.
November can't come soon enough, am I right?
Popular in the Community