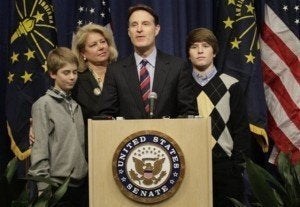 One of the weird things about Sen. Evan Bayh's (D-Ind.) sudden decision to quit the Senate, and frag it as dysfunctional on the way out the door, is that I'm having a hard time trying to figure out what the Senate did to make Bayh so unhappy.
By any appreciable measure, Evan Bayh got precisely what he wanted out of these key policy debates. And yet now, he's slagging the Senate for being bogged down in hyperpartisanship, and defaming his liberal colleagues, who either lost these policy debates honorably or actively worked to accommodate his centrist whims. It really does not make a lick of sense.
Do you really care about the partisanship that is ruining public life and that, as you said, has driven you from the Senate, Mr. Bayh? Then why not use the fact that you are still in the U.S. Senate for most of another year -- a platform 99.999% of Americans will never occupy -- and apply all the power you can to advance causes you care about. What is holding you back?

Unlike everyone else up for election this year, you don't have to worry how this or that bout of truth-telling will look on Election Day. Let 'em bitch! You don't need an interest group to endorse you or a civic club to applaud you any more. Do you think hyperpartisanship is destroying the Senate? Why not call out people -- by name, by specific hypocritical move -- when you see them doing what they should be ashamed of? I guarantee that the press would eat this up. Why not a ten-month public seminar, through the rest of this year, on who is doing what, and how it could be different? Do you object to personal "holds" on nominations? Make it an issue! You have an idea of some issue where Republicans and Democrats might agree? Be specific about it and see what you can do. Again, if I know anything about the press and the melodrama of public life, I know you could turn it to your advantage -- and the public's, Mr. Smith style.
The point was: he didn't want to do a lot of working and taking stands and articulating solutions then. So why would Bayh start doing the hard stuff now?
Calling all HuffPost superfans!
Sign up for membership to become a founding member and help shape HuffPost's next chapter