Nepalis are top first recipients of diversity visa during 5 years.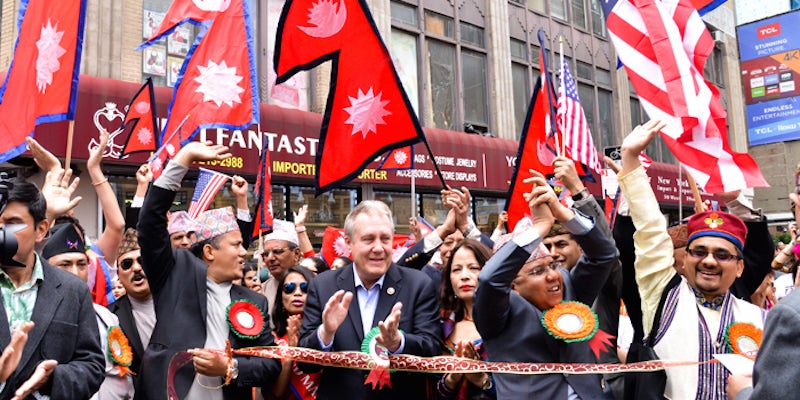 Two terror attacks in New York within two months are booming immigration debate about the Diversity Immigrant Visa (DV). President Donald Trump has linked New York bomb attack to the immigration debate and called for immigration reform. President Trump believes that United States is facing terrorist attacks because of DV lottery program and two terror attacks in New York are enough to get an excuse to stand against DV lottery program for Trump.
The Uzbek man accused of the October rental truck attack in New York, which left eight people dead, was a beneficiary of the diversity visa program. And, Bangladeshi man Akayed Ullah, who attempted to bomb the New York City subway, was also the beneficiary of the diversity visa program. He had come to the U.S. in 2011 on an F-4 visa that's available for immigrants with relatives who are U.S. citizens and the citizen relative had come to the U.S. under the Diversity Visa lottery.
Bangladesh is no more an eligible country for the DV program although Uzbekistan is one of the major beneficiaries of this program. But Nepal ranked first in 2016 with 3,210 visa recipients. Only 2,366 Uzbek citizens got the visa in 2016 under this program. . According to the visa statistics of US Department of State – Bureau of consular affairs, 3,195 Uzbek citizens got diversity visa in 2017 and Nepal ranked second. During five years since 2013, Nepali recipients of diversity visa are 16,755, which is top first in the world. 16,703 Egyptians got diversity visa during this period and ranked second in the world.
Nepali people from this Himalayan country are taking most benefits from this Diversity Visa program and Nepal would be the most affected country in the world if diversity visa program ends. End of this program not only will harm the economy of Nepal but also will kill US dream of thousands of Nepalese. Nepalese immigrants in the USA, who are beneficiaries of the diversity visa program, are contributing to the economy of the USA and Nepal. Role of remittance in the economic development is vital. As a proportion of the gross domestic product (GDP), Nepal had topped the chart among top 10 inward remittance economies in Asia and the Pacific in 2015 and Remittance account for 29 percent of the country's Gross Domestic Product (GDP). Remittance inflow rose by 7.7 percent year-on-year in 2016. The remittances to GDP ratio has increased from 10.7 percent in 2001 to 13.8 percent in 2007 and further to 29.1 percent ($6.6bn) in 2015, putting Nepal among the top five recipients in terms of the size of the economy. After the Middle East, United States is one of the major sources of remittance for Nepal.
If DV lottery ends, it could empower human smugglers. People may choose an illegal way to enter the United States if they lose the legal and easy way. A large group of very active human smugglers in Nepal have been instrumental in sending Nepali youngsters to the United States of America through Mexico.
Owing to the extreme dangers involved in trafficking humans to the US, Nepali human smugglers, including underworld dons, stay in constant touch with their foreign counterparts. Dozens of individuals and manpower agencies have involved in this lethal business of illegal human trafficking from Nepal to the United States. Dozens of Nepalese illegally cross the U.S. border almost every day, some of them spending more than $50,000 each to get to the U.S.
Most of the Nepalese entering the U.S. this way seek asylum in the U.S. According to the latest annual report of the Department of Homeland Security, immigrants from Nepal make the country on top five lists with the greatest number of people seeking "defensive" asylum – that is, making a bid for asylum after deportation or removal hearings have begun against them. For the period FY 2010 to FY 2014, seven of the top 10 countries from which aliens were granted asylum were represented: China, Ethiopia, Nepal, India, Eritrea, Egypt, and the Soviet Union. The number of Nepalese trying to illegally cross U.S. border has spiked up in years. If DV lottery ends, this number could increase.
REAL LIFE. REAL NEWS. REAL VOICES.
Help us tell more of the stories that matter from voices that too often remain unheard.
This post was published on the now-closed HuffPost Contributor platform. Contributors control their own work and posted freely to our site. If you need to flag this entry as abusive,
send us an email
.