No one has probably compared Chicago pastry chef Jacquy Pfeiffer to composer Igor Stravinksy, former President Bill Clinton, or rock star Bob Dylan. But a small group of Chicagoans this week found out what they all have in common, at least according to legendary film makers D.A. Pennebaker and Chris Hegedus who were at Flashpoint Academy in Chicago this week for a VIP screening of a new film they're making about Pfeiffer and his pursuit of the holy grail of French pastry chefs, the coveted title "Meilleurs Ouvriers de France" (Best Pastry Chefs in France).
Internationally renowned for their "fly-on-the-wall" films about exceptional artists, politicians, and businesspeople, the celebrated duo began camping out in Chicago during the dead of last summer to follow Pfeiffer's preparation for the so-called MOF - quite a distance in time and temperature from the outpost they set up in New Hampshire for their Academy Award-nominated film, The War Room, following an obscure Arkansas governor in his quest for the presidency. The Alsatian native is only the second French expat to attempt the MOF from the U.S. The first was another Chicagoan, Sebastien Canonne, who with Pfeiffer founded the city's French Pastry School.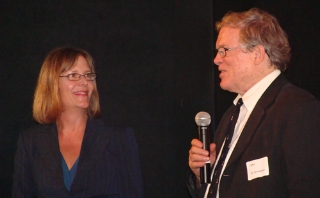 (Photo by T R Wilkinson)
The MOF, established by the French government in 1924 to help preserve the French artisan trades, is not a culinary competition in the Top Chef mold but rather a high-stakes, high-intensity combination of advanced professional certification and design competition with a twist of the Olympics thrown in. For a French artisan - and there are some 200 different categories covered by the MOF system - this epic test of passion, artistry, and technical skill is widely regarded as the signal professional achievement. It's analogous to a Kennedy Center Award or admission to the Academie Francaise.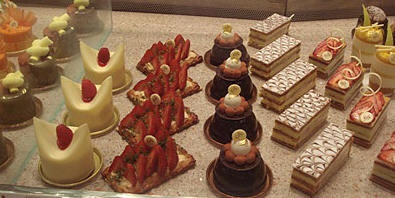 (Pastries of Jean-Philippe Maury, M.O.F.)
Those who are successful in their bid for the MOF earn a trip to the awards ceremony at the French presidential palace, but like the Olympics, just being in the competition is enough to put chefs like Pfeiffer in the pantheon of pastry. Victorious or not during the three days of the pastry competition, most contestants find themselves transformed by the sheer rigor and sustained commitment required, Jean-Pierre Boisivon, the French economist and educator who chaired MOF's organizing committee for well over a decade, told attendees at the film screening.
Until the famously discrete film makers, who work with hand-held cameras and no artificial light, came along, the MOF pastry competition has been shrouded in secrecy, somewhat like the Masons of old. However, last summer, as French government officials were on the verge of dispersing for the summer holidays, Pennebaker and Hegedus succeeded at the improbable task of convincing them to allow the team to capture the MOF drama as it unfolded. (Full disclosure: as producer, I helped with the convincing.)
The professional and political stars could not have aligned better for the five award winners in last years' tri-annual competition. Addressing the newly-minted MOFs in the Elysee Palace's gilded "Salle des Fetes," France's embattled president Nicolas Sarkozy seized the moment to append their victory celebration to his economic agenda, condemning an educational and economic system that "treats with condescension, even a certain form of scorn, the worker, the artisan, the apprentice. There is no reason," he told them, "for manual knowledge to be less noble than academic knowledge, less capable to create wealth and well being."
Even though French pastry chefs generally consider MOFs the reference point for the profession, the competition is clearly not for everyone. The sacrifice and breath of expertise required to compete in the finals is considered so daunting that even a number of the world's most celebrated pastry chefs opt out, choosing to focus on their special interests and commercial pursuits. Only about 100 in the world - and five in the U.S. - have the distinction, among them New York chocolatier and television personality Jacques Torres.
Trust me. You know when you're in the presence of a MOF. It's not just the "bleue, blanc, rouge" collar they sport on their chef's jackets. It's their unspoken authority, their total command of the kitchen. They inspire as much awe as the intellectual acrobatics of any of the Harvard professors I had.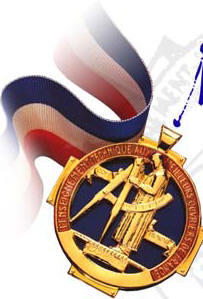 When you consider what they have to do to get there, it's no wonder people stop them in the street. Last year, Pfeiffer and the 15 other finalists came to the competition primed to produce a dizzying array of cream puffs, brioches, and chocolate candies, to say nothing of a three-tiered wedding cake and the notoriously fragile sugar and chocolate sculptures that they must transport to a buffet display area.
Pfeiffer, who did much of his preparation in Chicago, faced an additional challenge. After creating and refining all of his recipes at the French Pastry School, which he co-founded, he had to set aside an additional month to pack up and transport his equipment to France. Then he had to retest his recipes under local conditions. A friend from his native Alsace opened his bakery to Pfeiffer for practice before the trip to a small town near Lyon, where the competition unfolded.
During the competition, chefs work under constant scrutiny by master judges who weigh their products (rigid weight requirements apply), inspect their equipment and aprons (fingerprints are not permitted), and even examine their trash (no discarding of surplus). These pastry marathoners, racing the clock, must work spotlessly and with sang-froid as they create confections of exquisite taste and beauty. It was a film waiting to be made.
"Our films have always been focused on people who are the best in their field and take big risks," Hegedus explained. That Pfeiffer did. When Pennebaker and Hegedus began filming, he was working on his five required cream puff recipes, a deceptively arduous test of a pastry chef's ingenuity. Creating novelty is not so simple with a humble cream puff dough that has already been transformed countless times over the years, with every imaginable flavor of creams ranging from coffee to lavender and passion fruit.
"It was outrageous that simple pastries should require such instinctive perception of the laws of physics, such command of visual artistry and such an imaginative palate. It was the conceptual equivalent of a moon landing," Pennebaker said, "and gone in a few bites."
All of which raises the question of whether this competition is too precious by half. Why should we care about French pastry chefs so obsessed with the MOF that they invest enormous sums of money and sacrifice years of family life and free time to try to attain the distinction? That was the question that propelled me, an educational historian- turned pastry chef initially to want to write about the competition and to team up with Pennebaker and Hegedus.
So here's where I land. With some 3 million youth ages 16-24 disconnected from work and school, I have growing doubts about our peculiarly American penchant to funnel all young people through college. Even with the increased interest in culinary school, education for the artisan trades - let's be honest and say that we're talking about is that old bugaboo vocational education - has been virtually taboo in current debate about improving American public education. That's probably because, as currently structured, we fear these trades can never provide the personal pride, financial security, and social respect that's supposed to come from finishing high school and going on to college.
For those in the United States, concerned about why youth leave school and what impact it has on their prospects for the future, I think the MOF system offers an intriguing model. By systematically rewarding excellence among crafts people and connecting talented young artisans with elite leaders in their field in a way typically reserved for academically oriented students, the system addresses head-on what Nicolas Sarkozy referred to as the "the tradition that excellence was academic" and that "the keeper of abstract knowledge was placed above the keeper of concrete knowledge."
On the surface, the film will obviously appeal to those with a fascination for culinary details, those interested in artisan culture, and those interested in Franco-American cultural exchange. But I hope it will also excite interest among those who believe in the power of the arts to engage and motivate young people, especially those who have not been successfully engaged by "traditional" academic subjects.

Related
Popular in the Community