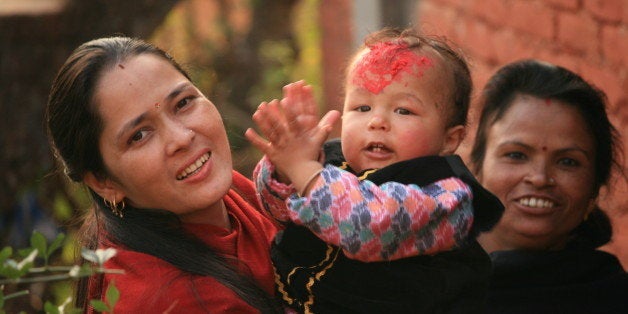 This post is part of the Relay for Kids in partnership with SOS Children's Villages. Each time you share this post, Johnson & Johnson will donate $1 (per action) to support children worldwide affected by crisis. Scroll to the bottom to find out more.
What children need most, my Nepali in-laws and neighbors told me, is maya.
Was it really so simple? I had my doubts in 1987 after giving birth to my Nepali-American son in a village in the plains of Nepal. A graduate student in anthropology focused on political economy, I knew little about children. I had to learn how to be a mother amid rustic living conditions and high caste rules about what women should and shouldn't do. Nothing seemed so simple then.
But years later, I find myself wanting to explain how all that love in Nepal created a strong foundation for my infant to grow into a confident and compassionate man. I keep reaching for a popular, but cliched, sentiment: It takes a village to raise a child. Vaguely attributed to Africa, the proverb reflects social values that were likely a part of many pre-industrial cultures where individuals and families had to rely on others not only to raise children but to hunt, gather, raise crops, graze livestock. And, of course, there was another side. Most communities everywhere in the world had some degree of inequality and conflict. Ours in Nepal certainly did, aspects I discuss more fully in my memoir, While the Gods Were Sleeping: A Journey Through Love and Rebellion in Nepal.
Still, I've seen in Nepal and elsewhere how children benefit when extended social networks and communities lend a hand in childrearing and advocate for the interests of children.
I grew up in the U.S., in middle class social circles that often viewed children as an annoyance and inconvenience. So I was struck by the genuine joy almost everyone -- girls, boys, adult women and even some adult men -- in rural Nepal took in the company of children. Villagers hotly debated Nepal's political future, the meaning of religious texts, the rights of women and Dalits, whether my high caste family should have allowed their son to marry a foreigner. But many put aside such disagreements, at least momentarily, to coo over an infant or calm an anxious toddler. Families delighted in the antics of children in their courtyards the same way I remember my family gathered in the living room to enjoy a television show. That ideal of loving children was, of course, often complicated by gender and caste inequality, long work days, lack of food and clean water. But I often marveled at how people with little land or money still lavished most of what they had on children.
Infants I met in the village spent their earliest months in a never-ending round of open arms. And I never heard of a child sleeping alone. The idea horrified everyone I talked to. I rarely saw a child weeping alone for long either. An adult or older child always appeared to hug and console him.
Instead of playing with dolls, most girls -- as well as many boys -- played with live children. They sought them out with enthusiasm and learned how to care for and be role models for younger ones.
Extended families and hamlets in our region also included respected elders, both men and women. So on any particular day, a child might get brief spells of attention from various relatives or villagers: a snuggle with Grandmother boiling the morning milk, a bike ride with Youngest Uncle to buy eggs from a neighbor, a search for ripe mulberries with Mother, a visit to a neighbor with Eldest Aunt to ask after a newborn, a game of hide and seek with visiting cousins, questions for Father about an insect... and so on.
Those caring for children often wove work and play together. While making the rounds in the garden, an adult or older sibling might entertain a girl with a silly song, quiz her on vegetable names and assign small tasks. I admired how some made chores so much fun that children begged to participate day after day.
Of course, families and communities come in many different forms. Even in Nepal, not all children are raised in extended families. And not all adults desire to live in such families. I knew many women who complained about the patriarchal constraints and heavy work loads and longed for separate households. And many Nepali men these days take service and security jobs in Middle Eastern or Southeast Asian countries so they can send home remittances to support their families. That separates men from the daily enjoyment of children and further burdens women, who still bear primary responsibility in Nepal, as in much of the world, for childrearing.
Perhaps what children most need in these changing times are new forms of support for their "villages" -- the individuals and families who care for them.
By sharing, you make a difference for kids in crisis: From March 23 until April 24, each time you 'like' or share this post via the social media icons above or comment in the section below, Johnson & Johnson will trigger a $1 donation (per social action) to SOS Children's Villages, the world's largest organization dedicated to orphaned or abandoned children, up to $30,000*. $1 provides food, shelter and medical care to a child in crisis. In addition, you can also Donate A Photo** and Johnson & Johnson will donate $1 when you upload a photo for SOS Children's Villages -- you can help raise up to $20,000 in seconds with the click of your mouse or snap of your smart phone.
Johnson & Johnson, SOS Children's Villages and The Huffington Post created the Relay for Kids to support children around the world who have been affected by poverty, conflict, disease and natural disasters. Visit www.sos-usa.org/relayforkids to learn more.
*Blogs must be shared between March 23 to April 24, via Facebook, Twitter, StumbleUpon, reddit, Tumblr and Google+ from the Huffington Post. Each share will trigger a $1 donation up to $30,000. There are no limits on how many times you can share a post.
** via the Donate A Photo app for iOS and Android. Johnson & Johnson has curated a list of trusted causes, and you can donate a photo to one cause, once a day. Each cause will appear in the app until it reaches its goal, or the donation period ends. If the goal isn't reached, the cause will still get a minimum donation.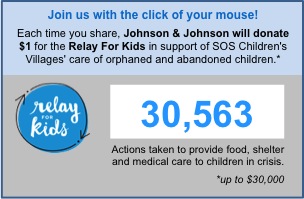 Calling all HuffPost superfans!
Sign up for membership to become a founding member and help shape HuffPost's next chapter