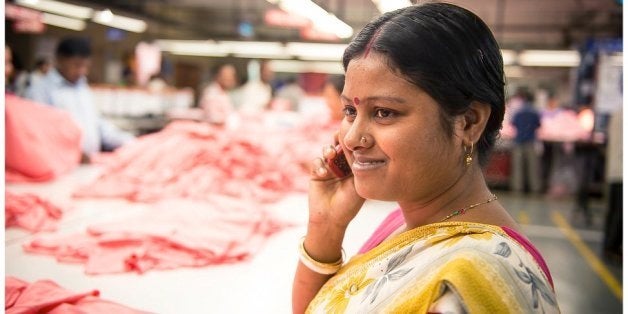 What do factory workers want? They sew our clothes and assemble our mobile phones -- things we use every day -- but they remain a mystery to us. Most are working thousands of miles away behind secure company gates.
But it turns out to be not as complicated as we thought. Hint: They want the same things every worker wants, including you.
In the last two years, through our mobile-enabled Labor Link platform, we've surveyed tens of thousands of factory workers manufacturing apparel and electronics in Asia. This is what they tell us they want:
1. Access to education: I was at a conference last week in London called "Restarting Ethical Trade: Workers at the Center of the Agenda." It was hosted by UK consultancy Impactt. They had convened a panel of workers from China, Morocco, and Bangladesh to share firsthand perspectives on working in a footwear factory, a garment factory and a strawberry farm. The panel was assembled to demystify what exactly workers want. The No. 1 answer was so simple it should have surprised no one. It's the same thing you want for yourself and your children: a good education so you can invest in your future.
2. Opportunities for Advancement: No one wants to sit at a sewing machine forever. Workers want to move up. They want skills training on the job, and some employers will have no choice but to offer it. According to Vodafone and Accenture in their Connected Worker report, 34 percent of employers globally report deficits in key technical and managerial skills. As the report states, "even those who are educated do not have the necessary skills." In some countries, the gap is acute. In India, manufacturing is growing but, in the report's words, "despite producing over 400,000 graduate engineers a year, 48 percent of employers in India reported difficulty in finding appropriate candidates." Smart employers who want to boost retention are offering their own training, and workers reward them by staying longer.
3. Social networks and entertainment: The idea of using mobile to give workers a voice and improve factory working conditions is gaining traction globally. Last month, The International Labor Organization's Better Work program convened practitioners in Cambodia on the topic of mobile technology for labor rights. Appropriately, they invited local factory workers from Phnom Penh to participate. But contrary to conventional wisdom that workers want educational information about their rights and local labor law, it turns out they want what we want: Facebook and Match.com. Imagine being a migrant worker working far from home. It is lonely. Workers want to connect with friends or even simply find a date. Some suggested "edutainment," apps that allow them to play a game while learning.
4. Earnings that cover cost of living: Manufacturing countries like China and Bangladesh have a rising cost of living and workers need their wages to keep pace. (As mentioned above, opportunities for advancement would also help boost take-home pay.) Wage increases are the obvious route, and some companies are making bold commitments. In addition to wage initiatives, others are promoting financial inclusion as a route to long-term financial stability. According to Vodafone, India has 35 percent bank account penetration but only 8 percent of adults receive their wages through their bank account. The other 92 percent face risks managing their money in cash. Through a combination of higher pay and access to financial products and services, workers can earn more and save.
5. Trust with Management: It's all about relationships. Workers want to feel trusted by management and co-workers. At the Impactt conference, workers were asked a question: "If you owned your own factory, what three things would you do?" One worker from Bangladesh said, "I would treat everyone like brothers and sisters." It might sound idealistic, but her view is supported by research. Great Places to Work ranks trust in their top three worker priorities when developing their annual "100 Best Companies to Work For" lists.
When we ask manufacturing workers what they care about, their answers are not so different from ours. They want an education, a promotion, entertainment (a dating service is a bonus), decent pay, and a working environment where they feel trusted. Like brothers and sisters. What would you add to this list? Tweet your answer to us @GoodWorldTech.
Cisco invested in the development and deployment of Labor Link, a mobile technology platform that increases transparency in global supply chains. Workers can report anonymously on working conditions and receive information on wage and work-related issues, training, and financial literacy. For more information on Cisco's focus on economic empowerment, please visit: http://csr.cisco.com/pages/economic-empowerment
Calling all HuffPost superfans!
Sign up for membership to become a founding member and help shape HuffPost's next chapter