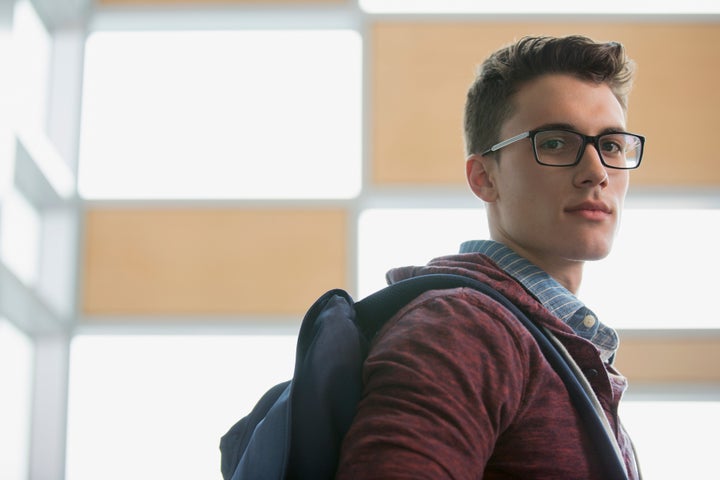 My son is a college freshman studying to be a teacher. While I may be a little biased, he is smart, talented, and he loves working with young people. He spent his winter break volunteering his time to work with middle school music students and that experience reinforced his desire to teach. He is the kind of young person we all hope will go into education and support our next generation of learners.
My wife and I are both teachers, so he is well aware that teaching isn't an 8-4 job; it requires a lot of hard work, and that he won't get rich. Because he has spent his life being raised by teachers, he also knows that the work is incredibly rewarding. My students were his role models as he grew up. During my years as a high school band director my students were his second family. As he cheered them on at band events throughout the years, they babysat him, taught him music lessons, and served as his chaperones on 30-hour bus rides to Disney World. He had a front row seat to the magic that is created when you get to work with the incredible young people who make up our public schools.
Don't let the story of this era of public education be that the best and brightest won't do this work. The kids that are being born today deserve to have smart, talented, and passionate teachers.
When he shared his intention to become a teacher a couple of years ago it felt like he knew what he was getting into. Much has changed in the two years since he made that decision. In just the last couple of months our country has installed a Secretary of Education who not only has never worked in education, but whose life work has been to siphon money from public schools into the pockets of those who seek to turn a profit. In my home state of Iowa, our legislators took less than a week to rip collective bargaining rights from teachers. If that wasn't enough to make a young person reconsider this profession, those same legislators are doing the bidding of out of state interest groups to force school vouchers down our throats, acting directly in opposition to the research that vouchers have a negative impact on student achievement.
So, what should I tell my son about becoming a teacher in an era when public education is increasing not being valued? How do we encourage anyone to want to become a teacher when legislators create more and more mandates on schools, continue to underfund public education, and disregard the voices of those who have dedicated themselves to educating young people? Why would anyone want to become a teacher when the narrative of public education is being told by those who aren't doing the work?
You know what I will tell him? Don't just teach, be a great teacher. Don't let the story of this era of public education be that the best and brightest won't do this work. The kids that are being born today deserve to have smart, talented, and passionate teachers. As the right wing of American politics tries to privatize our schools and demean public educators, I want my son to be part of the Greatest Generation of American teachers. While I spent the early part of my career allowing the story of American public schools to be told by others, I will encourage him to tell his story loudly.
Mostly I will tell him to teach, because it is an honor to work with eager, intelligent, and talented young people every day. There is no greater joy than to see students grow and flourish. In the last week I have had the pleasure of hearing from former students who are just starting new jobs in agriculture, making a living as professional musicians, working as nurses, and maybe most importantly teaching. With each note I get from a former student I recognize that our job is to ignite the flame that exists in each young person who walks through our doors each day.
My son is watching as legislators are doing all they can to sell our public schools to the highest bidder; he is watching as they work to strip away my pension and my benefits; he is watching as they tell a story of failure. But, here's the thing: He has seen the real story. He has had teachers challenge him, support him, and uplift him. He has seen the magic that happens in classrooms every single day. He gets to tell his story and it is my hope that when he is 50 years old, his narrative will be a celebration of the Golden Age of public schools and the educators who make them great.
Calling all HuffPost superfans!
Sign up for membership to become a founding member and help shape HuffPost's next chapter