Welcome to Part 2 of my 3 part series. I hope you enjoyed Part 1.
When you have identified and defined your target audience, you need to provide something of value for them and clearly articulate that value.
We know that people don't buy products or services. They buy an outcome or transformation. For example, no one really wants relationship counselling. They want a loving, supportive partner. No one really wants a health and fitness coach. They want a bikini body or ripped abs.
Here's the formula:
Your title + target audience + solution = outcome/transformation

I am (title). I help (target audience) do/sell/achieve (your solution) so they can (outcome/transformation)
My Example
I am a communications strategist. I help coaches and digital entrepreneurs who struggle with writing, attract their target audiences with the power of story and empowerment based communication strategies.
Develop Your Personal Style
Personal branding comes across in the way you look, speak and present yourself. I'm not saying you need to be as outrageous as Lady Gaga or Rihanna, but you do need to stand out with your story and unique style.
Here are 4 examples of successful female entrepreneurs who stand out with their stories and unique styles.
Kimra Luna
Kimra Luna is a personal branding and business strategist who took her online business from zero to over seven hundred thousand dollars (US$700,000) in less than a year. Prior to her phenomenal success, Kimra received welfare payments for four and a half years and lived with her in-laws.
Kimra stands out with her "rags to riches" story, blue hair, tattooed chest and punk rock style. Her message is: you can be wildly successful whatever your circumstances
She has created a public Facebook Group called Freedom Hackers that has over seventeen thousand (17,000) members. She has over thirteen thousand (13,000) Likes on her Facebook page and over three thousand (3,000) fans on Twitter.
Leonie Dawson
Leonie Dawson describes herself as a self-help author/artist/hippy who has also evolved into an entrepreneur and philanthropist and is now the CEO of a million dollar a year company.
I met Leonie over lunch last year in Kuranda with some members of B-School for Aussies. She told us she was a prolific writer and artist and said: "I get shit done."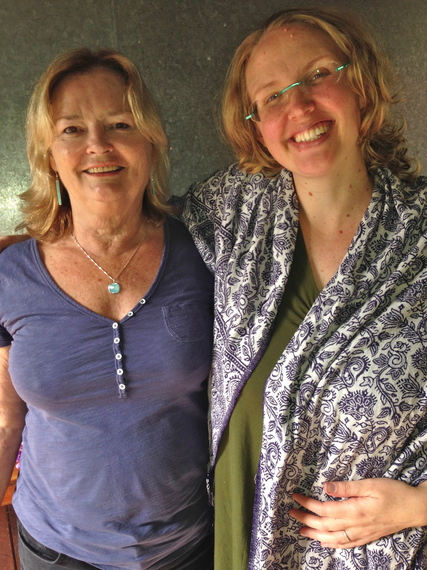 Maureen with Leonie Dawson (right). Photo credit: Donna Marie Baker
Leonie's advice is to really know your audience, give them what they want and connect several times a day on Facebook.
Leonie markets to hippies, big dreamers, creative souls, artists, business owners and women who want to change the world.
Leonie's message is: you can create an amazing, incredible, shining business and life.
Leonie stands out by being an artist/author who is unapologetically herself. She has a tribe/community in her membership site called Shining Biz and Life Academy.
Leonie has over fifty eight thousand (58,000) Likes on her Facebook page and over sixteen thousand (16,000) Twitter followers.
Sandi Krakowski
Sandi Krakowski is a Digital Media Marketing Expert noted by Forbes as a Top 20 Women Social Media Influencer and a Top 50 Social Media Power Influencer.
Sandi stands out online with her crimson hair and messages about God and love.
She markets to people who want to create a real change in their lives and who want to be more powerful. She posts every hour on Facebook. (She has a team).
Sandi's message is: let's create your best life and business together.
She has over one million (1,000,000) Likes on her Facebook page and over two hundred and ninety two thousand (292,000) Twitter followers.
Marie Forleo
Marie Forleo has a multi million-dollar business empire. She is the Founder of B-School, an online marketing school.
Oprah named her as a thought leader for the next generation and Forbes lists her website as one of the Top 100 Websites for Entrepreneurs.
Marie stands out in photos with Richard Branson and Oprah on her website and in her weekly video show, Marie TV. She's smart, funny and glamorous with luscious, long, brown hair. She loves good food, wine and hip hop dance.
Marie's message is: you can realize your greatest potential and use your gifts to change the world.

She has a Facebook B-School Group for alumni of B-School that has over thirteen thousand (13,000) members. (There are numerous offshoots of B-School in different countries like B-School for Aussies that has over one thousand members.)
Marie has over three hundred and twenty thousand (320,000) Likes on Facebook and one hundred and forty six thousand (146,000) Twitter followers.
How to Tell Your Story
I love the structure of the Hero's Journey to tell your story. I have adapted this structure to help you tell your story, so you can offer unique value to your target audience. I call my adaptation The Abbreviated Hero's Journey Story Structure.
Remember, you start your journey as the reluctant hero, transform into the mentor and return with gifts for your tribe. Your clients become your heroes. I have written about this in my blog How to Tell Your Brand Story.
The Abbreviated Hero's Journey Story Structure
• Your Identity in the Ordinary World: Who were you when you started your journey?
• The Call to Adventure: What was the inciting incident or series of events that called you to enter a new world?
• The First Threshold: What obstacles and challenges did you face?
• Your Ordeal: How did you turn your obstacles and challenges into gifts? What was your transformation?
• Return with the Elixir: What gifts do you have for your tribe as a result of your transformation?

Story Guidelines
• Your story must be true
• You must be authentic
• You must share your struggles and challenges
• You must have photos and videos of yourself
This concludes Part 2 of my 3 part series. In Part 3, I paraphrase the work of story expert, Jonah Sachs and discuss empowerment based communication strategies.
Note: I am not an affiliate for any of the people mentioned in this article.
If you would like to find out more about me, click here.
Calling all HuffPost superfans!
Sign up for membership to become a founding member and help shape HuffPost's next chapter