You don't have to be a famous celebrity like Lady Gaga or Rihanna to have a personal brand. If you have a website or social media account, you already have one.
If you're a coach or digital entrepreneur, you will learn how to brand yourself with story and style to attract your target audience by reading this blog, the first in a series of 3.
In today's noisy and distracted online world, we can connect with anyone with our smartphones and social media, but we only have a few seconds to capture their attention.
If you stand out in those first few seconds online with a story that entertains and educates about who you are and what you have to offer your audience, they will pay attention to you.
Lady Gaga
Lady Gaga is a singer/songwriter and performance artist whose name, antics and outrageous outfits make her stand out. Her real name is Stefani Germonetta.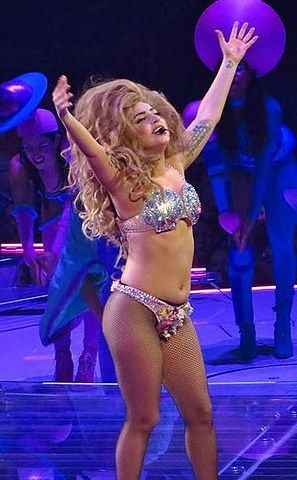 Photo Attribution: "Lady Gaga, ARTPOP Ball Tour, Bell Center, Montréal, 2 July 2014 (20) (14561598924) cut" by proacguy1 from Montreal, Canada - Lady Gaga, ARTPOP Ball Tour, Bell Center, Montréal, 2 July 2014 (20). Licensed under CC BY-SA 2.0 via Wikimedia Commons -
She's a performance artist in her everyday life as well as on stage. She wears so many outrageous outfits, hairstyles and wigs that you never know what she's going to wear next. Who would have predicted she would wear a dress made of meat?
She made her mark with her hit single Poker Face that sold millions of copies. Poker Face has had over two hundred and thirty nine million (239,000,000) views on YouTube since 2009.
She built a tribe of fans called "Little Monsters" and refers to herself as the mother monster.
Lady Gaga is number 7 on the Twitter Top 100 Most Followers List with over fifty million (50,000,000) followers. And she has over sixty million (60,000,000) Likes on Facebook.
The lesson coaches and digital entrepreneurs can learn from Lady Gaga is you can stand out with a unique name, outrageous outfits and hairstyles and build a tribe of followers but you better be able to perform Poker Face.
The Power of Story
People have told stories to share information, gossip, inspire and entertain since the beginning of human history. These stories have been told person to person and in groups through songs, dance, art, theatre, speeches and conversations.
Your story gives your audience an insight into who you are as a person, how you got to where you are today and what you care about. Telling your story helps prospects decide if they want to work with you or not.
Sharing your story can make you feel vulnerable but it is that vulnerability that creates an emotional connection with your audience. I like what Brene Brown says about owning our story and embracing our vulnerabilities in her book The Gifts of Imperfection: Let Go of Who You Think You're Supposed to Be and Embrace Who You Are
Owning our story can be hard but not nearly as difficult as spending our lives running from it. Embracing our vulnerabilities is risky but not nearly as dangerous as giving up on love and belonging and joy - the experiences that make us the most vulnerable. Only when we are brave enough to explore the darkness will we discover the infinite power of our light.
Rihanna
I've been a fan of Rihanna's since 2009 when I watched her interview with Diane Sawyer about domestic violence in her relationship with Chris Brown and how she grew up with domestic violence in her family.
Rihanna showed her vulnerability by revealing how humiliated she felt about it. What helped her tell her story was the realisation that she could influence young girls with her fame and she didn't want them being injured or murdered by their boyfriends.
Fast forward to 2015 and Rihanna is the best selling digital artist of all time with over two hundred and thirty million (239,000,000) sales worldwide. She regularly appears on the covers of Vogue and Harpers Bazaar and she did a photo shoot for Dior at the Palace of Versailles this year. Not only is Rihanna a rock star, she is a fashion icon.
Even though I'm a fan, I don't like her latest video Bitch Better Have My Money. I hate that photo of her face covered in blood.
5 Key Questions Your Audience Wants to Know
1.Who are you?
2.How can you help me?
3.How did you get here?
4.Why can I trust you?
5.What are our shared values and beliefs?
Before you tell your story you need to identify your target audience and define your ideal client, so you know who you're talking to. You can read my blog How to Develop an Ideal Customer Profile for inspiration.
Choose Your Title
Choose your title so your target audience knows who you are and how you can help them. Here are some examples:
I am a (wellness, relationship) coach
I am a (business, social media) strategist
I'm the author of (.................................)
I am the founder of (.............................)
I am the creator of (...............................)
Once you have chosen your title, you need to create your brand slogan or tagline. Here are some examples:
•Maureen P. Price, Communications Strategist - Creating Stories That Sell
•Seth Godin, Best Selling Author - Go Make Something Happen
This concludes Part 1 of my 3 part series. In Part 2, I discuss how to define your unique value proposition and how successful entrepreneurs like Kimra Luna, Leonie Dawson, Sandi Krakowski and Marie Forleo stand out with their branding and unique styles.
If you would like to work with me, you can visit my website.
Related
Popular in the Community