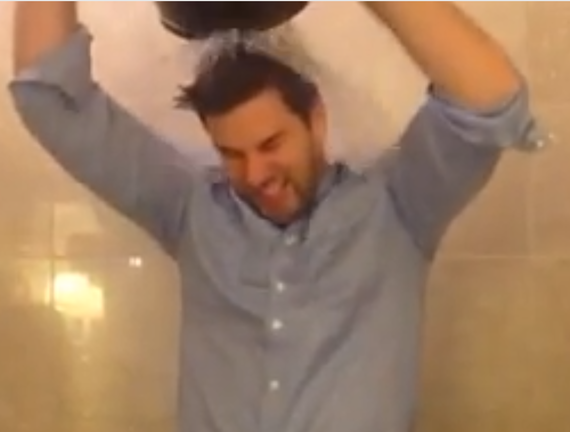 I've just dumped a bucket of ice water on my head. Yes, you read that correctly, but if you've been on Facebook or Twitter recently you may have noticed that I'm not the only one. (Oh, and tag to my Olympian friends Chris Coleman and Joey Cheek!)
This might seem like an irrational thing to do (actually it is definitely always an irrational thing to do), but at least for now it is also for a good cause.
Welcome to the newest phenomenon to hit the social media circuit -- the "Ice Bucket Challenge."
The challenge involves people getting doused with buckets of ice water on video, posting the video to social media, then nominating others to do the same, all in an effort to raise awareness about ALS (Amyotrophic lateral sclerosis, also known as Lou Gehrig's Disease). Those who refuse to take the challenge are asked to make a donation to the ALS charity of their choice.
And this isn't just a gimmick -- #IceBucketChallenge has led to a 1000 percent spike in donations to ALS charities.
The challenge is the brainchild of Pete Frates, a 29-year-old former Division 1 athlete who has been living with ALS and working to spread awareness for the disease since his diagnosis. The challenge has been around for a few months but ballooned in popularity over the past week.
Since making its appearance on social media, this viral sensation has attracted thousands of followers, including Martha Stewart, Matt Lauer, pro golfer Greg Norman, and US Open champion Michelle Wie along with many, many more.
Thank you Pete, and to my own tagger Andrew Flagel from Brandeis University, for raising awareness for an important cause and for making us all a little bit cooler during these hot summer days. This is the kind of creative social media campaign we need to see more of in the non-profit world!
Oh, and finally, tag to YOU my reader. Just remember, it is all for a good cause!
To learn more about ALS or make a donation head over to: http://www.alsa.org/
REAL LIFE. REAL NEWS. REAL VOICES.
Help us tell more of the stories that matter from voices that too often remain unheard.