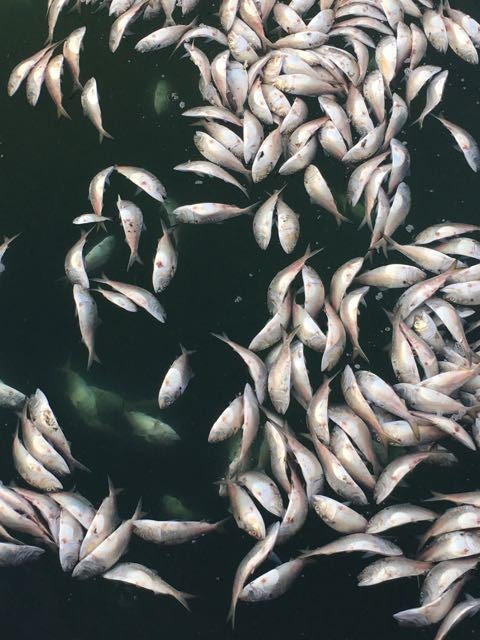 The air was pungent as I neared the Shinnecock Inlet—a majestic length of water connecting the Atlantic Ocean and the Peconic Bay, on the Eastern tip of Long Island. Down the rickety steps to the back deck of a defunct beach club garnered the pitiful sight of hundreds of wide-eyed silver bunker fish, immobile but swirling atop a graveyard of fish sunk below the surface. Breathtakingly eerie, at once beautiful and horrifying, the scene was a fraction of what residents awoke to days prior, on November 14, 2016.
Known as a fish kill, this particular event was not caused by pollutants in the water, though residents immediately feared it might be. An earlier fish kill in the mouth of the Peconic River had been caused by poor water conditions. In 2015 three fish kills left hundreds of thousands of bunkers dead between the Peconic River in Riverhead and Reeves Bay in Flanders, an area with chronically low-dissolved oxygen and increased nitrogen pollution.
This most recent fish kill is widely believed to be the result of bunkers chased by natural predators—bluefish and striped bass—into the canal. The locks are set to close at certain times, depending on the tides, and that Monday's "super moon" contributed to bad timing all around.
Fish kills have been regularly recorded since the 1930s, but the vast majority have occurred from 1998 to the present. Deaths of over 50 million fish during this time period, in the United State, U.K., Norway, China and other countries, are linked to poor water quality or man-made environmental disasters.
Eastern Long Island has long been revered as a place of natural beauty and important ecosystems. Previous to 1860, when the Shinnecock Canal was built, there were naturally occurring fish kills inhabitants used to their advantage, spreading the fish on crops to help them grow.
A large fish kill is upsetting to some because of the stench and sight alone (how many Hamptonites today would tolerate acres of dead fish adjacent to their favorite farm stand?). The Southampton Town Trustees and bay constable coordinated during this latest fish kill with local fishermen to harvest many of the bunkers, since bunkers are still used for bait. But to most, a large-scale fish kill signifies something more foreboding than foul-smelling landscaping practices. It is the graphic reminder of the potential extinction of our own food supply and the ill-health of the earth we need to feed us.
When the locks in the canal closed that night in November, the water became stagnant. After dark, photosynthesis stops and oxygen levels further decrease, thus suffocating so many fish in a small area. But low dissolved oxygen can also result from high temperatures—warm water from climate change—as well as poor circulation of water and large amounts of other dissolved minerals in the water such as nitrogen from human waste and landscaping fertilizers.
We, on Eastern Long Island, can thank a record drought from September to November for a lack of storm run-off that would have caused the canal to be polluted—yet another double-edge sword in a complex and fragile ecosystem faced with global Climate Change.
Seals lounging at our ocean beaches, fleets of dolphins leaping past swimmers, flying fish stranded on the sand and bright turquoise tropical fish swirling around ankles in Mediterranean-color water—the summer of 2016 felt like Dory and Nemo had found us. A rise in water temperature is something to be wary of, but as long as temperatures drop after Halloween (they did not, until January), gulf streams are not indicative of unhealthy waters. But these noticeably extreme events raise our awareness of real, complex problems affecting our local waterways and food supplies.
Black sea bass, scup, yellowtail flounder, mackerel, herring and monkfish have all moved north to accommodate warming water temperatures. This migration can cause scarcity in one area, overpopulation in another; it can cause predators and prey to behave abnormally for the particular waterway they find themselves in. And it drastically changes the food chain humans care about most: ours.
Lobster, once a staple in every restaurant and clam shack on the South Fork of Long Island, is now imported to the area from Maine. Lobster numbers peeked in 1996 with nearly nine million pounds of lobster caught in the Long Island Sound by New York commercial lobstermen before two catastrophic die-offs in 1999 and 2002 brought intakes down to 1 million. No significant amounts of lobster have been caught in the Sound since 2010. Scientists conclude that a combination of warmer temperatures and impaired water quality stressed lobsters, making them susceptible to disease and limiting their ability of reproduce, which caused the rapid drop in population size.
Complicating things further, fishing regulations, which among other things set legal catch limits for fishermen and are often based on where fish have been most abundant in the past, have failed to keep up with these geographical changes, as the New York Times reported recently. The center of the black sea bass population, for example, is now in New Jersey, hundreds of miles north of where it was in the 1990s, providing the basis for regulators to distribute shares of the catch to the Atlantic states.
Fish species are periodically monitored to see if they are thriving or at risk of extinction, to determine whether a species is being overfished and needs regulation. But estimating the size of fish populations when there is migration in response to warming temperatures has made this already difficult task harder.
As John A. Manderson, a research biologist at the National Oceanic and Atmospheric Administration's northeast fisheries science center says, "Our ideas of property rights and laws are purely land-based. But the ocean is all about flux and turbulence and movement."
Which brings us to overdevelopment and its continuing impact on the environment. Out in the "posh Hamptons" (where tens of thousands of working and middle-class locals, in their fight for environmental and economic stability, regularly contend with the whims and litigation of the one percent) there are dozens of waterways that experience very low levels of oxygen at night, particularly in summer. Imagine the impact of manmade fertilized lawns and septic tanks sunk mere feet from the water's edge, of a 6-10 thousand square foot home lived in three months of the year but kept heated and maintained year-round.
Residents of Shinnecock have been in an extended battle with the Town of Southampton over development plans that affect the same area anxieties were focused on the week of the fish kill. Rezoning to allow for large hotels and condos right on the canal, and to build a new Southampton Hospital on the Southampton-Stony Brook University campus a mile away, would change the character of the area and seriously impact an ecosystem relied on for food as well as safe living. Consider the fragility of underground water flows that could be contaminated by one leak in a pipe containing hospital waste.
And while a new technology waste system was installed at the northern end of Shinnecock Canal in June of 2016, complaints that it wasn't operating properly still had not been addressed and remedied by October. This perhaps speaks less to corruption than to a relatively small community of humans who can wreck havoc quickly on an entire ecosystem without having the ability to reverse the damage. Corruption manifests in an arrogance to think we do have that ability.
The Atlantic Ocean—its bays, coves, inlets and wetlands—work together on a scale and complexity most of us can barely wrap our minds around. As a local marine biologist told me, "There's a lot of things happening out at deep sea, things we aren't even aware of."
Which makes the appearance of a large-scale fish kill shocking. It is an awe-inspiring sight that is also a wake-up call. While this recent fish kill was not caused directly by man's interference with the health of our waterways, it serves to remind us that we cannot afford the fish kills that aren't a natural occurrence.
As I stood at the edge of that magnificent canal, on the deck of a charming old structure waiting to be razed for the building of a huge new development, thousands of eyes stared up at me from below the swirling currents. As if they were saying: look what can happen, and mind it for your own future.
[Portions of this article were previously published in Edible East End].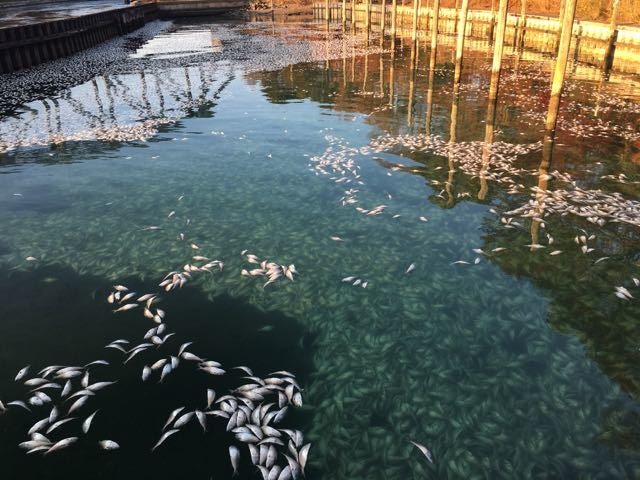 Related
Popular in the Community