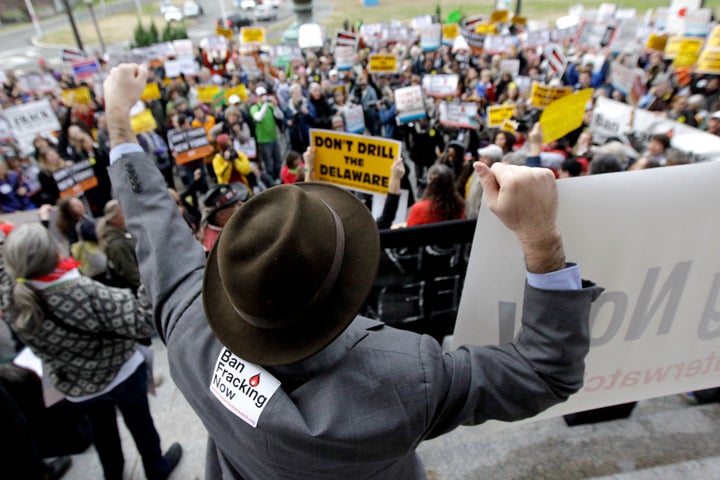 "If it's so safe, why does it need loopholes?" asked Barbara Lee Jackson, referring to the infamous Halliburton Loophole in the 2005 Energy Bill, which exempted the practice of hydraulic fracking from most environmental standards.
She was one of over a hundred members of the public, who waited on a line for a ticket to speak at a public hearing, held a few blocks away from Occupy Wall Street. Nearly two thousand attended the meeting, which was hosted by the New York State Department of Environmental Conservation (DEC) to permit public spoken comment on the 15,000 page SGEIS guidelines it had produced at Governor Cuomo's request to fast-track fracking in New York State.
Cuomo had promised that his decision on fracking would be based on "facts and science," but many speakers expressed disappointment with omissions in the state's document.
Dominating the stage at both day and evening sessions was a giant timer under which sat a trio of DEC representatives. The timer assured people kept their comments to three minutes apiece.
So much to say, and so little time. Based on what fracking has wrought elsewhere, speaker after speaker waxed eloquent with average citizens, elected officials, and advocates characterizing fracking outcomes as:
"A roll of the dice.."
"A state-wide health emergency.."
"The next Love Canal.."
"An economic wasteland.."
"A boom and bust economy."
"Poisoned aquifers.."
"Sick children."
"Reckless endangerment."
"The next Enron."
Some were public officials. Some were people who had never spoken in public. Some were measured. Some passionate. One read a long list of the ailments correlated to fracking chemicals. One recited the precautionary principle. Many simply urged more time.
Time for the EPA studies which conclude in 2014.
Time for New Yorkers to consider all relevant data before making an irreversible step.
Time for the understaffed DEC to prove capacity to regulate what many called an inherently dangerous activity.
"This is far too important to be rushed. The shale gas has been there for millions of years." said Manhattan Borough President, Scott Stringer.
"Let's de-accellerate this process," agreed New York State Senator Tom Duane.
"We must not buy into corporate junk science in order to allow a practice that jeopardizes life and health, and the economy of millions of New Yorkers," said State Assemblyman, Richard Gottfried, Chairman of the NYS Assembly Committee on Health.
Joe Martens, head of the DEC did not attend the public meeting. But the biggest omissions speakers noted were in the guidelines themselves, (which were rushed to completion at Governor's Cuomo's behest.) Speaker after speaker asked why the DEC would signal readiness to proceed with fracking when they contend that the guidelines contain:
No health impact assessment
No health expense projection
No socio-economic assessment
No provisions for increased first responder use for managing crises
No risk management and liability plan for death, injury, contamination, and accidents
No fallbacks for lawsuits, defaults, or bankruptcy by gas leasing, drilling, or sales companies
No bailout projections for investment losses
No data on the risk of declining properties values both downstate and upstate
No plan for potential foreclosure crisis, triggered by mortgage forfeiture
No provision for damage insurance
No evaluation of NYC's aging water infrastructures for seismic destabilization or contamination risks
No comprehensive plan for hazardous waste disposal
No evaluation of possible increased contamination risks due to more frequent hurricanes, floods, and other artifacts of climate change
No evaluation of hazards arising from fracking induced seismic activity leading to increases in earthquake frequency and intensity
No strategy for increased tax payer burden to cover any of the above
"The guidelines are inaccurate and unacceptable," said Jeannette Barth, Ph.D., an economic forecaster. "Extensive literature shows a boom and bust economy which leaves fracking regions economically worse off long term. But the DEC focused only on the benefits, and those were exaggerated."
"Industrializing New York's farmland is no boon. The SGEIS distorts key facts: Most of the estimated jobs would be filled by out of state workers, but there's no mention of fracking's impact on major New York industries, agriculture and tourism," said Wenonah Hauter, Executive Director of Food & Water Watch.
"Who will go to the Catskills to see the autumn leaves when the region smells like Newark?" another speaker asked.
David Braun of United for Action called the plan to drill at a short distance from the upstate watershed, "Feeble, and inept. It won't completely protect our unfiltered water supply, even though it shows that the DEC and Governor know that fracking is a toxic enterprise."
"The state has made no effort to quantify the kinds of expenses that have occurred in other states, which include hundreds of millions of dollars for remediation. Most communities will receive no revenue from fracking, and we've learned from Pennsylvania, that industry will not cover costs and losses. If the DEC fails to develop an accurate socio-economic assessment, as is legally required, Riverkeeper will go to court," said Katherine Hudson, Watershed Program Director of Riverkeeper.
Many contended that Governor Cuomo's basic premise is misguided.
"No regulations can make fracking safe. No attempt to regulate it for safety anywhere in the world has succeeded." asked Josh Fox, director of the Oscar-nominated film, Gasland. "Ban fracking now."
Stringer agreed, questioning the DEC's power to hold industry accountable. "We've seen in the Gulf how an anemic regulatory body is a recipe for disaster when they can't control the industry they're supposed to regulate. The result is environmental catastrophe," he said. "We don't have the science or the wherewithal to extract gas safely. It's time we owned up to this."
One speaker addressed Deputy Commissioner Steven Russo who moderated the session. "The gas industry spent millions trying to convince us, but we're not buying. The question is: Why is your boss buying it? We're the people who voted for him, and we're getting the word out about this because the more people know, the more they oppose it. This is not a threat, this is democracy."
"We all know that the decision will be made by Governor Cuomo," agreed Ed Wood of A Million Fracking Letters. "Fracking is standing between him and the White House."
One man asked Russo. "Do you see what's happening here? You are not required to convince us that fracking is safe. We are forced to convince you not to poison us. You've turned democracy on its head."
"I've been active in democratic party leadership for several decades," said a local party organizer from Staten Island. "But if he runs for President, Governor Cuomo will be the first Democrat I will not vote for."
"The future of New York depends on the action and resolve of its citizens," said actor Mark Ruffalo, founder of Water Defense.
"This is a people's movement," said Josh Fox.
The DEC guidelines for written public comment have been extended through January 11th. You can go here and here to comment.
Related
Popular in the Community