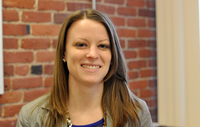 Standardized tests are hotly contested around the country and so we often forget to talk about the benefits of timely access to student data. As a teacher, I see these benefits clearly in my own classroom. I began the new year with 6th graders whom I saw only months earlier as 5th graders. I walked into my classroom in September already aware of my students' strengths and areas of growth and I used that knowledge to organize a reading project on climate change before the first day of school. This was not because I had seen their science 5th grade MCAS, but because I had the benefit of knowing their reading levels first hand. Most teachers do not have this advantage.
As long as I have been teaching, the data I have received lacked clarity and has not been timely, thus rendering it nearly useless for my purposes as an educator. I look at my personal assessment data as well as other tests that our school administers (such as the Developmental Reading Assessment) as data points to inform my teaching. Massachusetts is in the process of transitioning from the PARCC assessment to MCAS 2.0. One of the key priorities for the new test should be to make data quickly and easily accessible to teachers.
When data is both targeted and timely, teachers like me can use it to inform our lessons and curriculum, and to improve how we teach. Having access to data before students walk through the classroom doors provides a huge advantage to both teachers and students.
Teachers want data that is direct and easy to understand. Insight about our students' reading and math levels, and the specific skills that they have mastered is basic yet critical baseline information that state standardized tests need to provide. This information helps teachers plan for their incoming students and for their own personal development as a teacher.
With each new class of students, I use more targeted data to figure out their individual needs, not only on a yearly basis but with each new concept we learn. Jose is an active participant in my class; he is eager to start strong partner conversations and add to our discussions about some of our most complex scientific topics. When he answers questions, he is willing to take risks, sometimes getting a question incorrect but often able to articulately summarize what we learned in class. However, Jose has not been doing as well on matching or multiple choice assessments. The data that I collected from assessments, exit tickets, and personal conversations helped me to figure out what was causing Jose's trouble with assessments. We made an action plan together for how he can eliminate distracting answer choices and make the best decision; we meet every other week to look at his progress. Jose is just one student, but there are countless others who have similar skill gaps or misconceptions that data helps me to better support.
Receiving data on my students' performance on the science MCAS, or ELA and math PARCC after the start of the school year makes planning or using that data a real challenge. When data comes to schools this late, teachers are not able to integrate it into their planning process, rendering the scores nearly useless. By then, we have already spent time developing a sense of our students, their strengths, and their challenges, as well as our curriculum.
Being able to look at the data for my incoming students before I am in front of them will eliminate the guessing that happens in the first few weeks of school. Who is going to struggle with this reading on plate tectonics? Who should I check in with first when we go to independent practice? Where should I seat certain students during a writing lesson so I can check in with them at the start of each paragraph? Which students put on a good "front," but are really struggling with producing strong work?
In an ideal world, teachers would administer standardized tests closer to the end of the year to allow an entire school year for instruction. Similarly, we would receive data over the summer to inform our instruction for the fall and implement supports for students right away.
I believe in the power that data has in teaching and the insights it can provide teachers about our students. Providing targeted and timely data will help alleviate some of the stress that comes with standardized tests and give teachers a reason to feel more invested in testing.
Krista Fincke is a 5th and 6th grade science teacher at Excel Academy Charter School in Chelsea, MA, and a Teach Plus Greater Boston Teaching Policy Fellow.
Popular in the Community