Much has been said about Saudi Deputy Crown Prince Mohammed bin Salman's ongoing visit to the United States. However, regardless of the intense speculation by some analysts about the tour's agenda; I think the trip should be seen as an insight into the new 'business as usual' in Saudi Arabia.
Indeed, for anyone who is well-informed about the kingdom, almost everything about this visit seems unconventional. To start with, given that the tour - which so far has included Washington DC, San Francisco and is yet to be concluded in New York - falls within the holy month of Ramadan, some expected it to have a light agenda.
However, a new scheme of thinking seems to favor the idea that if fasting didn't prevent our ancestors from building a great Muslim empire, where religion encouraged progress and scientific achievement, then why should we allow it to be exploited by a few to justify their inefficiency?
Then, there is the element of the work ethic and deep personal involvement displayed by Prince Mohammed himself. Apart from being the Deputy Crown Prince and the architect of Vision 2030, he is also the kingdom's defense minister, the second deputy prime minister and head of the country's Council of Economic and Developmental Affairs.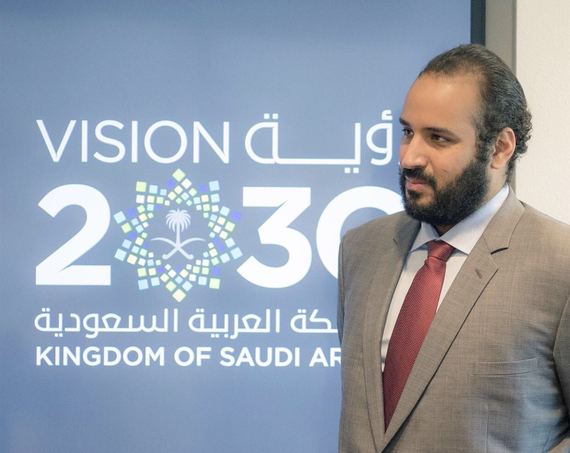 Deputy Crown Prince Mohammad bin Salman is the architect of Saudi Vision 2030 (photo by Bandar Al-Galoud/Al Arabiya News Channel) On that front, the thirty-something MbS (as he is referred to among the Saudi youth, who form the majority of the population) is redefining how Saudi government officials are portrayed. A recent Bloomberg interview described his work-day as an intense 16-hour routine; something which was first noted by New York Times columnist, Thomas Friedman.
"I spent an evening with Mohammed bin Salman at his office, and he wore me out ... Ministers tell you: Since Mohammed arrived, big decisions that took two years to make now happen in two weeks." Mr. Friedman wrote in a column titled 'Letter from Saudi Arabia' in November 2015.
Nevertheless, several observers remain skeptical of Vision 2030. Now, to be realistic, not even the most ambitious among us expects such a massive plan to be flawlessly - or even fully - implemented. However, some Saudi-skeptics have brushed it away as a giant publicity stunt.
Such simplistic - and irrational - arguments, disregard important facts on the grounds, such as the Saudi government setting self-imposed deliverables, KPIs and deadlines for itself. Furthermore, those who assume that the Vision or the National Transformation Program is only intended to create noise, are neglecting a crucial question: for whom the bell tolls?
Yes, the US is an important - if not the most important - of the kingdom's global allies. However, it is far-fetched to assume that the sweeping reforms being introduced by Riyadh are intended to benefit anyone other than the Saudi citizen.
Creating a win/win situation To achieve ambitious goals such as raising non-oil revenues to $141 billion and creating more than 450,000 new jobs by 2020, the Saudi government understands it needs more than just words, it needs work, it needs reforms, it needs to open up... and all of this has to happen quickly.
Since this is the case, who could be a better ally than the kingdom's closest of allies, particularly countries like the US, that have the know-how and ability to create a win/win situation?
As such, Dow Chemical was granted, during MbS's visit, the first-ever license for a foreign company to operate independently in the kingdom (without the requirement of having a local Saudi partner). Furthermore, two similar licenses have been granted to 3M and Pfizer. Also, allowing a company like Six Flags to build and operate theme parks will take the kingdom's entertainment sector to whole new level, creating jobs and joy at the same time.
Given the intensity of the visit, some announcements may have gone unnoticed, but nevertheless are equally significant. For instance, the White House's read-out of the Deputy Crown Prince's meeting with President Obama contained an interesting part relating to a strong Saudi support of the Paris climate deal and cooperation with the US on clean energy issues.
I had the opportunity to chat about this point with the newly-appointed energy minister, Khaled al-Faleh, who is part of the visiting Saudi delegation. Mr. al-Faleh says the Kingdom needs to adapt to modern times and that work is underway not just to commit to clean energy, but to export and benefit from it financially too.
Could the kingdom eventually become the 'Saudi Arabia of clean energy?' Well, that might be an ambitious goal to achieve. But then again, a few years ago, nobody would have thought they would see foreign companies being allowed to independently operate in the kingdom!
Calling all HuffPost superfans!
Sign up for membership to become a founding member and help shape HuffPost's next chapter