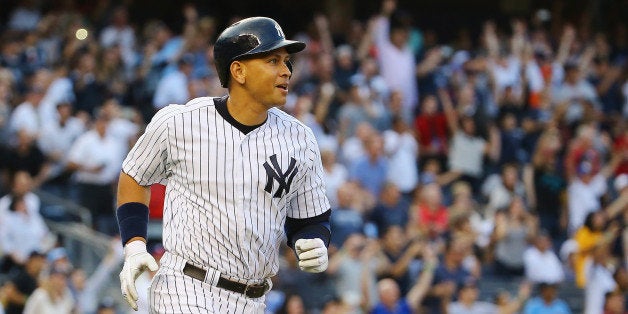 Alex Rodriquez has returned to play for the New York Yankees with a flourish. Exiled from baseball for a full year based on his proven use of performance-enhancing drugs, A-Rod was not supposed to be able to rejuvenate at 39. (He will be 40 in a few weeks.) Yet he is among the club's leaders with 15 home runs, 69 hits and 44 RBI for a Yankees team near the top of the division standings. Many thought that his disciplinary layoff would be the finishing blow to a career that, in recent years, has been filled with well-earned opprobrium. Perhaps A-Rod's apparent rejuvenation is the product of diminished expectations, but he is performing as good as ever.
The problem is deciding how we are supposed to deal with this baseball outlaw who ended the 2013 postseason proclaiming his innocence and suing both Major League Baseball and the Players Association. Now he's back and reaching milestones in career performance that normally would earn him the affection and acclaim of crowds both at home and away. He surpassed the home run career total of Willie Mays, likely the best all-around player of the modern era. He surpassed 3,000 total hits, previously a sure entrance ticket to Cooperstown. If he continues to play at this level of excellence, other offensive records are not out of reach. Should we applaud?
There is no question that Yankees fans find A-Rod's performance both remarkable and pleasing. Yankees management, on the other hand, has refused to pay A-Rod a contractual six million dollar bonus when he surpassed Mays, claiming his suspension has undermined the club's "ability to market" career milestones as he passes them. The Yankees' action will likely be subject to a union grievance, but, in the meanwhile, A-Rod continues to produce.
Baseball fans are a forgiving lot, but A-Rod's performance-enhancing drug mess has left us confused and angry. Barry Bonds may still be a revered figure by the Bay, but he has received few public accolades away from Northern California. Roger Clemens, a remarkable pitcher, is rightfully placed to one side as we try to figure out how (or whether) the Hall of Fame should recognize his career performance.
A-Rod presents a different case because he is out on the field (or, more likely, hitting as the designated hitter) every day. Bonds, Clemens, Mark McGuire, Sammy Sosa and others are finished playing the National Game. We only have to think about them annually when the Baseball Writers' Association of America does its work and votes no on the sullied performers of the steroid era.
It is hard to praise A-Rod's current resurrection out of understandable fear that, once again, he has found a way to fool us and skirt the rules of the game. It might help if A-Rod were to admit he broke the rules, a conclusion that was obvious to anyone who read Arbitrator Fred Horowitz's opinion upholding most of his disciplinary penalty. My son suggests that baseball borrow from South Africa the concept of a Truth and Reconciliation Commission to help deal with those players suspected of using performance enhancing drugs. Established jointly by Major League Baseball and the Player Association, the Commission would offer a forum for players to admit their transgressions and move on. No one would be required to attend, but players would be allowed the opportunity to speak the truth. In this way, baseball fans can move on as well. The Commission may not result in public forgiveness, but it may provide closure for the millions who love this game.
If A-Rod appears contrite -- as he has done before -- we might allow ourselves to join in the applause that his career, considered as a whole, deserves. If he cannot apologize to the fans, to Major League Baseball and to his union, he deserves our continued scorn as another great baseball player gone bad.
Calling all HuffPost superfans!
Sign up for membership to become a founding member and help shape HuffPost's next chapter