When I think back on my childhood, I always remember a dog being part of the family. When I was younger my family moved around quite a bit, every two years or so we would move to a different neighborhood or state. We had dogs ranging from cocker spaniels to Great Danes. We never had a problem finding a house to rent because of our furry four legged family member.
Fast forward to the 24 year old version of myself, about to finish college and enter the "real world". At this time I was an event coordinator for a local Pit Bull rescue in the Twin Cities area and had met the love of my life, Wilbur. Nothing crossed my mind, signing his adoption papers except the fact that I get to take this big meathead home and love him until death do us part. I knew that breed specific legislation existed around the country but not in Minnesota. (For more information on breed specific legislation in your area click here.)
Our lives would remain safe as long as we stayed in Minnesota, or so I thought.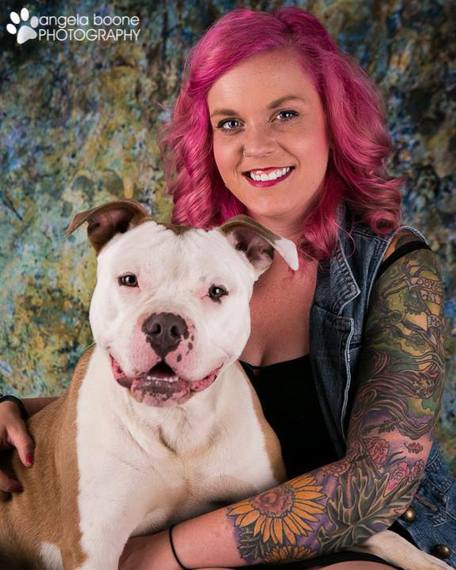 Wilbur and I-(2013, Photo Credit: Angela Boone Photography)
Wilbur and I were living in a house in Northeast Minneapolis with to our knowledge, living where there was not a dog policy. One day, I received a call from my landlord which would forever change the way Wilbur and I lived.
Landlord: "I heard that one of the dogs in the house is a pit bull. Unfortunately, they are not allowed under our insurance. You have two weeks to get rid of the dog or find a new place to live."
Me: "Oh, Wilbur is actually an American bulldog mix of some sort. He's a rescue."
Landlord: "Then he can stay. Thank you for clarifying."
In Minnesota and in every state across the country, a different kind of breed specific discrimination exists. Housing and insurance discrimination for dog owners, specifically pit bull type dogs and other dogs listed on the "Aggressive Dog" list.
Here is an example of an aggressive dog list from an apartment complex in Minnesota. We've all seen the list, however this one is extensive.
Wilbur and I have a lucky story. However thousands of people struggle to find housing every day and are unable to find a rental that will allow their pit bull. When families can not find housing they are often left with the decision to surrender their dogs to rescues or abandon them on the streets. When this happens, our shelters and rescues become over saturated with dogs. Being able to find stable pit bull friendly housing will keep families together, save lives, and ultimately decrease the number of dogs we see in shelters.
These families are loyal, hardworking, amazing people who just need a roof over their heads and a safe place to call home. The emails we receive at MyPitBullisFamily.com are from hardworking families with nowhere to turn. Our contacts range from Ph.D students to Lawyers, Doctors to Legislative Aids. Many times money is not a factor in finding a rental, it frankly comes down to the pet policy of the complex or rental home.
Emails flood our inbox everyday of families searching for housing. We have one of, if not the largest housing database for Pit Bull friendly housing, however there is not always a rental in the area desired, but every so often a success story happens!
"My loving mother tragically passed away unexpectedly last year. I had just moved back in with her four months prior to her death. Her death left a hole so big in my heart that my soul literally ached. The only way I could even think to feel the slightest bit better was to rescue; rescue a pit bull. I have conquered childhood learning from and loving four different pit bulls growing up and they are by far the most incredible dogs. I decided to rescue Blue, my blue-nosed pit bull, a year ago, to help soothe my heartache.

I now had a new adventure that turned into a very difficult, everlasting challenge. I needed to find another home, a home that would allow animals. Dogs. Big dogs, and last but not least pass the breed restriction policy that most apartment complexes have due to state law.

My challenge turned back into an exciting adventure two weeks ago when MyPitBullisFamily.com guided me in the general direction of Windsor Lakes in Woodridge, a mile from my workplace. They are a pet friendly community; one that allows Blue not to be discriminated against and welcomed wholeheartedly. He quickly passed the interview after he received some treats from the woman touring us around. Blue then jumped up on his hind legs, gently attacked her... with love and kisses and demanded a butt-scratch. He sure made himself right at HOME."
Kristi is not alone. There are thousands of success stories because wonderful landlords understand that responsible dog owners make responsible and great tenants.
Recently, I was faced with needing to find pit bull friendly housing in Minneapolis. Thankfully, I knew about the apartments in Minneapolis who allowed all breeds. Unfortunately, many of the all breed apartments are full in Minneapolis. This again, shows the demand for housing in a metro area, but also shows that there are not enough rentals that are all breed friendly. Wilbur and I were able to land an apartment at The Currents in Plymouth, Minnesota where they absolutely love all breeds of dogs.
There are many searching night and day for housing and I receive housing emails just like Jon-Erik's more than once a day.
"Hello, my name is Jon-Erik and I am in need of help finding a residence for my Pit Bull George and I anywhere near the University of New Hampshire, which is located in Durham, NH. I have temporarily moved to a family owned location however it is 2 hours away from school and the commute isn't healthy for me or George due to the long stretches of time away. He is 9.5 years old and has been with me since he was 6 weeks. In that time we have lived in several places and he hasn't been responsible for a single dollar worth of damage to any of them or for any behavior related problems. Over a month and a half ago (before the move) I established contact with a landlord who knew a friend of mine who told me I would be able to rent one of their units. I felt comfortable that we would be ok and accepted my transfer to this new school. 2 weeks ago they suddenly stopped answering/returning my phone calls and the semester has now started leaving me with a 4 hour daily round trip commute and George stuck at home by himself for 10 hrs at a time due to my schedule. If there is any way your organization could assist me I would be eternally grateful and willing to assist your cause in any way I can. I've been living in rental units since 2004 and have never been evicted or cited by any landlord for negligence. Thank you for your time."

Why should you open your home or apartment complex to families with pit bulls?
Great question!
As a landlord, you have the opportunity to preserve the bond between responsible owners and their family dogs, and you can profit from it! Turnover is expensive. Families with pit bulls have put a lot of time and effort into their search, and are likely looking to stay awhile. Retention of excellent tenants saves you time, money, & effort finding a new tenant and eliminates risk.
We're always looking for pit bull friendly housing to add to our database! Are you a landlord thinking that you would like to open your apartment or home to pit bull families?
If you are searching for housing yourself, here are some tips and tools. Just remember that you're not alone in this, you have an entire community backing you!
Only together we can "Lick Discrimination"
Calling all HuffPost superfans!
Sign up for membership to become a founding member and help shape HuffPost's next chapter