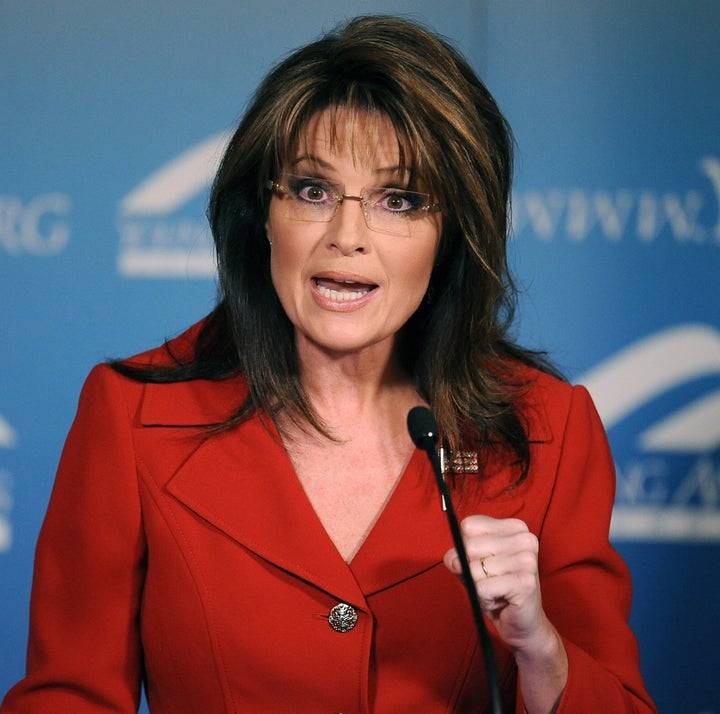 When Sarah Palin burst onto the national stage in August 2008, Americans expressed a collective, "Sarah who?" Since then, she's gone on to become a vice presidential nominee, "Saturday Night Live" spoof, thorn in the side of liberals, bestselling author, Fox News contributor, Tea Party hero, reality TV star and proud mother of a "Dancing with the Stars" contestant.
Today, when it comes to Palin, the question on most Americans' minds is, "Will she or won't she?" The Tea Party continues to build momentum and has positioned Republicans to potentially win back Congress in November -- a political storm fueled, in part, by Palin's endorsements -- and some now see her as a presumptive presidential candidate in 2012.
The charismatic former governor of Alaska is now one of the most recognizable women in America -- and has parlayed the "Sarah Inc." brand into a variety of business ventures. And despite being considered a key factor in John McCain's failed bid for the presidency, her newfound political clout has come, ironically, from her successes in the corporate world.
Taking an unknown startup brand and making it a household name seemingly overnight? Sounds like a familiar entrepreneurial story to us. So we asked our Board of Directors for their take on Palin -- and whether they would consider her an entrepreneur.




Bob Parsons


Founder And CEO, The Go Daddy Group


"Think about it. Sarah Palin has built her own brand, generated lots of buzz and asks a six-figure speaking fee. I definitely think that qualifies her as an entrepreneur."
Tate Chalk

Founder And CEO, Nfinity


"While I happen to like her and her atypical approach to politics, she is no entrepreneur -- no more than any other person who is famous for famous sake. A true entrepreneur would be someone who has 'made it' from something they have created, not someone who was 'created' by the media. Don't get me wrong, I am not hating on her. I would absolutely do the same. But opportunistic is only one characteristic of the entrepreneur."




Ken Yancey


CEO, SCORE


"She is an entrepreneur. She has taken the celebrity and following developed in her political career and turned it into a successful business. She has revenues and employs others. Building a business based on a personal brand or personal celebrity is not that uncommon."




Jennifer Hill


Startup Advisory And Venture Lawyer, Gunderson Dettmer LLP


"Yes! Sarah Palin saw a window of opportunity and seized upon it. She recognized that she is a 'product,' promptly quit her day job, and focused all her energies on creating a market and generating revenue from it. Whether you love her or wish she'd remain quietly in Alaska, she gets credit for turning herself into a brand. How many jobs can Sarah Palin Inc. add to the economy? Now that's the question!"




Rob Adams


Director, Texas Venture Labs at the University of Texas


"I think she's a great example of an opportunistic entrepreneur. She took a random event -- her nomination -- and fully exploited it. The question is, what's her staying power? At this point I think the brand is based on political theater and talk-show fodder. The real trick will be turning this into something sustainable. It will be interesting to watch how this unfolds."




Phil Town


Investor And Author Of Rule #1 And Payback Time


"Sarah isn't an intentional entrepreneur, but she is such a strong brand that my company is hiring her to speak for us at every event she can get to. In my terminology, she has a strong moat -- a kind of monopolistic niche that only she occupies. You don't have to be intentional about getting rich if you've got that going for your business. You'll just get rich kind of automatically. Here's the rule: Build a moat business. Get rich."




Clint Greenleaf


Founder And CEO, Greenleaf Book Group


"I think it's too early to come out with a full judgment on her as an entrepreneur. She's clearly made some money with a big book deal, the Fox job and speaking fees, but it'll take some time before we can tell if she's an entrepreneur or just a savvy business woman."
Danielle And Jodie Snyder

Co-Founders, DANNIJO


"Sarah Palin is an entrepreneur. She's definitely made a name for herself and built a cult following. Whether or not people agree with her political views (or her answers to Katie Couric) she's built a multimillion-dollar brand around herself."
Lexy Funk

Co-Founder And CEO, Brooklyn Industries


"Politics without soul spun into a business? Sounds like a business with a terrible balance sheet. Still, the goods she hawks -- stories of fishing and hunting -- speak to the core of the western frontier narrative. I do secretly love that she runs at lunch and hid her pregnancy successfully until the end of her term. But I try to hide that from all politically correct people that I know for fear of being ostracized. So is that interest a business? I hope not for all of our sanity."
The original version of this article appeared on AOL Small Business on 10/4/10.
Calling all HuffPost superfans!
Sign up for membership to become a founding member and help shape HuffPost's next chapter