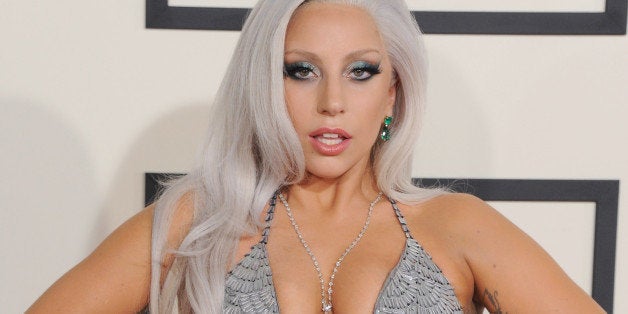 I never in a million years thought that I would be writing this - after all Lady Gaga and I probably don't have a bunch of things in common. She's a singer and performer but please, please, PLEASE do not ask me to sing. You'd truly be sorry. And dancing - well, I have never been able to dance. Don't believe me? Ask those who know me well, and in between the laughter at the mere thought of me actually trying to dance - they'd confirm that dancing is NOT my forte. And, to be quite honest, I'm not really familiar with Gaga's music. Most of my music time is spent listening to Praise and Worship, Gospel, and Country music.
(Yes, I did say country music. Yes, I am Christian. Yes, I am a Brown woman. And yes, I LOVE country music. But I do digress.)
So, if I'm not really familiar with Gaga and our interests are probably quite different - what in the world could I possibly have in common with her? Well, I'm going to be quite blunt here. Some people might be a bit startled. Others may recoil. And others will show love - for both of us. But the commonality that links me together with Lady Gaga is this: We were both raped. And we both seem to find some healing in the telling of our story.
I recently wrote an article for "The Insight Bulletin" about the healing power of telling your story. I think people have long known how therapeutic it is to express trauma rather than to keep it buried. That's probably why journaling is so popular and effective. Interestingly, the research is finally getting around to scientifically proving that telling your story has healing properties. It has what researchers like to call a "cathartic" effect. In simpler terms, it means that openly sharing the trauma allows you to purge the toxicity. The mind and body are connected - and just like the physical body needs to get rid of toxins and waste, the mind needs to purge too. Trauma left unaddressed can become toxic. Storytelling allows Survivors to begin the cleansing and healing process.
Interestingly, hearing the survival stories of others also has that same purging effect. Storytelling is a powerful healing agent for Survivors, whether your telling your own story or hearing the stories of other Survivors.
(Notice that I capitalized the word Survivors. I always do this - just like I capitalize first names. No, it's not an error. It's my way of showing respect and solidarity to all of my fellow Survivors.)
I don't know if Gaga will ever read this. I mean, with her millions of fans, this article may fall by the wayside. And honestly, it's okay if she never has the opportunity to read a word of it. But I just want her to know that I'm so proud of her for sharing her story through her music.
If you do read this Gaga, I want you to know that I'm so grateful that you are modeling this for others. The stigma sometimes keeps Survivors in silence. And the silence allows the toxins to build and it blocks their healing. But your song "Until It Happens To You" helps you to move forward in your own healing while bringing life to others!
So we may not have a lot in common but Lady Gaga and I have that in common; Loving ourselves and helping others to find their healing. She does it through her music. I do it with my books. Other Survivors do it in their own way. And healing is the end result for each of us.
I love Lady Gaga to LIFE and I speak life, love, and vibrancy to every single Survivor on this earth.
Peace, Love, and Blessings,
REAL LIFE. REAL NEWS. REAL VOICES.
Help us tell more of the stories that matter from voices that too often remain unheard.