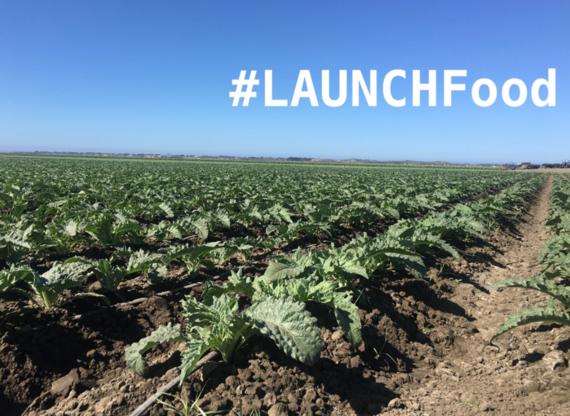 Traveling along Highway 1, through Castroville, C.A., is a reminder of the state's agricultural might. These fertile lands, where artichokes, avocados and a panoply of other fruits and vegetables are grown, stretch far beyond the line of vision. Even so, hundreds of thousands of people in the state lack access to nutritious fruits and vegetables. Additionally, it is estimated that some 800 million people, most of whom reside in developing regions, lack food access, quality or both necessary to maintain a healthy, active lifestyle.
Food insecurity is a pressing, global issue that affects every person and layer of our society, but it doesn't have to be this way. This is why we have kicked off LAUNCH Food: a global challenge to source, support and scale innovations that expand access to nutritious food and empower people to make healthy eating choices. We are seeking innovators that are working to enact food and nutritional changes within their communities.
But we are doing even more to grow a collective, global consciousness around healthy eating and nutrition. Our Global Food Diary is a crowd-sourced collection of responses to a simple question, to which there are infinite answers: "What does a healthy meal look like in your community?" From Zimbabwe, to the Solomon Islands and beyond many are helping inform LAUNCH's approach to how we look at food, by sharing photos, videos and text illustrative of their unique ideas around nutrition.
Additionally, LAUNCH Food has partnered with World Pulse, a global social networking platform that connects women around ideas for change: from the food on their plates, to the culinary traditions and nutritional benefits behind their meals, these networks are sharing depictions of the food that sustains and nurtures their communities.
Auntie Zee is a public health research associate based in Cameroon, who hopes to build a weight loss application that could inform and motivate members of her community to live a healthier lifestyle.
"Africa is blessed with some of the healthiest foods on the planet, but the transition from 'traditional' to a more 'modern' diet has led to an increase in obesity and obesity-related diseases, like diabetes, cardiovascular diseases and certain cancers," she says. "To reverse this trend, it is recommended to eat fresh, wholesome, heritage foods, cooked in a healthy way and in their right portions."
"My approach to healthy eating is eating natural and organic foods that are void of preservatives," says Jane Kalu, an accountant and a rights activist for women and girls in Nigeria. Kalu envisions a large, urban farm that produces organic vegetables. Explore Kalu's story here.
Lita Palomares is a nutritionist in Peru, who loves dancing, running marathons and traveling. Healthy eating, says Palomares, does more than satisfy the appetite: "It is, also, an opportunity to share relationships and social experiences." One of her favorite dishes is "Escabeche de Pescado," or marinated fish:
"First, boil the sweet potatoes and eggs. Then wash the fish, cut garlic and season with pepper and salt; breading with flour and fry in vegetable oil. After, cut the onion in large slices, add water and boil for five minutes. Then, toast in vegetable oil yellow pepper and garlic; add onion, green peppers into strips, pepper, red vinegar, salt and oregano. Boil for a moment. Then add the fried fish and let it stand with the seasoning. Finally, serve the marinated fish with rice or sweet potato, eggs, olives and lettuce."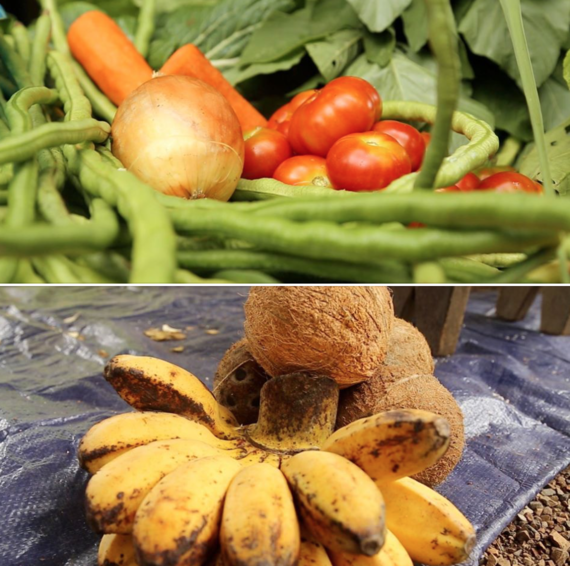 Photo: Shared by the Australian High Commission in Papua, New Guinea. From a hearty cabbage dinner in the Highlands, to aibika leaves simmered in coconut milk on the Islands, healthy eating looks different in every PNG community.
Submit stories of your own healthy meals via Instagram, Twitter and Facebook with #LAUNCHFood. LAUNCH Food is powered by a partnership between LAUNCH, the Australian Department of Foreign Affairs and Trade's innovationXchange, the U.S. Agency for International Development (USAID) and SecondMuse.
Calling all HuffPost superfans!
Sign up for membership to become a founding member and help shape HuffPost's next chapter