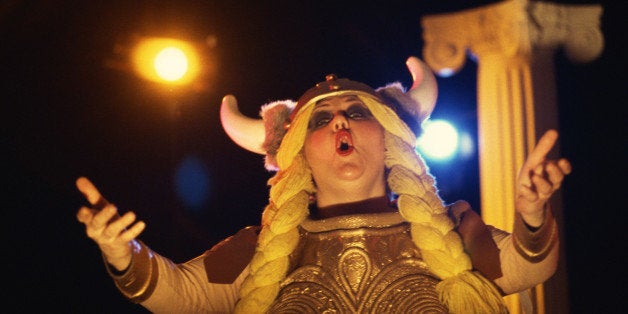 The folks across the pond at English National Opera are finding themselves in a predicament that has much in common with the challenges that forced The New York City Opera to file for bankruptcy in 2013. The ENO, much like the former NYCO is a beloved "second" company in a huge culture rich city, whose mission is partly to present the type of repertoire that wouldn't be seen in the larger, more affluent opera house, and who hopes to bring in younger audiences with sleek modern productions, unusual repertoire, and less expensive ticket prices. Like the former NYCO (but for different reasons), ENO has suffered financially in recent years, and is now seeking concessions from the full time chorus, which are not being met with a lot of support from the arts community or the press. There are those who fear that without major changes the company may fold, as was the case with NYCO.
Despite the fact that the ENO had a large portion of their funding yanked, the UK and the USA still operate on very different models, and the UK institutions enjoy far larger government and public endowments than do US companies, whose government funding remains a very small percentage of their overall operating costs -- if they get any at all. Considering how expensive and expansive it is to produce opera, compared with how little income from opera companies is actually fixed (most is donated, and the earned income is often unpredictable at best), the fact that opera companies still exist at all is actually rather remarkable. More remarkable still are the opera companies that have adapted and therefore thrived as we move into this new era of digital media, shrinking audience bases, and wary donor pools. We've seen plenty of news about the companies that fail, or come very close to going bankrupt, but why not examine the companies that are succeeding and try to find out what they have in common? Here is a look at some opera companies that have managed to find their way in this new world and market, and some of the ideas behind their success.
Model #1: Small, Flexible, Innovative, Urban: (Budget around or less than $1 million)
In the world of opera, where everything is thought to be enormous and expensive, small taut companies who have found their specific niche in an urban environment, and who are flexible enough to change and adapt their business models as they discover what works and what doesn't have been cropping up in record numbers. In New York City alone, we have LoftOpera, which has found success with attracting younger crowds and critical acclaim with their model of low overhead productions, relaxed audience environments featuring alcohol and dance music during intermission, and young committed casts. This model almost seems like a no brainer but somehow LoftOpera has zeroed in on the zeitgeist of "opera for the people" at exactly the right time in exactly the right way. The Prototype Festival and Beth Morrison Projects have also found an avid and devoted audience by presenting edgy new works in artful, fascinating productions throughout the City for two weeks in January. On Site Opera has created a niche of presenting underperformed gems in site specific spaces, including the Bronx Zoo, a wax museum and a historic mansion. In San Francisco, Opera Parallele presents contemporary operas in creative, technology enhanced, artistically acclaimed productions with top level artists. In the Los Angeles area Pacific Opera Projects produces highly visual productions that are both entertaining and accessible, and discovers venues appropriate to the opera itself, including Ariadne auf Naxos in a supper club. In Boston, Odyssey Opera presents top quality productions of extremely underserved, adventurous repertoire that audiences would see virtually nowhere else, and employs a model where they wait until each project is completely funded before securing the artists and making announcements about seasons, which allows them to create art at the highest level without scrimping on quality later because they are short on funding.
These companies all exist in highly populated cities which are already anchored by large scale opera companies presenting traditional repertoire. The companies are all flexible in terms of venue and budget, and bring the audience much closer to the art form than most forms of traditional opera presented in theaters with thousands of seats. They all offer extremely affordable ticket options combined with well curated interesting programming.
Model 2: Regional, Bold, Willing to Challenge, Strong Leadership: (Budget $4-10 million)
Recently I sang in the Louisiana premiere of Dead Man Walking with New Orleans Opera, and the director of the brand new production, Tomer Zvulun was "on loan" from The Atlanta Opera, where he is General and Artistic Director. Because it is unusual for the leader of a company to continue to freelance as a director while running a company, and because Mr. Zvulun is not only an unbridled creative force, but also a former medic in the Israeli army and a recent graduate of the Harvard Business School Executive Program for Leadership Development, I was eager to understand the ideas he employs in running his company. He has stabilized the Atlanta Opera's financials by significantly increasing the fundraising, has earned the company a nomination for the prestigious International Opera Awards in the category of accessibility - the only American company to receive such a nomination this year, has set a track record of producing at least one contemporary opera each year in a market which has leaned more towards traditional repertoire, and has created a "Discoveries" series which brings non traditional and traditional but underperformed repertoire out of their large theater and into other parts of the city. The most recent example of his strong leadership and the company's growth is The Atlanta Opera's expansion to four mainstage productions in 2016-17. In the three seasons since Zvulun joined the Atlanta Opera, the total number of performances has grown from twelve to twenty two. When we weren't rehearsing Dead Man Walking, which ended up being a resounding success, I had the opportunity to not only grill Tomer about why Atlanta has had such growth and upward trajectory under his direction, but was also able to meet several of Atlanta Opera's board members who came to town to see the production, and understand why they are so thrilled with his leadership.
The things I noticed about the way he runs both his rehearsals and his company are that he makes bold, creative choices, doesn't shy away from tough subjects, has an extremely optimistic attitude outwardly but is firmly aware of the challenges of reality, is absolutely open to learning from every person around him, gives others credit for successes where they deserve them, and is a very shrewd observer and a keen listener. The reason I focus so much on his qualities as a leader is that I believe one of the secrets to success and innovation at an existing company with a budget of several million dollars or more is the combination of excellent leadership and willingness to take artistic risks. When regional companies have large theaters with thousands of seats of fill, they have to choose their repertoire carefully in order to entice as many different types of people as possible and cater to the general tastes of their broad, existing audience base. But in order to grow the company, the leadership must be willing to bring repertoire that may challenge the audiences' ideas about traditional opera, and must also bring acoustic singing out of the large-scale theater and into the community. Finally, all of these choices must be curated by someone with a great creative brain, knowledge of the repertoire, the ability to strategically partner with other companies (in Atlanta's case this includes Wexford, Minnesota, and Glimmerglass Festival to name a few), and the charisma to be able to present ideas to their board and make them a reality. Tomer Zvulun possesses all of these qualities, and his leadership at The Atlanta Opera makes him a leader people in the industry should choose to emulate.
Model #3: Multi Dimensional Leadership, Focus on Contemporary Works, Alternative Programming, Venturing Beyond the Proscenium: (Budget $10 million and above)
I also recently sang in the world premiere of a Mark Adamo's Becoming Santa Claus at The Dallas Opera. It was The Dallas Opera's third world premiere in one calendar year (Jake Heggie's Great Scott was in production when I first arrived), and was happening concurrently with their inaugural Institute for Women Conductors, their family concert series, and not one but two full opera productions created for young people. Dallas, a town and opera company once known for the extremely traditional nature of its programming, has now become an innovator and leader of the movement toward contemporary opera as an audience creator, as well as creating programs which serve the community and the opera industry (including free simulcasts of operas for huge audiences at the Dallas Cowboys football stadium). Keith Cerny, former consultant at McKinsey, pianist, and father of four who is General Director and CEO, brings his considerable musical, business, and even parenting acumen to his leadership at The Dallas Opera, ushering in a new era of artistic planning for this level A opera company in the heart of Texas. Not only that, but in my personal opinion he has unbeatable taste in musical leaders, since his music director and principal guest conductor (Emmanuel Villaume and Nicole Paiement, respectively) are simply two of the best conductors I have ever worked with.
Opera Philadephia is another high budget company making bold choices and ushering in a new era of opera. Having never worked there myself I don't have first hand experience observing their General Director and President David B. Devan, but I have been impressed with the choices he has made to push his company into this new era. Not only has Opera Philadelphia begun to focus on producing contemporary operas each season, but they are the first large scale company to combine a traditional year long season with a festival season which offers edgy, out of the box programming, multiple venues, and the excitement of a festival format. Some mid level companies have chosen to move their entire programming to a festival season because it offers more "bang for the buck" in terms of audience development, engagement and targeted, focused marketing opportunities. Opera Philadelphia, after researching how today's audience chooses to consume opera, discovered that younger audiences have different needs and desires than traditional subscription based audiences, and lean towards single ticket purchases and interesting venues. OP chose to make a big push to adapt to these changing desires by creating their festival, which will have it's first full scale launch in 2017. The festival within the season allows them to program things that wouldn't necessarily sell out in a large scale theater, but which have the potential to bring new audiences into their fold and introduce them to the art form.
The lessons I choose to take away from these companies and their leaders all have one thing in common: innovation and adaptation. Opera as an art form CAN thrive even in our current world of reality television and digital saturation. But in order to survive and thrive, we must adapt the presentation of the art form without diluting or distilling it into something less powerful. The power of opera is the fact that it combines so many elements of art together with pure unamplified singing. With innovation, calculated programmatic risks, and creative leadership, we can introduce that power to a new generation.
Related
Popular in the Community