Around the world, as large numbers of people age well into their 70s, 80s and beyond, mayors and other civic leaders are starting to consider how to develop cities and communities that are age-friendly -- great places to grow up and grow old.

At first glance, the idea seems sensible: Let's enhance our communities to respond to a growing number of older people and do it in a way that benefits young and old alike. Better transportation, safer streets, more jobs and volunteer opportunities -- good stuff.
But driving this kind of transformational change is, of course, not easy. It requires the engagement and enthusiasm not just of elected officials, business CEOs and citizens, but regional planners, philanthropies and foundations, developers, transportation experts, nonprofit groups, health systems and many others. It's a team effort.
At Grantmakers In Aging, we think this transformation is badly needed. So during the last two years we have been working with leaders and organizations in Atlanta, Miami, Kansas City, Indiana and Phoenix--to help them make their cities and regions more age-friendly. With support from the Pfizer Foundation, these teams are doing exciting work--promoting new volunteer and transportation programs, developing awareness campaigns, and influencing city and regional comprehensive plans. And they are joined by a burgeoning group of other cities and towns, not just in the US but across the globe.
But talking effectively about age-friendly communities is hard. The idea may seem appealing to various stakeholders, but they are not sure what an age-friendly community really looks like.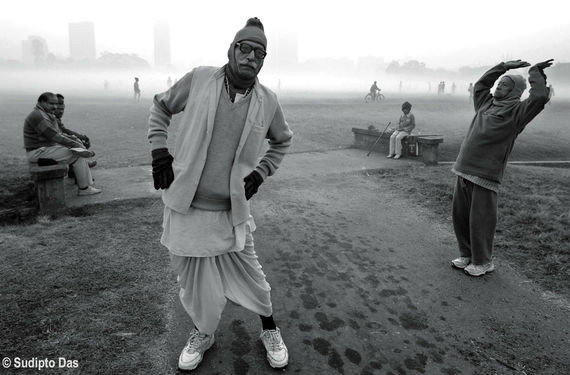 Earlier this year, we decided to find out, literally, running a "Friendly Places, Friendly Faces" photo contest. The response was tremendous. We received more than 500 images from photographers in 29 countries. We picked prize winners in six categories - Older and Active, On the Road, In the Mix (engagement with others), No Place like Home, Parks and Neighborhoods and a general topic, Take Your Best Shot. The grand prize winner above came from Sudipto Das, a photographer for the Times of India. You can see all the winning photos here.
So what did we learn? The first thing was a reminder that age-friendly efforts are now found around the world. The WHO's Global Network of Age-Friendly Cities and Communities program currently boasts 209 cities and communities in 26 countries, numbers that continue to grow. Through the images, we came to see that "age-friendly" looks different in different places, that each community, each culture is defining the work and proceeding in unique ways.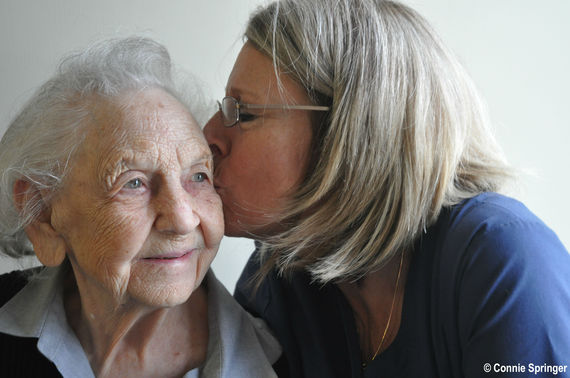 Looking over the abundance of beautiful, often surprising images, we learned (or really, re-learned) that aspects of age-friendly communities are already here, already all around us. That said, these conceptions of positive, engaged aging and of age-friendly communities are not yet fully integrated into the imaginations of our leaders and people of all ages, or into the public and private infrastructure.
Finally, as the diversity of images suggests, age-friendly communities are expressed at the individual, interpersonal (family, neighbors), community, even societal levels. Of course, that is part of the challenge of communicating about age-friendly communities. Initiatives can involve so many things.
But on the flip side, it also means that there is a wide array of opportunities to take up this work, no matter one's passion or professional interest, no matter the pressing needs and opportunities in front of one's city, town or village.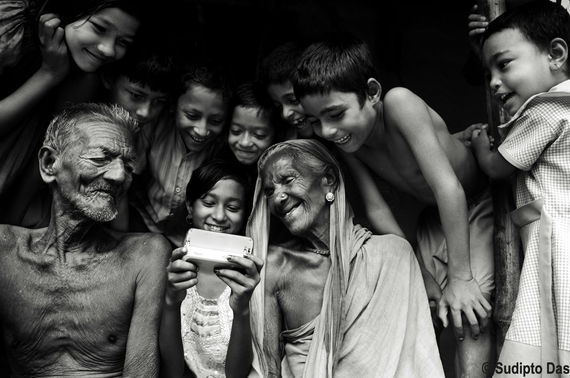 The important thing is to start (or continue), to build on the age-friendliness that is already here. The photos of the "Friendly Places, Friendly Faces" contest invite us to look around our own places and appreciate the ways older people, and people of all ages are living well in our communities. These images give us glimpses and provoke feelings of what it might be like to live in a fully-developed, age-friendly community. We trust they inspire others to take on this important work.
Calling all HuffPost superfans!
Sign up for membership to become a founding member and help shape HuffPost's next chapter