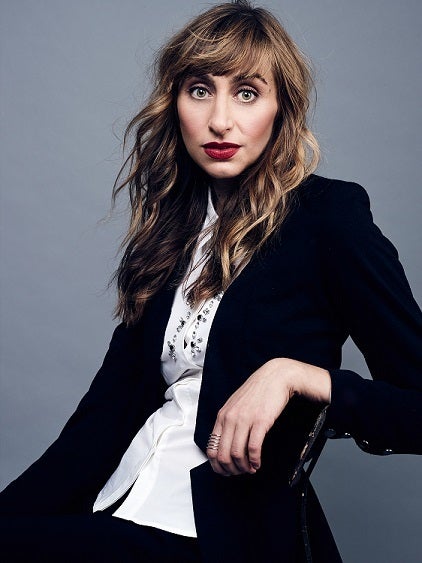 I love funny, so when I was putzing around looking for "funny strange creatures that will make my day", none other than Lauren Blumenfeld popped up.
Or -- I could have just been looking for my cousin Lauren Blum's phone number (because my cousin still talks on a phone — I know, right?) and Lauren Blumenfeld came up in my search and I was like "Hey! It's karma! I have to interview Lauren because she went to school in my favorite city!"
(It's all about how I relate to my interview victims.)
You play Penny in Pop's new satirical series Nightcap. Tell us about your character.
Penny is the sweet and gullible assistant to the head talent booker, Staci (the brilliant Ali Wentworth!); on the fictional late night show "Nightcap with Jimmy." She has a heart of gold, a leaky gut, and a burning desire to please her boss. It's unclear whether Penny has a home outside of her shared office with Staci and her origin story is equally ambiguous — we never really know if she was raised by a cult or by absent parents somewhere in Idaho. She loves cats, herbal supplements, green juice, and Staci.
You've enjoyed both the East and West Coast. Which coast is better?
So hard! I grew up in Los Angeles and always imagined moving to New York, acting in plays and wearing lots of oversized sweaters like Keri Russell on Felicity. I visited New York on my 16th birthday and actually crashed into Judge Judy on a rowboat in Central Park. I've lived in the city for over a decade but moved back to Los Angeles for five months this summer to shoot the new CBS legal drama Doubt, and I rediscovered my affection for the west coast — the Pacific Ocean, the hiking trails, the weather, the cacti. At the moment, my 15 month old nephew, Charlie, may be tipping the scale to the west, but New York will always be in my heart. I guess the dream is to somehow manage a life on both coasts. And international travel would be nice too.
In 2013, you made your Broadway debut in the Tony nominated, critically acclaimed world premiere of Richard Greenberg's The Assembled Parties. How did you hear about the audition? What happened on your audition? How long did it take to hear that you landed the role? When did rehearsals start?
At the time, I didn't even have an agent. I was hustling to get parts and taking classes whenever I could with great casting directors, like Nancy Piccione and Kelly Gillespie at MTC. In the spring of 2012, Nancy and Kelly invited me to read the role of "Shelley" at a table read of the play. I was in theater nerd heaven, sitting in a room with such incredible actors. I'm notoriously hard on myself, but actually felt proud of my work. It was a miracle! Later that year when I wasn't called in to audition, I remember thinking, guess that reading didn't go as well as I thought. I found out later, that because Shelley was based on one of Richard's relatives, they were looking for an actress who was a different physical type. However a month later, they invited me to attend the final callback, and when I finished, the creative team told me I got the part in the room. Like all actors, I've dealt with a TON of rejection, so it's very meaningful when great people give you an opportunity to celebrate a win. Rehearsals started a month later and it was like attending an acting master class. I played Judith Light's daughter and after the first week of rehearsal, she invited me to go with her to Long Island (where our characters lived) to do research. We rode the LIRR, took pictures and ate cookies. It was an experience that I'll never forget and was the beginning of my friendship with Judith and with Jessica Hecht. Mentors are very important and I'm lucky to have found so many great ones in The Assembled Parties.
Why did you choose to attend NYU? What was the most valuable lesson you learned there?
I chose NYU because it was in New York and that's where I wanted to be. I had heard about the Experimental Theatre Wing (ETW) at NYU, where the focus was on making new work, acting in new plays and physical acting training. I can be very analytical and often spend too much time in my head. ETW was great because it connected me to my heart, got me out of my head and into my body. As crazy as it sounds, I think the most valuable lesson I learned at ETW was how to fail – that there's tremendous value in taking big risks, even if they result in big messes.
How do you find time to exercise with your busy schedule?
It's been helpful to commit to practicing yoga no matter how crazy my schedule gets, but yoga can be so expensive! I live near a great yoga studio called The Brooklyn Yoga Project. During leaner financial times, I've been able to take class for free in exchange for working the front desk and cleaning. Though it's not always glamorous to mop the floor after hot yoga, it's become part of my practice and can be a lovely distraction from self-absorbed actor thoughts. Most yoga studios offer work/study programs and I highly recommend getting involved.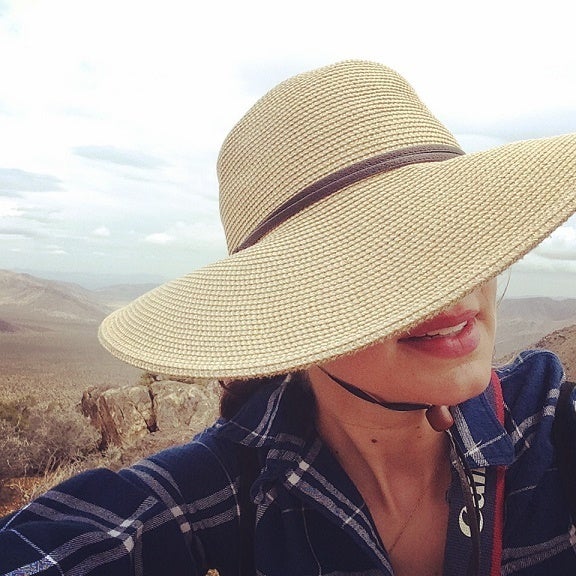 You spend a lot of time giving back, can you tell us a little more about that?
I am so happy to be a volunteer at the 52nd Street Project, an organization that pairs theater artists with amazing kids in Hell's Kitchen. At the Project, kids write and perform original plays and get the opportunity to have them performed by professionals. I started interning there in college and have continued to volunteer for the past decade because everyone there is so great. I'm also a Smart Partner at the Project, which just means that once a week I get to hang out with the most amazing 14 year old, Karen. We bake, make movies, ride bikes and hang. Acting jobs come and go, but the Project is a constant in my life. Also, where else would I get the chance to perform a play written by a brilliant nine year old that takes place in outer space between a toaster over and an electrical outlet? These kinds of parts don't come along often.
What was your family's reaction when you told them you wanted to be in show business as a career?
My dad is a lawyer and my mom is a kindergarten teacher. When I was four years old, I told them I wanted to be a set decorator. They seemed cool with that, so long as I didn't cause permanent damage to the house and never used water indoors to create ocean habitats. When I realized I wanted to tell stories in the worlds that I created, my parents and sister became my audience. Like many great parents, mine genuinely want me to be happy. They saw that I found this weird thing that gave me joy and they supported me. I know that's rare, which is why I try to empower and encourage children whenever possible.
What traumatized you as a kid?
Oh my god! SNAKES! I'm still so scared of snakes. Also, I may have read The Hot Zone or seen Outbreak too early in life and developed an irrational fear of monkey-born illnesses.
Support HuffPost
The Stakes Have Never Been Higher
Related
Popular in the Community