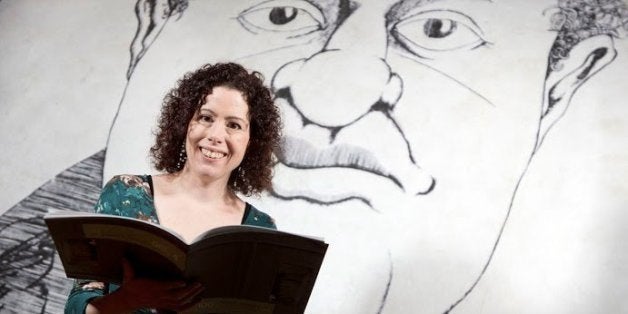 Dylan Thomas has been there my whole life. The paintings and photos on the wall, the books on the shelves, the name ever present in everyday discussions. But he was also there in my mum's hazel eyes, my uncle's intelligence and perfect wit, not to mention the ever increasing horror stories about visits to the dentist, always blaming dad and the 'Thomas' teeth. He's still there when I see my snub nose and uncompromising, rebellious curly hair and as I hear my son read, playing with words using a natural and innate gift. The cheeky personality is still about too!
Although always near, I took him for granted. With an element of embarrassment, I have to admit, until recently, I knew very little about my grandfather's life and had not read his work. I'm not sure exactly why. Perhaps I thought I wouldn't like it. Maybe I thought the rich language was beyond me. It was only, as is often the case, some life events that started my voyage of discovery.
My mum died on the 27th of July in 2009 and then my son Charlie was born a few weeks later on the 19th of August. Suddenly, I was in a very alien role as a mummy to a baby boy, without my own mum to guide me. I became acutely aware of the closeness of life and death and realized the importance of knowing more about where I came from. Who was this talented wordsmith I called Granddad?
So, it was with caution that I delved into his poetry, stories and letters. And, what a relief, it was delightful. I loved his writing! One moment I could be brought to tears reading a powerful description describing the horrifying effects of war, and the next I was rolling about in laughter at the antics of Dylan's eccentric aunts and uncles.
I was very fortunate that the centenary of my grandfather's birth was just a few years away and there was increasing momentum to find a way to celebrate it. So in 2011, I became part of a steering group to guide and drive forward the year-long festival, Dylan Thomas 100. I have been passionate about bringing the focus back to Dylan Thomas's work. I wanted it refreshed and revitalized, so new audiences, as well as those already familiar with it, could come to love my grandfather's writing.
I think the most fascinating discoveries for me, which I hope I've been able to show to others, was uncovering the exquisite quality of his writing, learning how young he was when it was completed and seeing just what a meticulous craftsman he was, as well as the realization that there was a vulnerable man behind those words.
So, what does Dylan Thomas mean to me? He's the man I want to tell the world about. He's a legend, a writer, a performer, but also, to me, just simply, he's my granddad.
Popular in the Community