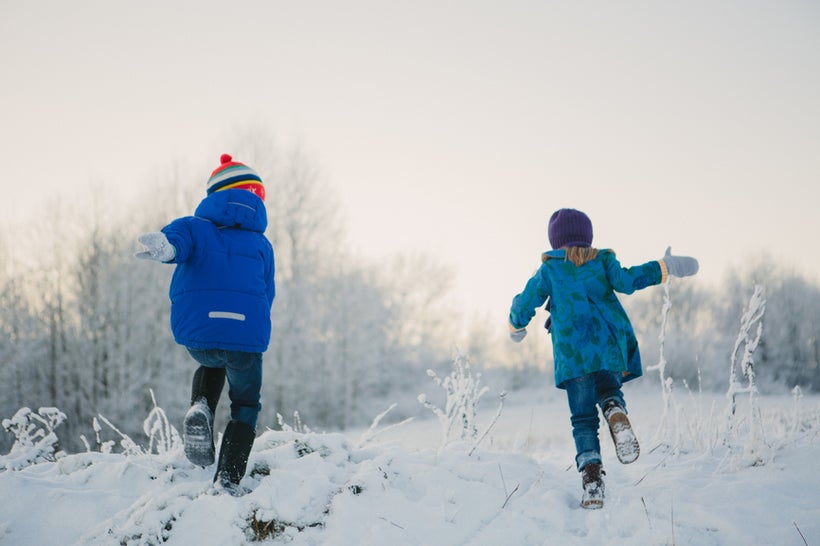 What Does It Mean to Be Fearless?
Let's make 2018 the year to reclaim healthy childhood for all youth. Here, 5 ways to live fearlessly with your family—and to spark fearless action for change.
In the ten years I've been working to change school culture, the obstacle I've faced most often is not entrenched school policies, nor stubborn school leadership, nor a lack of will to put student health above perfect grades and premiere college admissions. The biggest hurdle I've faced is fear.
For students, learning and fear are often emotionally intertwined, as students increasingly associate school with high-stakes testing; high-pressure college applications; and a pervasive dread of not measuring up, quite literally, against their peers or their parents' or teachers' expectations. And teachers and parents are fearful, too. Educators worry they will not be able to cover required material; that students won't meet state standards; that test scores will drop. And parents fear for their children's very survival, wondering whether every homework assignment, course grade, SAT score or college acceptance has set their child up for long-term success and satisfaction—or sent them down the wrong path.
Fear is understandable in a culture that prizes performance over deep learning and measurement over meaning. But fear also gets in the way of change. When we choose to be fearless, we can reinvent the rules of what it means to be a good student, a good teacher, a thriving school, and a happy, successful adult.
When educators choose to be fearless, they can experiment and innovate, testing new methods and piloting new approaches. When students choose to be fearless, they can unshackle themselves from the college admissions rat race and pursue learning, coursework and extracurriculars that feed their passions. When parents choose to be fearless, they can encourage their children to prioritize health, mental rest and emotional well-being over a perfect application or a straight-A report card.
Fearlessness has been part of our movement from the beginning, but in 2018 I'm doubling down on my own personal commitment to eschew fear and embrace change. If you're with me, read on for 5 ways to live fearlessly with your family, and to spark fearless action on behalf of all youth.
1) Talk about fear and fearlessness. With your children, families and friends, have conversations about how fear manifests at school, at home and at work. What are you scared of? What kinds of pressures do you feel—and from what, or whom? What do you think creates those pressures? What actions could you take to free yourself or your loved ones from their grip?
2) Take fearless action. If your child feels pressure to live up to your parental expectations for achievement, find ways of easing up and giving them love and assurance. If they feel pressure from too much homework or standardized testing, set up a meeting with their teacher or principal to discuss it, or consider opting them out. As a family, find ways of empowering one another, making room in your days for your individual interests, recreation and family togetherness.
3) Connect with one another, in your community and beyond. Togetherness is a powerful antidote to fear. If you have concerns about fear or pressure in your community, reach out to other parents, teachers or neighbors to share ideas and make a plan for taking action. In 2018 we'll be hosting more virtual conversations like the one we held on November 30th, in hopes of inspiring new partnerships between parents, students and educators across the country. If you have ideas for future conversation topics, please share them with us by writing to info@reellinkfilms.com.
4) Host a Race to Nowhere community screening or house party. With the goal of bringing Race to Nowhere into 500 new schools in early 2018, we're offering a deep discount on our Educational Tool Kit for anyone who acquires the film before the end of January: before January 31, pay just $100 instead of $295. If you're a parent, this could become a gift to your school community, a way to spark discussion and a powerful first step in putting student health and well-being first. Click here to get started (use the Promo Code RLF195D) or call us with questions at (925) 310-4242.
5) Book a screening of Beyond Measure in 2018. Our two feature films work well when used in tandem. Race to Nowhere highlights the widespread problem of fear in our school culture, and Beyond Measure showcases the bold leaders who have already taken steps to reinvent school. Together, both films can inspire a community to pull together and create an environment that truly serves children's well-being, now and in the future.
Calling all HuffPost superfans!
Sign up for membership to become a founding member and help shape HuffPost's next chapter
This post was published on the now-closed HuffPost Contributor platform. Contributors control their own work and posted freely to our site. If you need to flag this entry as abusive,
send us an email
.