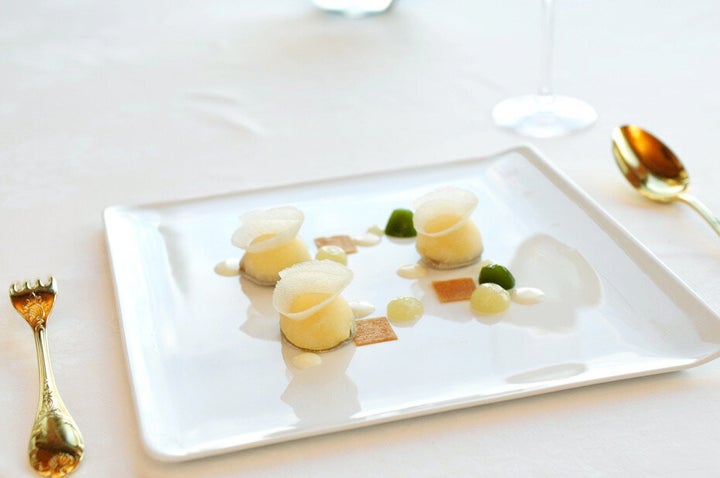 This question originally appeared on Quora.


By Julien Vaché

In 2010, there was a special event when the new Guide was published in France at end of February: a new 3-star was born! This is always a top news item when it happens in France, and the whole media featured the story. And a great story it was, since the restaurant was situated in a small village of one hundred and thirty inhabitants in a forgotten back country of southern France, and its chef was the antithesis of the now fashionable TV personalities ala Gordon "F*** Off" Ramsay.
The Chef and sole owner of L'Auberge is 50-year old Gilles Goujon. Gilles, who lost his father when he was only 10, saw the first celebrity chef ever, Paul Bocuse, in a TV commercial and proclaimed to his mother "One day I will be a big Chef too" (chef means "boss" in French don't forget...). A few years later, after starting as a simple waiter, he was training hard under chefs like his mentor Roger Vergé, Gérald Passédat (3 stars in Marseille now), and Gérard Clor in Carry-le Rouet.
One evening while talking to his now-wife, he re-affirmed his goals in life: "At 30 years old I want to have opened my own restaurant, then be recognized as "Meilleur Ouvrier de France" (a very special distinction - see here for more explanation http://en.wikipedia.org/wiki/Mei... ), and finally obtain 3 Michelin stars." From then on, he worked non-stop, everyday, 15-hours per day to reach that goal. Slowly he climbed all the different, military-like, hierarchical levels in the Cuisine, his talent and hard work quickly recognized and rewarded by the above mentioned Chefs: 2eme commis, 1er commis, Chef de Partie, 1er Chef de Partie, Second de Cuisine...
In 1992, aged 31, he finally finds a small "auberge" in a tiny village, 33 km from Narbonne - a city where he just spent one year working as Sous-Chef under Claude Giraud - for sale after going bankrupt three times in a row! Why such a place you would ask? Well, really he had no choice; he had no money and could not find any decent location to take over or buy. With the help of the Mayor of the village and for the equivalent of 38.000 euros, he buys the Auberge with borrowed money, and his quest begins in earnest.
In 1996, That same year he wins the title of "Meilleur Ouvrier de France".
In 1997, he receives his first Michelin star and his son Enzo is born.
Now, most people would cross out 2 accomplishments out of 3 reached, drink some Champagne, and relax under the lazy Mediterranean sun. no? Well not if you are Gilles, not if you want to become one of the best Chefs in France, not if you have that fire in you, that special extra which leaves you never satisfied and is most of the time a curse rather than a blessing. Because this is the same quality needed to reach the ultimate dream of 3 Michelin Stars - not for the stars themselves mind you but because that is what Paul Bocuse had and all of your other mentors, the Chefs you long to emulate - you understand what needs to be done and set yourself to achieve it, but at the same time, it means you will compete against like-minded people, which makes the quest even more difficult...
Cooking is an endless quest for perfection; it is at the same time never reached and always there. There is nothing really specific you have to accomplish in order to get more Michelin stars, except of course reach perfection, every day, every meal, every dish, every prep, rinse and repeat, every single day of your life. For some, it could seem a harrowing and torturous path to an elusive, virtual reward, but if you have that life-devouring passion, for food and that special strange discipline required in the kitchen, it is a very concrete goal which actually can help to give you a direction, something tangible to seek and achieve, it can even help you bring balance in your life and help you make decisions because, after all, being a Chef is different from being a Restauranteur or even a Business Owner. And it takes a special kind of person to be all three (no pun intended) at the same time.
In 2001, the second star is there, as well as another son, Axel, would you call this a coincidence? I am not sure I would...
After that, years of grinding and constantly trying to improve, staying focused on the food, the quality, that is the magical word for Michelin -quality- everywhere, anytime. Consistency. But to get from 2 to 3 stars, this might be the most difficult step. Three Stars in France is more than a recognition, more than a social status, it's the ultimate reward. It really takes something special to separate you from the bunch (more than 80 restaurants have 2 stars in France, only 26 have 3), and Michelin does not really help you or tell you what to do, no, far from it ... The only known criteria on which they judge a restaurant are:
Quality of the products
Mastery of flavour and cooking techniques
The "personality" of Chef in his cuisine
Value for money
Consistency between visits
So what do you do? Well you just stay passionate and always go for more, stay focused, improve your strong points and get rid of the weak ones. Marie-Christine, Gilles' wife, worked incredibly hard at making sure all the other (non-kitchen) details of the restaurant were perfect, from the minute details of the booking system to the all the work that went into improving the venue, an old sheep herder's hut, its garden, its parking, etc - every year, every off-season, closed for business maybe, but no holidays, no, far from it...
This is also one of the main factors for Michelin recognition: investment. Constant re-injection of whatever meager profit you can rake with a top restaurant in a village of one hundred and thirty people with zero businesses around or casual clientele: every single guest will have to sit at least thirty minutes in a car on a windy, small road with French traffic on it just to come to your place. Forget about attracting "investors" or any of that nonsense, this is not Silicon Valley, it's Cathar Valley, famous for its medieval castles and nothing else since then...
So you play on your strengths, and one of them, the main one in fact, is your location in the middle of this wild wind-swept plateau, between the Pyrenées mountains and the Mediterranean sea, in the middle of vineyards and local, farm-based subsistence agriculture: you go for the best possible products! Local, handmade, organic, traditional, whatever you call it as long as its the best you can find. And then you need to build a relationship with whoever is producing those, and even more difficult is the consistency required by the Inspectors so you better secure your source or else forget it, don't waste your time ... Here are just a few examples of what Gilles did in his quest:
He found a guy who herds goats in another forgotten village of the region and encouraged him to produce for him, cheeses and small baby goats, now he buys 100% of his annual production - which can only stay limited due to the special restrictions on how the goats can be herded and their incredible diet.
He convinced a baker friend of his to stay true to the "terroir" as much as possible and "go back to the roots;" his baker now has restored an old wind mill, cultivates his own wheat from special heirloom sorts, mills his own grain, uses water from his own spring, and cooks his bread in an ancient wood fire stone oven. All of his bread is sold to Gilles. Impossible to scale anyway. But the best goddamn bread you will ever eat in your life!
He spotted a special race of Guinea Fowl originated in Africa and had them flown over to his poultry farmer, who now breeds them exclusively for him; he only cooks them in the summer because "in the winter the fowl is not happy, it's too cold," and he can taste it. Seriously.
His cheese roller is so huge it has 3 different levels and is pushed by 2 people. It's made of massive oak, and it features ALL the cheese kinds of the South of France, from the Pyrenées to the Aubrac, and the waiters know the name of each of the producers, the name each of the farms, and how it's made, which they gladly explain as soon as you point to your finger towards one...
90% of the wines served are from the Languedoc-Roussillon of course, he personally visited each domain, spent time with each winemaker, selected with his Sommelier, and buys direct from them.
Those are just a few examples, there are many more and yes, this is the level of detail and dedication you will have to master to get to 3 stars. And it takes even more than that...
In 2007, an Inspector sends an excellent report from a visit at the restaurant, apart from the desserts who are not yet up to level, some dishes are almost 3 star level, and he is earmarked as potential 3-star candidate. From that moment on, there will be numerous visits by Michelin to his restaurant, not that he is aware of it, they fly/drive from all over Europe, as a promotion to 3 stars is always collegiate and has to be sanctioned by the Editor-in-Chief.
A first visit in April 2008 confirms the restaurant is still on its way up, three months later a team of two inspectors leaves the village floored by what they just experienced: "A very good experience. Chef Goujon gives character, finesse, and soul to achievements that are flawless, ""Perfect products, excellent implementation of technique , gustatory harmony is refined and balanced, " "the door is ajar towards the third star"...
However, disaster strikes towards the end of the year: Inspectors from Germany, Belgium, Switzerland, four in all, come for what would have been the penultimate step before a final inspection by the Editor-in-Chief in December of that same year. However the Chef has no idea all this is happening and is, on that same day, in Paris in order to receive yet another distinction: Maitre Cuisinier de France. The "pigeon" is served "rosé" at the bone...The 'cuisson" is missed ... Sacrilége! Just this one mistake on this one dish stops the whole process: there will be no final inspection, no Editor-in-Chief, no 3 stars in 2009 ...
Completely oblivious to this drama, Gilles requests an audience with Michelin in November in Paris, like he does every year. Yes, there is contact between the Chefs and the Guide and albeit formal, and never often, the Guide does provide feedback to the best Chefs (not everyone can get a meeting) and relates feedback from the Inspection reports. Not saying what should be done but at least telling what they found. It's there, in that meeting with the Director for France of the Guide that he learns about the last visit and its disastrous consequences. The "excuse" of not being in the kitchen on that day is completely unacceptable of course, the ability to train personnel and keep a constant level of quality is a key factor in the decision, and Gilles completely understands and accepts, but what a stroke of bad luck: he has never been out of his kitchen more than two days in the whole year, if at all!
But once the dust settles, this moment will act as a trigger, an even greater motivation to not let such a stupid mishap derail his quest and put all the years of hard work in jeopardy, it would be a huge waste to abandon now and on such a note. Gilles hires young talent, future winner of the "Prix Culinaire Taittinger," Nicolas Davouze as Second, rejuvenates the menu, and keeps producing plates after plates of deserving dishes. A new Inspector is quickly sent by Michelin, and his report is excellent. Later in the spring, more senior inspectors visit: the famous "Oeuf Pourri a la Truffe" is a masterpiece, the Gilardeau stuffed oyster a "perfect combination of terre/mer (earth/sea), a fine and delicate degustation," the desserts are now "well above level"...
During all these years, the restaurant is now almost twenty years old, many cooks have come through its doors, and five of them even have now a Michelin star, including the Japanese talent Kei Kobayashi whom the critics rave about in Paris. So like his mentors before him, Gilles is already an integral part of the culinary tradition in France, making sure "the Knowledge" is passed on, possibly one of the nicest aspects of the job if you ask him.
He is a living proof that determination, talent, and hard work are what takes you to the top, his restaurant is not in a fancy city, no bloggers have ever visited it, he is not from a dynasty or member of a large international group, he has no backers or marketing people. He started with nothing. He almost closed down the restaurant after four years and nobody ever visiting it.
So he just keeps at it and all is going well now, the final inspection is set for September 17th, 2009, the Editor-in-Chief is there and is delighted, "one of his best meals of the year"...
While finally taking a few deserved days off in February, 2010, Gilles and Marie-Christine hear the phone ringing:
"Bonjour, this is [name] with Le Guide Michelin. We're calling to inform you that you will be included as a Three Star in the next Michelin Guide for France"
Related