As August's days are about to fade, September brings renewed hope. Children head back to school, parents find a sense of routine and order, and temperatures begin to cool for most of the United States. For those of us in the childhood cancer community, September also brings the frenzy of activities surrounding National Childhood Cancer Awareness Month. At a time when division and acrimony are so prevalent in politics, a demonstration of hope from many in Congress stands like a small sapling. The recent passage of the RACE for Children Act proves that sometimes differences can be set aside. The following press release, authored by Annette Leslie, Chair of the Golden Toast and Co-Founder of the Carson Leslie Foundation, highlights one of the best examples of bipartisan activity on Capitol Hill. Of course it goes without saying that the passage of one law, or bipartisan attendance of an event does not obviate the real issues that face our lawmakers and the citizens they govern. Rather, let them stand as a stark reminder that we as a nation and those elected to represent us can indeed work together and overcome that which divides.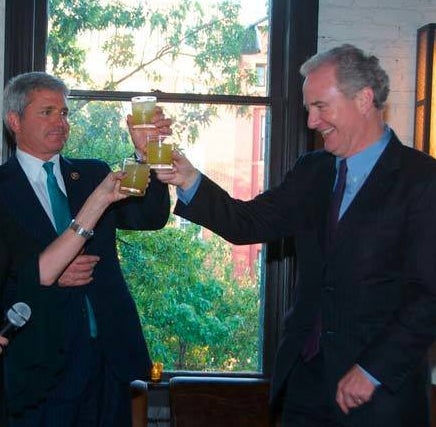 BIPARTISAN POLITICS AT ITS FINEST
REPRESENTATIVES MICHAEL T. MCCAUL, JACKIE SPEIER, G.K. BUTTERFIELD AND MIKE KELLY TO BE HONORED AT THE 4th ANNUAL GOLDEN TOAST
WASHINGTON, D.C., September 14, 2017, 4th Annual Golden Toast Committee on Agriculture Room 1300, 1300 Longworth House Office Building, Washington, DC, 6-8pm EDT
The Golden Toast will be an evening where members of Congress, from both sides of the aisle, are honored for their commitment to the smallest cancer patients among us, the number one disease killer of our nation's children.
"I founded the Childhood Cancer Caucus when I first entered Congress and serving as co-chair of the Caucus continues to be one of my greatest honors. The privilege of improving and saving the lives of children afflicted with cancer is unparalleled. Each day, these children display a sense of courage and determination and it serves as the most powerful motivation for our efforts. I could not be more proud of the caucus, its members, the advocates, the families, and the medical community for working tirelessly to make transformational change possible," Rep. Michael T. McCaul (TX).
During this season marked by political divisiveness, the Golden Toast is a refreshing reminder that our elected officials can put aside disagreements and accomplish meaningful change to advance life-saving research for childhood cancer patients.
VIP speakers include childhood brain cancer survivor Matt Burpee (14); his father, former Navy Fighter Pilot, John Burpee; and Rusty Vittrups, a young cancer fighter with a voice like Frank Sinatra will close evening leading the group in the singing of "God Bless America." Co-Chairs of the Caucus, Congressman Michael T. McCaul, Congresswoman Jackie Speier and Congressman Mike Kelly will be in attendance and briefly share the caucus's accomplishments.
"As we continue to make great strides in boosting the cure rates for children afflicted with cancer, we must also continue to focus on the needs of our ever-growing population of childhood cancer survivors. Beating this insidious disease is a critical part of the battle against cancer. But as these brave survivors grow into adulthood, it's equally important that we provide the ongoing care and research these survivors need to not only live, but to thrive. It is an honor to be recognized by the Carson Leslie Foundation at the Golden Toast, and it's a privilege to advocate with my fellow Co-Chairs of the bipartisan Childhood Cancer Caucus on behalf of all the children and families affected by cancer." – Rep. Jackie Speier (CA).
The 4rd Annual Golden Toast is at full capacity, including, as of this time, nine Congressional Members, and widely attended by members of the childhood cancer community
"The fight against cancer is a long war which must ultimately be won, no matter what it takes. This indiscriminate disease is hideous in the pain it causes and the innocent victims it claims. But, I believe there can and will come a day when the suffering will stop; when no family member ever again has to hear the words, 'Your loved one has cancer.' When it comes to Congress doing its part, our caucus is an important vehicle to help get us to that future," Rep. Mike Kelly (PA).
Each year, one in 285 children in the United States is diagnosed with cancer. In the past 20 years, only two new drugs specifically for childhood cancer have gained approval from the U.S. Food and Drug Administration. Despite achieving increased cure rates for childhood leukemia, progress against other childhood cancers has seen no meaningful change in decades and brain cancer is now the deadliest disease of our nation's children.
"I am inspired not only by the survivors and their families, but also by the heroism of so many parents who have suffered the loss of their children to cancer and who battle on valiantly to ensure that no other parent will suffer their anguish and devastation. To work for the good of others when one has endured unimaginable pain and sadness is one of the noblest acts any person can undertake and it deserves our utmost respect and support," Rep. G.K. Butterfield (NC).
Chairman of the Golden Toast and Co-founder of the Carson Leslie Foundation (CLF), Annette Leslie, said, "It is an honor to gather the childhood cancer community together to publically thank Representatives McCaul, Speier, Butterfield and Kelly for championing the Congressional Childhood Cancer Caucus and giving the childhood cancer community a soapbox from which to shout."
About Carson Leslie Foundation
CLF is a Texas based non-profit which raises and deeply leverages funds for childhood brain cancer research. Carson's dying wishes were to study the tumors in his brain to help other kids battling brain cancer and that his journal be published to share what it's like to be a child fighting for life. Carson's book Carry Me resides in the Library of Congress, all proceeds go to childhood cancer research. For more information visit www.carsonlesliefoundation.org.
REAL LIFE. REAL NEWS. REAL VOICES.
Help us tell more of the stories that matter from voices that too often remain unheard.
This post was published on the now-closed HuffPost Contributor platform. Contributors control their own work and posted freely to our site. If you need to flag this entry as abusive,
send us an email
.