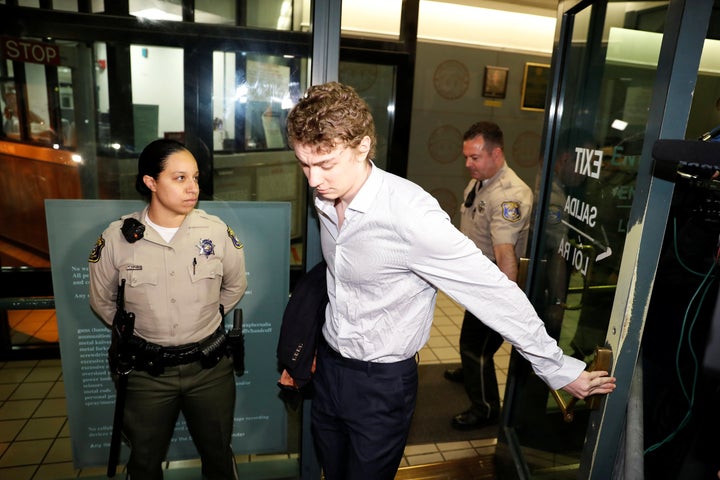 When convicted rapist Brock Turner was released from jail last Friday, he had served just three months of jail time for sexually assaulting an unconscious woman. That is only half of his six-month sentence, which ignited controversy this June because of its leniency. What was a slap on the wrist now seems like just a wag of a finger. But in all the rightful outrage about Turner's punishment, we seem to have lost sight of a broader conversation about what might actually constitute justice for survivors of sexual assault.
The unfortunate reality is that while sexual assault is common, justice for those who have survived it is not. According to the Rape, Abuse and Incest National Network (RAINN), only six in a thousand perpetrators of all sexual assaults go to prison. In fact, because two thirds of sexual assaults are not reported to the police, the vast majority of sexual assault cases are never even prosecuted in criminal court.
Clearly, justice for sexual assault survivors goes beyond punishing perpetrators. Justice also means considering what survivors need to heal and move on with their lives. For many of them, legal help is an important and often overlooked part of the solution.
The trauma of sexual assault is deep and complex. Eighty-one percent of women who have been sexually assaulted report significant short or long-term impacts like post-traumatic stress disorder. The psychological and physical toll of sexual assault can quickly escalate into legal trouble.
For survivors, fear, anxiety and depression may make it difficult to get out of bed, let alone to perform at work. They may face daunting medical or court costs. If a survivor needs to break a lease to find safety in a new home, or defend against a consumer debt lawsuit because her trauma left her unable to work, or secure a subsidy for medical or mental health care, she will need legal help.
Yet all too often survivors are left to deal with the messy and lingering effects of sexual assault on their own. Unlike Brock Turner, who had a constitutional right to a lawyer as a criminal defendant, survivors have no such right since most of the legal problems facing survivors are civil. For a survivors who cannot afford to hire an attorney to help them navigate the civil justice system, even the most basic legal challenge can seem insurmountable. Fortunately, civil legal aid groups can provide legal counsel, connect them with resources, inform them of their legal rights, and seek recourse when those rights have been violated.
"We ought to adopt a definition of justice that is at least as concerned with supporting survivors as it is with punishing perpetrators."
After a New York state woman was sexually assaulted in her apartment complex, she desperately wanted to move. Her assailant had threatened to kill her and she no longer felt safe in her home. She spoke to her landlord and began looking for a new place, but had no luck. Her landlord was reluctant to let her out of the lease and to make matters worse was giving her a bad reference. She wasn't sure where to turn.
Attorneys from Legal Assistance of Western New York (LawNY) helped her break her lease and secure a good reference from her landlord so she could move into a new apartment where she felt safe.
In Texas, another woman who was raped in her apartment also wanted to move. Fortunately, her landlord allowed her to break the lease so she could move home with her family and be close to her support system. But then the woman's former roommates sued her for rent. Luckily, the woman had help. An attorney from the Texas Advocacy Project, which provides civil legal aid to survivors of sexual assault, domestic violence, and stalking, got the judge to agree to dismiss the case.
Legal problems with landlords or roommates are not the first issues we think of when we imagine the struggles facing survivors of sexual assault, but solving them may go a long way toward helping survivors rebuild their lives.
While the circumstances that thrust the Brock Turner case into the public spotlight are maddening, we can channel our outrage into action and compassion on behalf of survivors. We ought to adopt a definition of justice that is at least as concerned with supporting survivors as it is with punishing perpetrators. Investing in civil legal aid services for sexual assault survivors is a good place to start.
Related
Popular in the Community