Two years ago, just prior to when the original "Descendants" premiered on Disney Channel, director Kenny Ortega told me he wished this musical fantasy would do extremely well in the ratings. That way, he and the cast (not to mention the creative team behind this Disney Channel Original) might then get the chance to make a sequel to this particular TV production.
"The Descendants world really is a wonderful place to play in. I think — were you to ask the cast and the crew — they'd agree that we'd all love to come back and play here again," Ortega said in a Spring 2015 phone interview. "More to the point, there are so many characters from Disney animated films that we could draw upon, pull in. There are so many more stories we could tell."
Well, Kenny didn't have to wait all that long for his wish to come true. Given that the original "Descendants" was the No. 1 cable television movie of 2015 and the fifth-highest-rated cable film of all time among total U.S. viewers. (It came in just behind 2007's "High School Musical 2." Which – FYI – was also directed by Ortega), Disney Channel waited less than three months before officially announcing that a follow-up to this musical fantasy was in the works.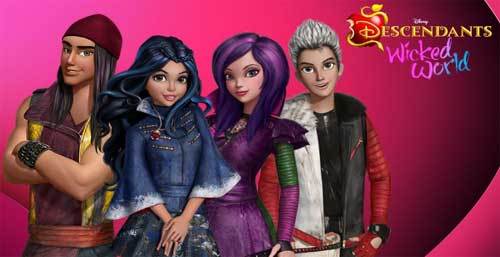 But you know what they say: "Be careful what you wish for." Because now Ortega had to find a way to meet the expectations of the incredibly loyal & very vocal fandom that had embraced the original TV movie as well as its animated follow-up, "Descendants: Wicked World."
So how did Kenny & Co. decide where to go next with "Descendants 2" ? To be honest, a lot of what ultimately drove the storyline of this Disney Channel Original was what kids were posting online about this IP.
"What we discovered – through social media and our interactions with 'Descendants' fans all over the world – was that there was this fascination with the Isle of the Lost. Fans of the first film wanted to know more about where Mal, Evie, Carlos & Jay had originally come from. What it was like to grow up on the Isle. More importantly, what had happened to the children of the other Disney Villains who hadn't been invited to go to Auradon Prep," Kenny explained during a follow-up to our 2015 phone interview. "This is why – while we were developing 'Descendants 2' – we quickly saw the story potential in sending our characters back to the Isle to find out what had gone on there while they had been away."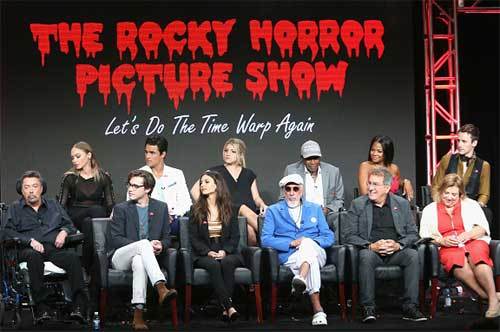 Mind you, while Josann McGibbon & Sara Parriott (i.e., the team that had written the teleplay for the original "Descendants") – were hard at work on the script for the sequel, Ortega kept busy with other outside projects like "The Rocky Horror Picture Show / Let's Do the Time Warp Again." Which was Fox Television's tribute to / affectionate remake of the 1975 cult classic. So was it tough to tackle a high profile project of that size while – at the same time – moving "Descendants 2" through Disney Channel's development pipeline? Kenny says "No."
"You have to understand that – when you're working on a project like this for Disney (and this is the fifth TV movie that I've made for the Channel over the past 10 years) – you have a lot of support," Ortega continued. "Plus I have a great partner in producing – Wendy Japhet – as well as an incredible choreography partner in Tony Testa. Not to mention my awesome director of photography, Mark Irwin. My production designer – this is our sixth movie together – Mark Hofeling. And my costume designer Kara Saun. So when you have a talented team like that backing you up, plus the support I get from people at Disney like Gary Marsh [Editor's note: Marsh is the President and Chief Creative Officer at Disney Channels Worldwide], it's possible to tackle something like 'Rocky Horror' while you're also working on something as big as 'Descendants 2' got to be."
"Just how big is this Disney Channel Original?," you ask. According to Kenny, this is the biggest production that the Channel has ever produced.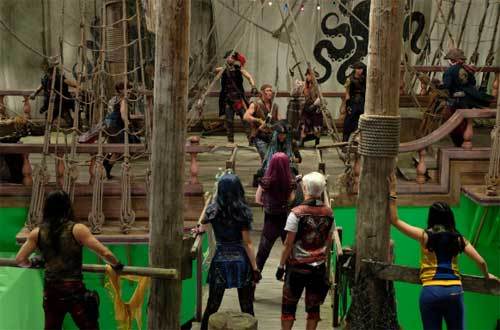 "What with the music, the choreography, the visual effects, the physical size of this TV movie's production design, all of the location work, this is certainly the biggest thing that I've ever done for television," Ortega enthused. "What's kind of ironic is that – because we knew what the fans would be expecting from 'Descendants 2' … Well, we obviously wanted to surprise them. Raise the bar a bit. But we never went into this 'Descendants' follow-up saying that 'It has to be bigger.' But then – over time – what with all of the different elements we play with here, water & weather, 'Descendants 2' did eventually get bigger."
One of the main reasons that this Disney Channel Original got bigger was – in addition to the returning members of the "Descendants" cast (i.e., Dove Cameron as Mal, the daughter of Maleficent from Sleeping Beauty ; Sofia Carson as Evie, the daughter of the Evil Queen from Snow White & the Seven Dwarfs ; Booboo Stewart as Jay, the son of Jafar from Aladdin ; and Cameron Boyce as Carlos, the son of Cruella de Vil from 101 Dalmatians) – China Anne McClain (who's probably best known to Disney Channel fans as the star of 'A.N.T. Farm') came onboard this project as Uma - the daughter of Ursula the Sea Witch from The Little Mermaid.
"And as great as it was to land China – who's this amazing triple threat: actress, singer, dancer – and then see what she could do with the character of Uma, I think that 'Descendants' fans are also going to get a big kick out of Uma's two lieutenants: Harry, Captain Hook's son played by Thomas Doherty, this terrific young actor from Scotland. We've also got Dylan Playfair, who does a great job as Gil, the son of Gaston from Beauty and the Beast," Kenny continued. "These three really add to the fun of this film."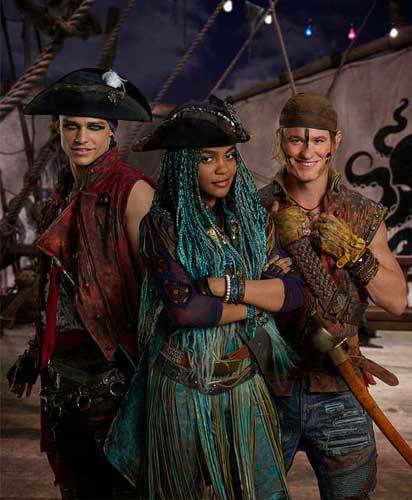 Which isn't to say that it was all fun & games on the set of "Descendants 2." A full three weeks before the cast went before the cameras, they were all up in Vancouver rehearsing. Learning all of the elaborate dance routines that Ortega & Testa had put together for this TV movie. Not to mention learning how to properly swordfight out ahead of "D2" 's big battle scenes.
"And that continued while we were actually in production on 'Descendants 2.' At any one time whenever I'd walk into the soundstages, there'd be as many as six to eight rehearsals going on simultaneously," Kenny stated. "But that's what great about the talented, intelligent young people who I worked with on this TV movie. As I told them when I cast them, I wasn't just looking for cast members. I was looking for partners. People who do all of the work necessary for a project of this size."
Which not only means acting in this TV movie but also participating in the promotion of this project. Which – in the case of "Descendants 2" – meant performing live on ABC's "Dancing with the Stars" nearly 12 weeks before this Disney Channel Original would debut on July 21st.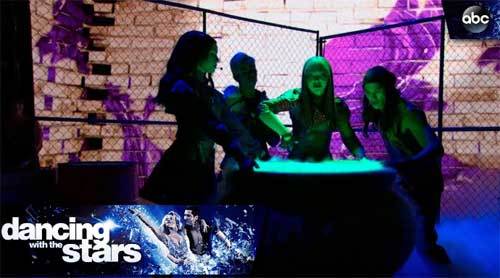 And out ahead of that project's premiere later this month, the cast of "Descendants 2" will continue to do whatever they can to help raise awareness of this production. Later this week (On Friday, July 14th, to be exact), Kenny – along with Cameron, Booboo, Dove, and Sofia – will be at the Anaheim Convention Center where (starting at 2 p.m.), they'll be meeting with "Descendants" fans at the Ultimate Disney Fan Event, the 2017 D23 EXPO.
So given that it's been a year and a half now since Ortega first began working on "Descendants 2," is he now ready to tell all those who live on the Isle of the Lost to get lost? No way.
"Are you kidding me? I have great nieces & nephews & godchildren that are 'Descendants' fans. This past Halloween, I had my nieces show up at my door dressed as Mal & Evie on Halloween. It's wonderful," Kenny enthused. "But better than that is all the fans around the world who have personally told me about how much 'Descendants' and the 'High School Musical' movies actually meant to them."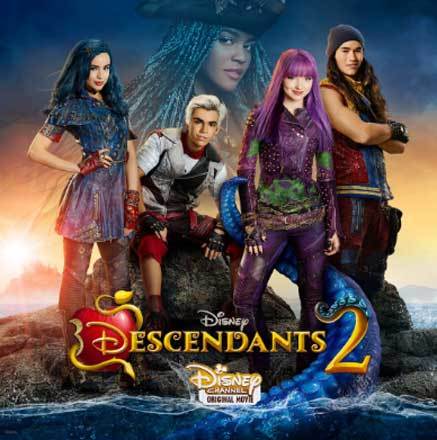 "Thousands of young people have said 'These movies were a big part of my childhood and they empowered me. And they gave me permission to go for the things that I wanted to go for. So thank you. Because I'm doing what I want to do in my life now. And you gave me permission to believe that that was possible, '" Ortega concluded. "That's why we all work so hard on these TV movies. They really do have the ability to do more than entertain. They can get across so many great ideas. Like the empowerment of youth. And believing in one's dreams. And accepting who you are and where you come from. Not being afraid to have a vision for yourself."
And what's Kenny's vision for himself? "I'm having so much fun right now. I'll keep on making these 'Descendants' and 'High School Musical' movies for as long as Disney lets me."
Popular in the Community