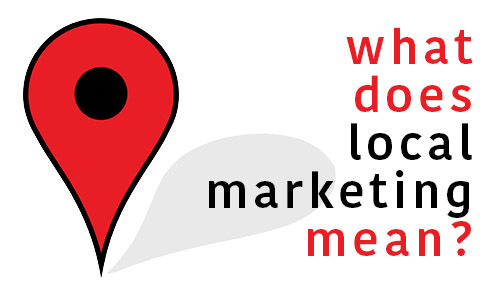 You just opened up a vintage clothing store in Detroit. You're on a shoestring budget and can only afford to advertise in one market.
Which one are you going to choose?
The answer is pretty obvious: Detroit. After all, when's the last time you saw a small store from another state advertise in your market?
You can't build a national brand without first focusing on the people in your own backyard. Local customers are the ramp that help your business steadily reach new heights.
The exercise of marketing to nearby communities, as opposed to the general population, is referred to as "local marketing." While local marketing limits your reach (the number of people exposed to your advertising), it's a more efficient way of generating awareness about your business.
From a traditional marketing standpoint, local marketing is pretty easy to understand. Every local pizzeria menu you receive in the mail is an example of local marketing. But how does local marketing work in the context of the Internet?
To understand the answer, it's best to consider your behaviors as a consumer -- particularly, one behavior you've probably exhibited countless times.
Let's say you're looking for Thai Food in Fenton and you're not sure where to go. What do you do? If you're like most people in 2016, you pull up Google and search for "Thai Food in Fenton." The results that appear generally reflect the companies that are winning the local marketing battle in their city for their respective category.
Here are some steps you can take to better compete for customers in your market.
Onsite SEO: Optimize the content on your website to reflect popular search queries. The first step is to identify the keywords that customers use to find you. For example, if you're a doctor in Farmington, phrases you may want to incorporate in your website include "Farmington doctor," "doctor in Farmington," "Pediatrician in Farmington," etc. The more relevant phrases you can incorporate in a natural-sounding way, the better.

Create Content: One of the most important steps a business can take to improve its SEO, and thus its local marketing, is to produce new content. Lots and lots of new content. From blogs and infographics, to memes and videos, content should be enriched with relevant keywords when possible.
Google+: Google is the king of search, so naturally having a presence on its social media platform would bode well for your business. Unlike other social media platforms, Google+ has tangible SEO value. This article does an exceptional job at highlighting the many benefits of Google+.
Yelp: Whether consumers are looking for crepes or a chiropractor, they often turn to Yelp for advice. Yelp is so influential that individual Yelp pages show up during local searches. Take ownership of your Yelp page to ensure all of the information is correct, and consider purchasing ads on the site to raise your recognition and reputation.
For more "local marketing" insights and information, call the experts at Rebuild Nation for a free consultation. 855-725-3628.
Popular in the Community