A few years ago, during an awards ceremony hosted by Kids Comes First, an Ontario, CA based charitable free clinic, a young father, holding his infant daughter squeezed to his chest, went onstage, pointed towards my colleague and I and said with tearful eyes, "If it wasn't for these doctors, I wouldn't be holding my daughter in my hands today." We had founded MiNDS, a charitable healthcare non-profit earlier that year and had treated this young girl when her family was not able to afford specialty care services. This father's impassioned comments solidified our resolve to continue community services and find ways to reach out to other families in need.
Since then, one of our main outreach events in underserved communities takes place on Martin Luther King Day. U.S. Congress designated MLK Day as a National Day of Service in 1994. And rightly so as Dr. King's message was clear, "Life's most persistent and urgent question is, 'What are you doing for others?"
For me personally, this commemoration defines many of my passions and dreams. If it weren't for the sacrifices of those who struggled for civil rights in the 1950's and 1960's, and passage of the Civil Rights Act (1964) that led to changes in the immigration law sparking a wave of immigration from countries other than Europe, I wonder if I would have the opportunity to serve those in need as I and my colleagues do today.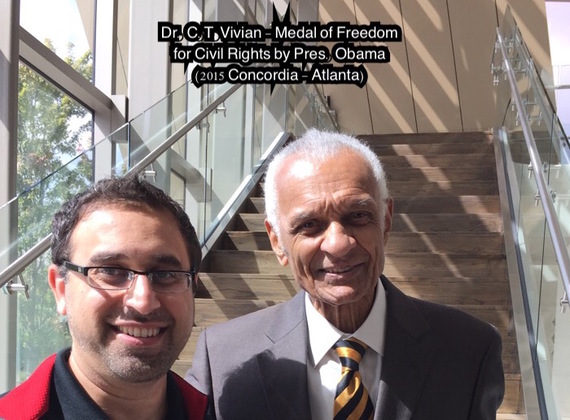 We organize MLK National Day of Service drives annually attracting co-sponsors and supporters from a wide base of community and social service, faith and non-faith based organizations as well as municipalities including local police departments and libraries. In 2014, our Orange County program in southern CA with Giving Children Hope, a local and international aid-relief group, was the largest in the county serving over 500 clients.
MiNDS, our southern CA based non-profit, stands for Medical Network Devoted to Service and was conceived as an interfaith/multifaith effort where we provided free of cost specialty healthcare to families in need. In fact, the "i" was meant to stand for interfaith but we decided to focus on the idea of "Service" instead and used a lowercase "i" while taking the word interfaith out completely.
MiNDS promotes service to others and offers a road map for young men and women towards volunteerism.
Many civil and human rights movements such as the struggles for racial and economic justice continue to intensify today. As American Muslims, we are forced to assess the place of our faith community in this country within the context of these movements. Today, we are suddenly faced with a sharp rise in an extreme vitriolic, public display of outright racism, xenophobia and racial profiling more so than in preceding years.
Our work, including commemoration of this very day, is a formidable response to such attitudes and I'm grateful for the support of all the well-meaning individuals and groups that stand by us in this effort.
For me the MLK Day has become more than just a day of service or an opportunity to promote volunteerism. It has become a response and a struggle to retain all that is good in our society and a fight against the marginalization of all people.
Calling all HuffPost superfans!
Sign up for membership to become a founding member and help shape HuffPost's next chapter