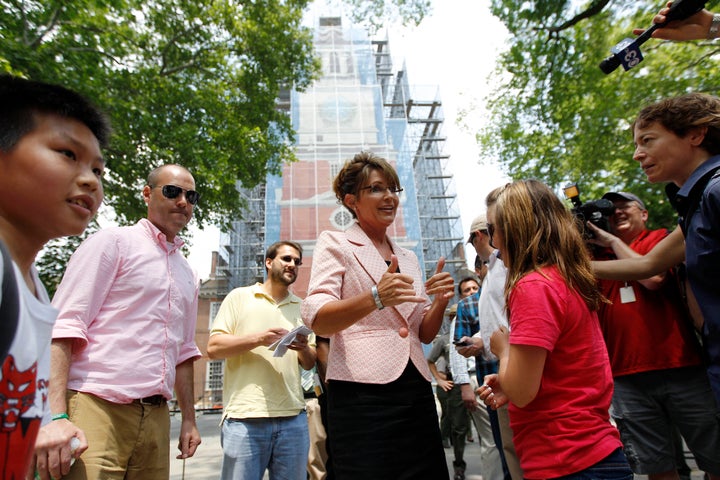 PHILADELPHIA – It was clear Tuesday what Sarah Palin's bus tour -- wherever it goes from here -- is not.
It is not an attempt by the former Alaska governor to gauge how much grassroots support she has. Her game of hide and seek with the press has precluded any kind of rally or public appearance that would test her ability to draw crowds.
Any chance that the trip held news value, as a result, had been severely diminished by the time Palin visited the Liberty Bell with her husband Todd, her 10-year old daughter Piper, and her parents Chuck and Sally Heath. That did not mitigate the media frenzy around her arrival here -- a pack of cameramen and reporters sprinted around the museum to try to catch a glimpse of her and a local TV station filmed her from a helicopter. It did however raise the question: What exactly does Sarah want?
In a brief interview with The Huffington Post and Politico just a few feet away from the Liberty Bell, Palin continued to stick to her script, saying she wanted to "highlight these historical sites." She added she wanted to make sure "that people are very aware of our foundation, learning about our past so that we can see clearly these days ahead that are going to be heady days ahead."
That may be part of her rationale. But over the last few days other likely motivations for Palin's free-wheeling and headline-grabbing road trip, which she said will head to New York next and then on to New Hampshire at some point, have become clear:
1. She is trying to remain relevant. Before this trip, Palin had been quiet for some time. She had taken some serious lumps for her decision to speak publicly in response to critics after the January shooting of Rep. Gabrielle Giffords (D-Ariz.). She appeared to be on the outs with Fox News President Roger Ailes. Her name was mentioned less and less frequently in political circles. Especially if Palin does not run for president, this trip will be seen as a ploy to get back in the spotlight and retain cultural and political currency and influence. Her planned dinner with Donald Trump Tuesday night in New York fits into this pattern.
2. She wants to raise money for her PAC. Besides name recognition and buzz, money is the key way Palin can exercise her influence. Palin began asking for donations on her PAC's website the same day she launched the bus tour this past weekend. Even if she does not run for office, more cash will help her remain a power player by using her war chest to reward political allies and to play king and queenmaker for up and comers.
3. She wants to gauge her ability to manipulate the mass media. It's hard to know when the last time was when a public figure so publicly and shamelessly mocked, taunted and ridiculed the press as irrelevant, all the while using them to further her own ambitions and purposes. By playing hard to get -- not telling reporters and often not even her own staff until the last moment where she is headed -- Palin has made herself even more in demand. It's something like a high school romance. It's also like the Obama White House, which decries the 24/7 "cable chatter" even as they play right along with it. But Palin is smart enough to know that while she may say she doesn't owe the mainstream media anything, without their attention she wouldn't be where she is now.
4. She wants to tease out what a presidential campaign would look like for her and her family. This is the scuttlebutt coming from Real Clear Politics' Scott Conroy, who is as plugged in to Palin world as it is possible for any working journalist to be. And Todd Palin sounded bullish Tuesday about the chances of his wife running for president. He said he is not pushing her one way or another but said his family "has been tested" and would be able to withstand the attention and the pressure.
Palin's answer when asked whether she'll run?
"Oh, you know, we're still thinking about it," she said.
Political insiders in the Republican party gave a collective yawn in response. Numerous high-level sources said they did not take the idea of a presidential run seriously.
"I don't hear a lot of political people talking about it. Nobody expects her to run. This is about staying relevant and raising money," said one Republican National Committee member who is not backing any of the other hopefuls yet. "And God love her. Nothing wrong with that."
"I don't blame her. I think it's fine. I don't think it matters," he said.
Another senior official who is with one of the current GOP presidential hopefuls said Palin's trip is "good for brand but has little to do about presidential politics."
There was plenty of speculation by sources Tuesday as well that Palin has given assurances to Fox News and Ailes that she will not run. Otherwise, the theory goes, why would Fox allow her to stay on as a paid contributor to the network? They have already evicted other candidates from their contracts before they announced official campaigns.
If Fox does make a move to sever its contract with Palin, that would take speculation about a run for the White House to a new pitch.
This article originally listed Giffords as a Republican.
Popular in the Community