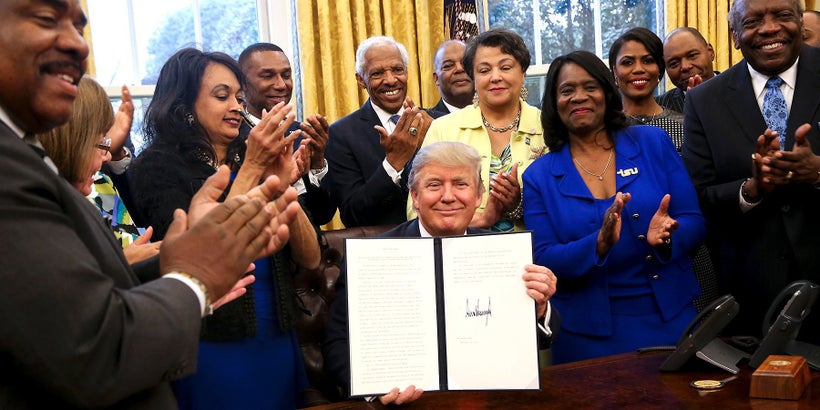 Editor's Note: This article was contributed to by Lt. Col Darold Hamlin (RET USARMY), founder of The Emerging Technology Consortium, LLC. A non-profit organization dedicated to urban redevelopment and innovation in America's cities in conjunction with Historically Black Colleges and Universities.
We all saw the photos in the oval office. We heard the various opinions, including that of Morehouse College's President on that he felt the meeting last week between HBCU Presidents and President Trump amounted to no more than a photo-op. But I wanted to get to the heart of the matter: Can there be an alliance with this new administration that can work to the benefit of Black Colleges and their constituencies? I think the answer is yes!
Last week I was a guest on PBS News Hour and we discussed the future of America's black colleges and universities. Our topic was What Can the White House Do To Help HBCUs Thrive over the next four years under the leadership of President Donald J. Trump and his team lead by Senior White House Engagement Aide Omarosa. I asked HBCU sustainability expert Darold Hamlin what the President's Executive Order really means. Here is what he told me:
"The President has just signed his Executive Order on Historically Black Colleges and Universities. He followed in the footsteps of his predecessors on the one hand, but broke with tradition in that he has elevated the office of HBCU to a direct reporting position in the White House. This elevation is both symbolic and substantive. The other key difference between the orders is the removal of the word sustainability from the title in the Obama Order; however, it left in the most important word Innovation.
Embracing innovation will sustain our schools and is the key to changing African American participation in the 21st Century global economy. This can happen by increasing Black ownership of new economy industries in robotics, precision medicine and artificial intelligence etc. How do we use this order to embrace innovation? It starts with understanding 21st Century university financing. Today, the average public university receives 44% of their revenue from Federal contracts grants and appropriations. (1) The path forward, however, is the path of tried and true—the government's Research and Development (R&D) investments have created companies from Apple to Wal Mart. So we know that R&D is the way forward. (2) If HBCUs are going to survive they must diversify their revenues. We must ensure that the Administration appoints members to the Board of Advisors that can leverage public private partnerships so that we can help the schools unlock the dollars in large Federal research labs (Federally Funded Research and Development Centers - FFRDCs - which have a diversity requirement in the contract). Finally, tapping into these large Federal lab contracts ($10.6B in 2014 Expenditures (4) can mean hundreds of millions of dollars to our universities and creates good paying Science Technology Engineering and Math (STEM) jobs for African Americans at the HBCU.
These precious institutions were created when Black people could not attend established institutions of higher learning. Now our schools must change to meet the demands of the new global economy. We must remember that the vast majority of the African American population does not have a college degree and that low wage low skill jobs are being eliminated by technology every day. Therefore, the entire African American community must embrace Innovation objectives in this order to financially stabilize our schools and create a foundation economic inclusion."
I agree with Colonel Hamlin and this new vision for our nation's HBCUs. My hope is that the Trump administration is indeed serious and that they will offer an infusion of dollars and R&D opportunities to make this vision a reality. Time will tell. Let's stay tuned.
1. Chapter: 4/Postsecondary Education Section: Finance and Resources, The Condition of Education 2015
2. Entrepreneurial State: Debunking Public vs. Private Sector Myths, Mariana Mazzucato, 2013
3. APPENDIX M, CONTRACT GUIDANCE FOR PREPARATION OF DIVERSITY PLAN, Contract No. DE-AC02-09CH11466
4. Congressional Research Service Report on FFRDC, Background and Issues for Congress, September 2016
Calling all HuffPost superfans!
Sign up for membership to become a founding member and help shape HuffPost's next chapter
This post was published on the now-closed HuffPost Contributor platform. Contributors control their own work and posted freely to our site. If you need to flag this entry as abusive,
send us an email
.