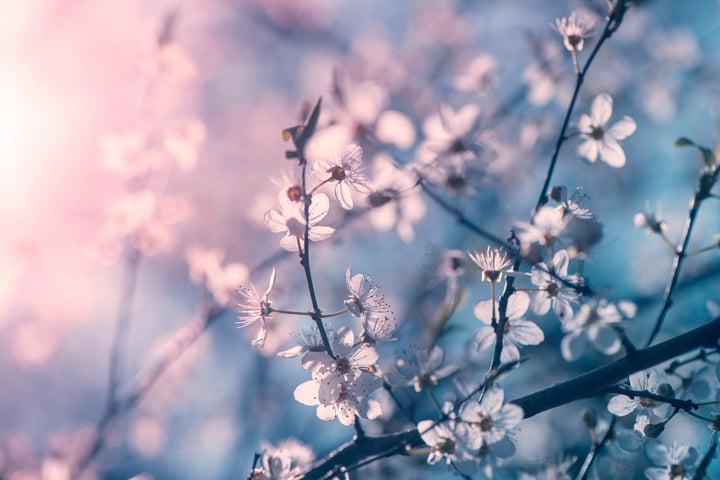 This year, springtime met us in full-on crazy mode. We welcomed 70 degrees days with tank-tops and sunblock, only to find ourselves hunkered down home for a snow day the following week. In DC, the crazy temperatures threatened to kill our beloved cherry blossoms ― so beloved there's a festival and a 10-mile run to celebrate them. The images of those fluffy blooms festooning the Tidal Basin are well known, but the sweet odor can only be appreciated in person. Years ago, before I got sick, I would enjoy that smell on my way to work on Capitol Hill ― driving past the trees, windows down, the rousing Non Nobis Domine from Kenneth Branagh's Henry V on full blast. I cherish that aromatic memory.
Luckily, the official watchers now report close to 50 percent are now blooming but warn that today's expected cold snap may yet incur further damage.
Climate change, new Ice Age, whatever the cause, this spring weather has made no sense. The schizophrenic, rapid changing, unexpected about-face has left people scrambling and wishing for consistency. You want to be able to count on something, to anticipate with accuracy and reliability. You want normal.
This is what it's like to live with chronic illness. When you're sick, your barometer is a roll of the dice every day, and sometimes, minute to minute. As others focus on spring cleaning or shedding pounds or venturing outside, what does this time of renewal mean for those of us who live with an unpredictable illness every day?
What can spring mean when renewal seems so far out of our reach? When we feel stagnant and stale all. the. time? We would give anything for a resurrection of any kind.
Spring is the time from the vernal equinox to the summer solstice. As a noun and verb, "spring" has other meanings and can still be meaningful to those who are sick.
Spring as origin
Spring is the source or origin of something, the first or early stage of life. Even if we can't get outside, or start that exercise program so we can embody a new body, we can still recommit to new start. For me, this spring, I resolve to a consistent bedtime, a (more) regular meditation practice, and to consistently reach out to friends. All of these practices will enhance my wellness. I start again. One very helpful lesson from my meditation practice is that we can always begin again (at any time of year). Spring moves us to begin again no matter where we are and how we are.
Spring as flexibility
Spring also suggests a malleability ― that ability to spring back to normal when an external pressure is removed. My illness is often an internal power that has me bedridden for weeks at a time. I'm not in control of that pressure. But, I can stay nimble in response. I can adapt to the barriers and boundaries.
Japanese artist Yahoo Kusama's current exhibit at the Hirshhorn Museum features her best-known creations. She attributes her most ground-breaking work directly to her physical limitations; one curator wrote,
"In response to the labor intensity of this work, she started to utilize mirrors to achieve similar repetition…The reflective surfaces allowed her to transcend the physical limitations of her own productivity."
Likewise, use your creativity to find innovative ways around your limitations and extend your efforts.
Spring as force
Gravity is a non-negotiable force. As a yoga teacher, I describe headstands and handstands as a dance with gravity. We respect gravity's push and pull as a partner and don't fight it. We're responsive. The same is true when you're partnered with chronic illness. We cultivate ways to work skillfully with our illness rather than resist it. Fighting an immovable force, as physics tells us, is futile. Rather than banging your head against the unyielding wall of reality, explore how to dance around your illness for the easiest way forward.
Spring as source
A spring is a source of water, the beginning of a stream or river. The water flows naturally from the earth. World Water Day aims to ensure safe drinking water around the world and recognizes water as a necessity of life. Water's sacred symbolism as a source of renewal and rebirth recognizes water as source of life. So make spring a time to evaluate your own sources of renewal. What refreshes you, easily and naturally? For me that can be a change of sheets, an open window or a visit from a friend.
While the outside world comes back to life, we can still find meaning and create a sense of renewal for ourselves this springtime no matter the actual weather outside or the barometer in.
We can bloom and create sweetness in our lives if we ―
begin again
create adaptability
dance with the force
refresh your sources
Non nobis, Domine means "not to us, Lord" and continues "not to us, Lord, but to You give glory." In Shakespeare's play, King Henry V sings this hymn of humility and gratitude after the English victory at the battle of Agincourt. Nothing makes us more humble and more grateful than sickness.
Rouse and renew yourself however you can and relish your own spring. On full blast.
Cassandra Marcella Metzger, JD, MA, RYT is the creator and founder of the newly, launched Wellspring Stones ― the online oasis for those living with illness. After she struggled to find accessible and applicable help on how to live well with illness, she decided to prove that living well while ill wasn't an oxymoron. A yoga teacher and meditation instructor for over fourteen years, she is passionate about creating space for change so that those living with illness can feel alive, dynamic, valued, engaged and connected. She advocates to give voice to the shame and suffering of those who are chronically ill and struggling without help, without resources and without attention. To read her other Huffington Post posts click on her profile above.