You are judged by your appearance. Fully aware of this reality, you dress and style yourself accordingly (whether you care to admit this or not). What you might not realize is how often you are judged by your online appearance -- namely your social media profile photos. Even if you have only the most rudimentary of online presences, your chosen avatars may get more views (and judgment) than your actual face.
My interest in the revelatory nature of profile photos piqued after I kicked off ArtCorgi, a site that makes it easy to commission original, personalized art from up-and-coming artists. Many people commission social media profile images and avatars through our site as part of a concerted effort to take ownership of (and control) the way they come across online. The images they commission reflect their values, their interests and their best attributes.
I found myself wondering if profile images are something that require more thought and careful presentation. And I realized that they do. Whether in the midst of email correspondence, Twitter and Facebook chatting, or online background checking, people are judging your online profile photos -- and they might be saying more about you than you'd like.
The Maslow's Need Hierarchy of Profile Photos
One way to look at online avatars is through the perspective of Maslow's Hierarchy of Needs, a psychological theory that ranks human psychological needs from the most fundamental to the most refined and developed.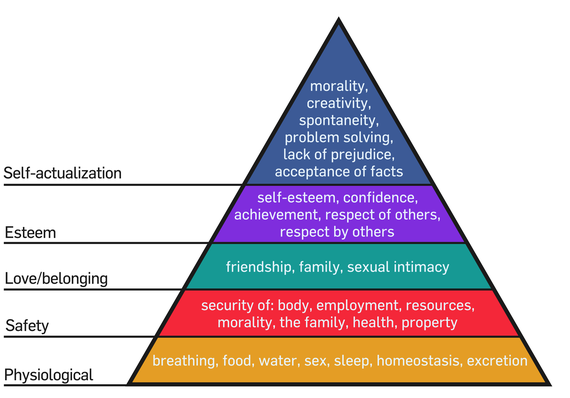 By Factoryjoe, CC-BY-SA-3.0, via Wikimedia Commons
Those who are barely functioning in society are stuck with needs at the bottom of the pyramid; those who are thriving pursue those at the top. People find it difficult to focus on more refined needs when their basic needs are not met (so even very successful and self-aware people can find themselves mentally plunked back to the bottom of the hierarchy when they feel they're in danger or are incredibly hungry).
Conveniently, Maslow's needs can be seen pretty clearly in many individuals' profile photos, Facebook, Google+ and Twitter cover photos, and pictorial updates. Let's explore them.
The physiological needs associated with Maslow's hierarchy have to do with basic everyday needs: air, food, water, sleep and sex.
These needs shine through in those ever-popular profile and social media photos depicting subjects with hot girls/guys. They can also be seen in profile photos in which the subject is posing with food (or perhaps just showcasing the food alone).
Per Maslow's hierarchy, safety needs are associated with a desire for security, physical safety, employment, health, property and family.
Profile photos particularly revelatory of these needs include those touting personal wealth (showing off big purchases, nice houses or expensive vacations) fancy jobs (tradeshows, important meetings, etc.) and fitness (running marathons, biking and showing off nice muscles). Those showing off their various forms of security may be revealing their heavy orientation around that particular need.
The love/belonging needs associated with Maslow's hierarchy address family, friendship and sexual intimacy.
Surely you can name several friends whose profile photos feature not just themselves, but themselves ensconced alongside a husband, wife, boyfriend, girlfriend, son, daughter or pet. Those who mostly post photos of themselves with the ones they love (or just the ones they love) may be quite likely to be caught up on this rung of the hierarchy.
Maslow's take on esteem relates to gaining others' respect, achieving great things, being self-confident and getting along well with others.
Nothing screams a need for esteem like a profile photo featuring the subject speaking on stage (surely you've seen the token TED Talk headshot floating around on more than a small handful of profiles). Other profile photos suggesting esteem needs include those depicting impressive feats (e.g. the subject climbing Mount Kilimanjaro or receiving an award) and being surrounded by smiling friends and colleagues. Esteem needs might also be reflected in the presentation of images other than oneself in a profile photo: the use of images touting causes, showcasing celebrities or depicting a favorite fictional character communicate an individual's desire to be associated with a certain group or movement.
Self-actualization involves reaching the pinnacle of one's ability: accepting facts, abandoning prejudice, acting in a moral manner, solving problems and becoming creative and spontaneous.
The profile photos of self-actualized people are amongst the most difficult to pin. The most common behavior amongst those considered to be self-actualized (successful leaders, CEOs, etc.) is to post straight-on headshots. This could have just as much to do with these people having professional headshots done for other purposes and designated teams managing their online appearances as it has to do with their supposed enlightenment. But if one is at peace with oneself and focused on higher goals, is a straightforward headshot not the most logical thing to use for an image that is supposed to depict... well... a straightforward headshot?
Think Through Your Online Image
Maslow's hierarchy of needs is simply one of many psychological theories and by no means a universally-accepted means by which people's psychological needs can be placed. That said, it doesn't hurt to take time to consider what your profile photo says about your interests, needs and values, and Maslow's hierarchy offers a simple structure to use.
I encourage you to evaluate your present online avatars (and other social media photos) to determine if they line up with the identity you wish to project.
When in doubt: get a nice headshot!
Popular in the Community