Holidays can be a treacherous time for people dealing with depression and/or substance abuse. Some people, when they hear the term "bottoming out," fantasize about a gloriously gluttonous sexual frenzy. But for those in recovery, bottoming out has a very different meaning. As Joel Spitzer writes:
It used to be believed that when dealing with drug addictions (such as alcoholism or illegal drug abuse) the addict had to 'bottom out' before realizing the need for help. Bottoming out meant life became so complicated and unmanageable that the abuser would finally see that there was no other alternative except to quit drugs or lose everything and everyone close to him. What types of situations would precipitate an addict to come to such a realization? Things so severe as losing a family, career, health, or maybe even ending up homeless or in jail.

All these occurrences are traumatic and should be considered life-shattering experiences. However given a lot of time, support, and professional assistance, the addict can often regain some semblance of a normal lifestyle. Many even feel that living through such an experience gives them a real love of life and sobriety that they could never have fully appreciated without having survived such devastating experiences. As long as bottoming out doesn't entail loss of life, there is always some hope for rectifying the problems the drugs brought on and maybe coming out stronger than they were before drugs became a part of their lives.
One of the strengths of 12-step programs is their ability to help those with substance abuse problems gain strength from the knowledge and emotional support of others who have walked so many painful miles in their shoes. In 1955's hit musical, Damn Yankees, Lola and Joe are two characters who have sold their souls to the devil (an appropriate metaphor for an addiction). Their duet, "Two Lost Souls," takes on a much happier tone when performed by Jim Henson's gang.
Last year, the San Jose Repertory Theatre presented a powerful drama by Samuel Shem and Janet Surrey that chronicles the birth of Alcoholics Anonymous and its partner organization, Al-Anon. As directed by Richard Seer, Bill W. and Dr. Bob is about the intense struggle to understand alcoholism, acknowledge one's lack of power in dealing with the disease, and embrace a plan for living a sober lifestyle.
Bill W. and Dr. Bob begins in a manner easily recognizable to theatergoers. Two men introduce themselves to the audience and acknowledge their alcoholism. After each introduction, the audience responds "Hi, Bill!" and "Hi, Bob!" It's a setup which helps make the play instantly accessible. It may also be a playwright's best guarantee of group sales (in any city where Bill W. and Dr. Bob is performed, this play will attract a large number of people in recovery).
The action mostly takes place in 1935 in Akron, Ohio, where Wall Street securities analyst and self-aware alcoholic, William Griffith Wilson, is standing outside a hotel bar. A potentially lucrative business deal has just fallen through and Bill (Ray Chambers) is trying to resist the urge to drink.
Having been put in contact with Henrietta Sieberling, one of the leaders of Akron's chapter of the Oxford Group, Bill is desperately trying to locate a fellow drinker who can understand the ferocity of his cravings. His introduction to an alcoholic surgeon allows two men struggling with their own addictions to start a quiet and deeply personal revolution that has long since spread throughout the world.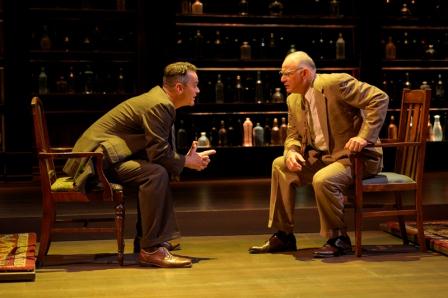 Bill W. (Ray Chambers) and Dr. Bob (Robert Sicular) in
Bill W. and Dr. Bob (Photo by: Kevin Berne)
A friend of Bill Wilson's once described him as "a man who could talk a dog off a meat wagon." San Jose Rep's artistic director, Rick Lombardo (who directed the play's world premiere and New York premiere), notes that:
Time magazine named Bill Wilson one of the top 100 most influential people of the 20th century, but this play rightly places Dr. Bob Smith right alongside Bill as they together forge a personal bond that enables each of them to confront and ultimately come to grips with their addiction to alcohol. It is a distinctly American story and a shining early example of the power of social networks. It's interesting to note that their journey also parallels the American history of the era, as they drink their way through the boom days of the 1920s and come crashing back to earth during the Depression era. Lending a helping hand at that time took on new meaning and Bill and Bob gravitated towards this idea as they sought the 'cure' for their drinking.

Countless times I've seen the impact this play has had on the communities where it was performed. It is a heartfelt and remarkable story of how two men, Bill Wilson, and Dr. Bob Smith, came up with a treatment for alcoholism that continues to impact so many lives today. Over the more than 75 years that have followed their first meeting, there has probably been no American family that has not been touched in some way by their idea and the system they founded.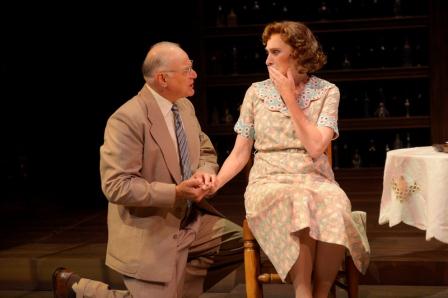 Dr. Bob (Robert Sicular) and his wife, Anne (Kandis Chappell) in
Bill W. and Dr. Bob (Photo by: Kevin Berne)
Robin Sanford Roberts designed a handsome unit set which features a stage-wide wall filled with empty bottles of all shapes and sizes. Against this timeless backdrop, the audience witnesses Bill W. and Dr. Bob (Robert Sicular) struggle to achieve and maintain their own sobriety while devising a treatment model which they can test on fellow alcoholics (along the way, the audience learns to think of cold tomatoes in ways they never imagined).
Those with any exposure to the history of Alcoholics Anonymous can easily anticipate the moment which depicts the birthing of Al-Anon. In some ways, I found this particular scene (beautifully acted by Carrie Paff, Kandis Chappell, and Cindy Goldfield) to be one of the most poignant in the entire evening.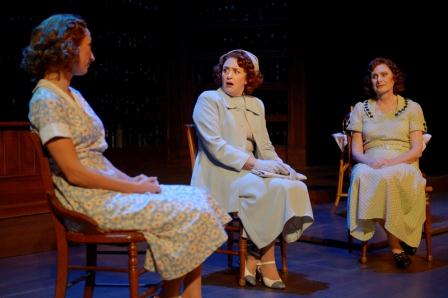 Lois Wilson (Carrie Paff), Hen Dotson (Cindy Goldfield), and
Anne Smith (Kandis Chappell) capture the birth of Al-Anon
in a scene from Bill W. and Dr. Bob (Photo by: Kevin Berne)
Bill W. and Dr. Bob is not the kind of play which tries to preach to the audience. Instead, it depicts -- in painfully human terms -- the debilitating effect alcoholism has on people's lives and the dreadful toll addiction takes on relationships. Appearing in a variety of supporting roles, Mike Ryan offered a powerful portrayal of a stubborn Ohio drunk in the depths of denial.
It doesn't take long for the viewer to realize that one of the lead characters in 1928's The Docks of New York has bottomed out. Early in the film, the viewer sees the rippling reflection of a woman jumping into the dark harbor waters in an attempt to commit suicide.
Adapted from a short story called The Dock Walloper by John Monk Saunders, this 76-minute cinematic delicacy was introduced to the audience at the 2012 San Francisco Silent Film Festival by film noir expert, Eddie Muller. Great care was taken to explain how the simplicity of the plot (and the film's small amount of dialogue) allowed director Josef von Sternberg, cinematographer Harold Rosson, and art director Hans Dreier to create a kind of waterfront low-life on a sound stage that could fulfill the audience's fantasies of a world filled with rough trade, bitter babes, and sooty stokers.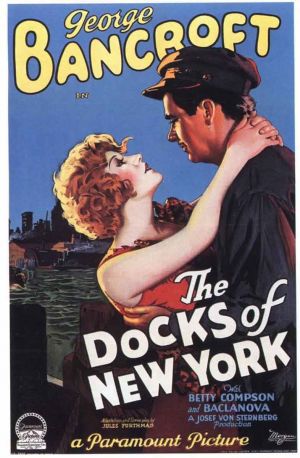 Poster art for The Docks of New York
Bill Roberts (George Bancroft) and his friend, 'Sugar' Steve (Clyde Cook) are two stokers whose ship has docked in New York harbor on a tightly-scheduled turnaround. Bill's a bit of a brute, the kind of man whose fists solve all his problems. But after he rescues Mae (Betty Compson) from her suicide attempt, his life suddenly tacks in a new direction.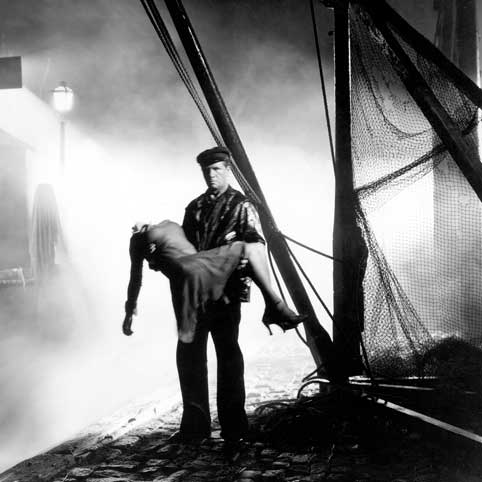 Betty Compson and George Bancroft in The Docks of New York
Not the kind of man to care about a dame, Bill offers rare, if crude proof that chivalry is not dead. After leaving Mae in the care of a much tougher bar girl, (Olga Baclanova), he heads out to find some fresh clothing for the depressed woman. After they spend the night together, he's not exactly hooked. But something might be stirring in his heart.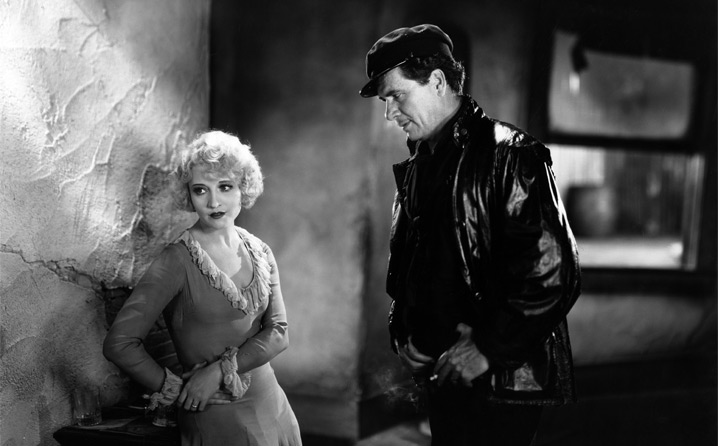 Betty Compson and George Bancroft in The Docks of New York
Even the bitter, disillusioned Mae finds a spark of hope and redemption. By the time the final credits start rolling for The Docks of New York, both Bill and Mae have decided to try turning their lives around by taking responsibility for their misdeeds.
With nice supporting work from Mitchell Lewis and Gustav von Seyffertitz (I just love the sound of that man's name!), The Docks of New York proved to be a highly atmospheric surprise. Donald Sosin accompanied the screening on the piano and, to my surprise and delight, there was even some stock footage of a World War I-era Cunard liner's horn (perhaps the RMS Berengaria) signaling a departure.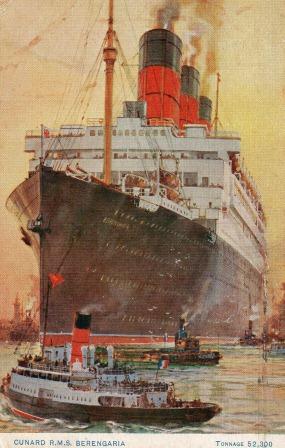 Poster art for Cunard's RMS Berengaria
Calling all HuffPost superfans!
Sign up for membership to become a founding member and help shape HuffPost's next chapter